&nbsp &nbsp &nbsp &nbsp &nbsp &nbsp



16 Patch Sawtooth Star

Here is another version the Sawtooth Star. We'll be adding a sixteen patch to the center, and making flying geese for the points. Check your measurements very carefully. Each block should measure 12 1/2 inches when it is finished. Accuracy from beginning to end will assure that your blocks come out perfectly. Measure carefully, sew carefully, and you will have a perfect block.

For this Sawtooth Star you will need
&nbsp &nbsp &nbsp From your background cut four 3 1/2 inch squares, four 3 1/2 by 6 1/2 inch rectangles and a 2 inch strip 16 inches long
&nbsp &nbsp &nbsp From a medium (hot pink) cut eight 3 1/2 inch squares.
&nbsp &nbsp &nbsp From a dark (purple) cut a 2 inch strip 16 inches long

| | | |
| --- | --- | --- |
| We need four flying geese units using the background rectangles and 3 1/2 inch hot pink squares. To make your job a little easier, draw a diagonal line through center of the hot pink squares on the back side. | &nbsp &nbsp &nbsp &nbsp | |

Lay a hot pink square right sides together with a background rectangle, with the diagonal line running as shown here. Sew right on that diagonal line. Trim off the excess, leaving a z inch seam allowance. Press to the background.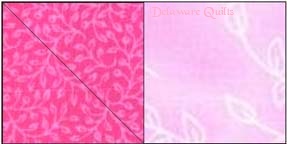 &nbsp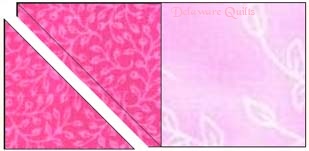 &nbsp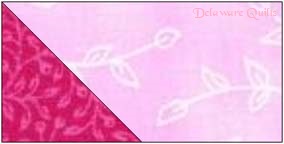 Repeat this same step again with another hot pink square on the other side of this same unit. Press to the background. Make sure your rectangles still measure 3 1/2 by 6 1/2. Do the same with the remaining background rectangles.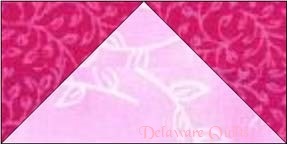 Next you need to make your 16 patch unit. Sew your two strips together, then cut then into two inch units, then into the 16 patch unit. Or if you'd like to add some more colors to your square, you could sew 16 different 2 inch squares into this 16 patch unit. It is your block do what you want with it!



Sew a flying geese unit to either side of your 16 patch.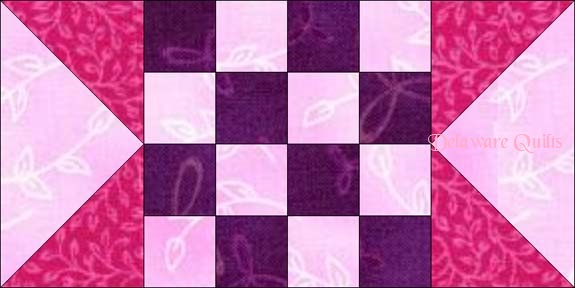 Sew a 3 1/2 inch square to either side of a flying geese unit.


Complete your block by sewing the rows together in order.
The finished block should measure 12 1/2 inches.
&nbsp &nbsp &nbsp &nbsp
&nbsp &nbsp &nbsp
16 Patch Sawtooth Star © Delaware Quilts August 2007
The content on these pages, including text and images are the sole property of the Delaware Quilts and may not be used or reproduced in any manner without consent. All Rights Reserved.

Updated June 10, 2020

|Home| Quilts| Blocks| Retreat| Email|