Block of the month.
Nine Patch Variation
This was the third block of the month I offered, and this web page certainly needed some updating. It is a favorite of mine because the finishing possibilities are almost endless, and you can make many different looking quilts from the same block.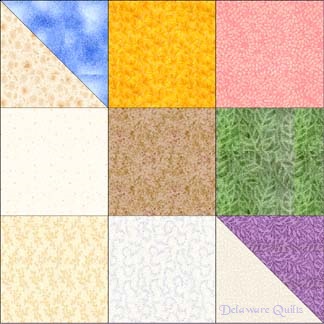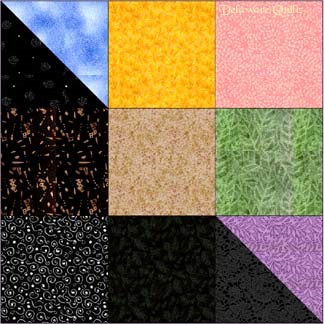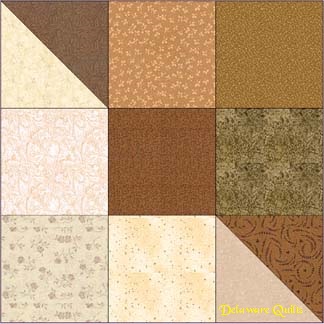 This an easy block, but needs contrasting fabrics to really make it work. I suggest complete opposites, lights and darks. The block on the left has lights and darks, and would work fine. The block in the middle has the same colors on one side, but by making the other side blacks, it becomes the dark side of the block. This would also work fine. You can use all the same colors too, as shown in the block on the right, which has all browns, lights and darks. As long as there is high contrast between the lights and darks it will work.

For each 8 inch unfinished block you need:
Three 3 inch squares AND one 3 3/8 inch square from a light color
Four three inch squares and one 3 3/8 inch square of dark color


Step one: Place your dark 3 3/8 inch block and a light 3 3/8 inch block right sides together. Carefully draw a line down the center, corner to corner, diagonally across the block. (This will be a cutting line when you are finished.)

Step two: If you have a true 1/4 inch foot on your machine, you can sew on either side of this drawn line. If not, you will have to draw a second line on either side, exactly 1/4 inch from the first line. This will be your sewing line.

Step three: After you have sewn on your sewing line, 1/4 inch on either side of your corner to corner to line, you will cut this square in half on your cutting line. You will now have two diagonal half-squares, which should measure exactly three inches. (You can find more directions for making diagonal half squares with diagrams by following this link.) Press to the darker side of the square.





Assemble as shown here, one row at a time.


Your block should measure 8 inches, which makes it a 7 1/2 inch finished block.


If you like a real variety in your quilt, don't use the same diagonal half squares
in the one block, but switch them around.
You may purchase this pattern for a $6.00 donation to the American Cancer Society. (Pattern includes nine different quilt layouts) See this and more patterns here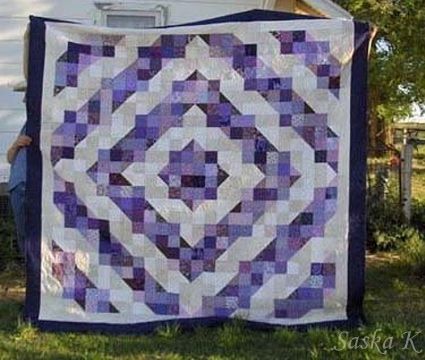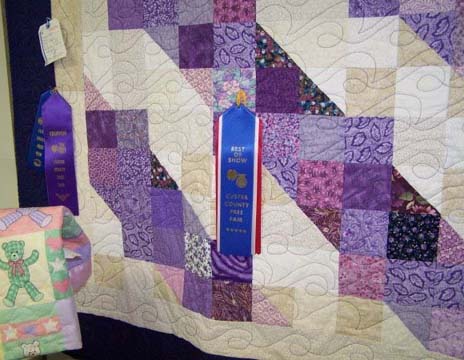 Saska from OK sent me these photos of her award winning Nine Patch Variation... now how did she know my favorite color was purple! I certainly would have given her the blue ribbon for this quilt also! (Incase you can't read it, the ribbon says Best of Show!)


| | |
| --- | --- |
| This is Candy's Nine Patch Variation. &nbsp &nbsp | |
My friend Anne and I made this quilt while she was visiting me one summer.
It was made completely from scraps collected from her niece's clothing, and was
a high school graduation gift.


Here are different sizes to make your Nine Patch Variation in, and the cuts to make them that way:

Cutting your squares 1 1/2 inches (1 7/8 for diagonals) will give you a finished block of 3 inches.

Cutting your squares 2 inches (2 3/8 for diagonals) will give you a finished block of 4 1/2 inches.

Cutting your squares 2 1/2 inches (2 7/8 for diagonals) will give you a finished block of 6 inches.

Cutting your squares 3 inches (3 3/8 for diagonals) will give you a finished block of 7 1/2 inches.

Cutting your squares 3 1/2 inches (3 7/8 for diagonals) will give you a finished block of 9 inches.

Cutting your squares 4 inches (4 3/8 for diagonals) will give you a finished block of 10 1/2 inches.

Cutting your squares 4 1/2 inches (4 7/8 for diagonals) will give you a finished block of 12 inches.

Cutting your squares 5 1/2 inches (5 7/8 for diagonals) will give you a finished block of 15 inches.

Cutting your squares 6 1/2 inches (6 7/8 for diagonals) will give you a finished block of 18 inches.





This pattern can be used for personal use only and can not be used commercially without the owner's permission. No copies may be made without the owner's permission. This includes the patterns as well as any graphics and/or instructions that are associated with a pattern.

Nine Patch Variation © Delaware Quilts February 2000





|Home| Family| Quilts| Blocks| Retreat| Email|


4465