Nine Patch Variation



This was the best selling pattern in the 16 years I sold patterns here on Delaware Quilts. I am adding the full pattern below and will leave it here for everyone to access. I hope you enjoy making this pattern.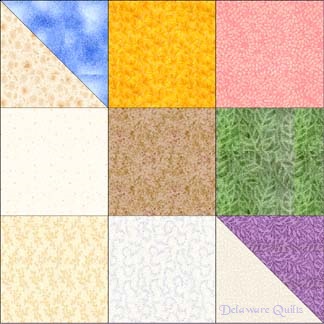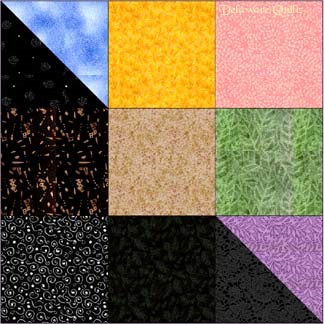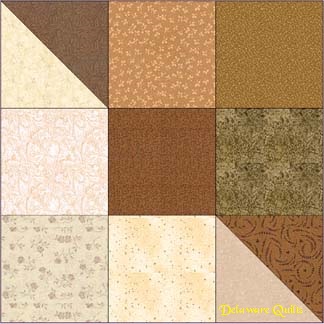 This was one of the first blocks I "invented" myself, and it was one of my very first BOMs. It is still a favorite of mine, and is one of my most popular patterns too. I think it's a favorite because the finishing possibilities are almost endless, and you can make so many different looking quilts from the same block.

This an easy block, but needs contrasting fabrics to really make it work. I suggest complete opposites, lights and darks. The block on the left has lights and darks, and would work fine. The block in the middle has the same colors on one side, but by making the other side blacks, it becomes the dark side of the block. This would also work fine. You can use all the same colors too, as shown in the block on the right, which has all browns, lights and darks. As long as there is high contrast between the lights and darks it will work.

For each 8 inch unfinished block you need:
&nbsp &nbsp &nbsp Three 3 inch squares AND one 3 3/8 inch square from a light color
&nbsp &nbsp &nbsp Four three inch squares and one 3 3/8 inch square of dark color
Many more sizes are listed below.

Step one: Place your dark 3 3/8 inch block and a light 3 3/8 inch block right sides together. Carefully draw a line down the center, corner to corner, diagonally across the block. (This will be a cutting line when you are finished.)

Step two: If you have a true 1/4 inch foot on your machine, you can sew on either side of this drawn line. If not, you will have to draw a second line on either side, exactly 1/4 inch from the first line. This will be your sewing line.

Step three: After you have sewn on your sewing line, 1/4 inch on either side of your corner to corner to line, you will cut this square in half on your cutting line. You will now have two diagonal half-squares, which should measure exactly three inches. (You can find more directions for making diagonal half squares with diagrams by following this link.) Press to the darker side of the square.




Assemble as shown here, one row at a time.


Your block should measure 8 inches, which makes it a 7 1/2 inch finished block.


If you like a real variety in your quilt, don't use the same diagonal half squares
in the one block, but switch them around.

Pattern includes eight different layout diagrams, nine different size blocks, and instructions on how to make diagonal half squares (triangle squares and/or half square triangles) two different ways. Yes this is a scrappy quilt, but it also makes a lovely quilt made with just two fabrics.



Download the full pattern here.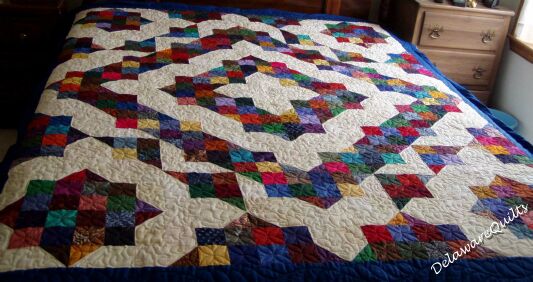 And this is my Nine Patch Variation, made of scraps, quilted by my friend Jackie, who made it even prettier.
Nine Patch Variation © Delaware Quilts August 1999
The content on these pages, including text and images are the sole property of the Delaware Quilts and may not be used or reproduced in any manner without consent. All Rights Reserved.

Updated December 1, 2022

|Home| Quilts| Blocks| Email|

883