&nbsp &nbsp &nbsp &nbsp &nbsp &nbsp &nbsp &nbsp &nbsp &nbsp &nbsp &nbsp
Delaware Quilts
Block of the Month
Attic Window
&nbsp &nbsp
For the Attic Window block you will need:


From your dark two 4 1/2 inch squares and one 4 7/8 inch square


From your medium cut two 4 1/2 inch squares and one 4 7/8 inch square


From your background (light) cut three 4 1/2 inch squares and one 4 7/8 inch square
Place your dark, medium and background 4 7/8 inch squares together, and cut them in half diagonally. Cutting them exposes the bias of the fabric, so handle these pieces carefully. You may want to pin them to keep them from stretching.


Pair a dark and background and a medium and background, and sew them together. (You will have two halves left over.) Your diagonal half squares should measure 4 1/2 inches.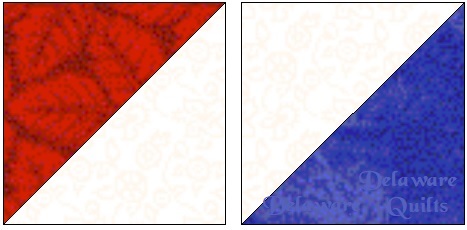 (Of course if you are making more than one Attic Window block, you could use your favorite technique for making diagonal half squares.)
Place those two diagonal half squares on either side of a background 4 1/2 inch square for your center row.


Assemble your block following the diagram at the top of the page. Your completed Attic Window block should measure 12 1/2 inches.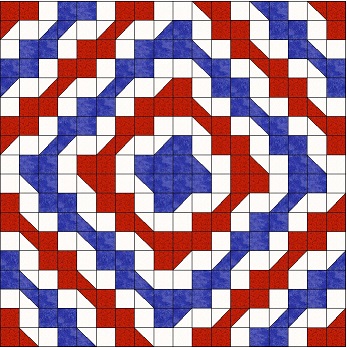 This pattern can be used for personal use only and can not be used commercially without the owner's permission. No copies may be made without the owner's permission. This includes the patterns as well as any graphics and/or instructions that are associated with a pattern.

Attic Window © Delaware Quilts February 2009
|Home|Family|Quilts|Blocks|Retreat| Email|

Posted March 30, 2009