&nbsp &nbsp &nbsp &nbsp &nbsp &nbsp

Crab Claws


This one is for my Delaware and Maryland family and friends who love eating those yummy crabs. I'd made one "claw" and it just wasn't right as a block, so it sat unfinished for years. I came across it again, and decided it was time to do something with it and came up with a pattern I think all those crab lovers might like. I sure hope so!


(The diagrams are all shown on the right side, and are not to scale.)


(If you were wondering, my original idea was the blue crab claw, one single 12 inch block… don't you agree this is better?)



Blue crabs fresh from the Bay &nbsp &nbsp &nbsp Same Crabs ready to be eaten



To make our crab claws we'll need a variety of blue and red-oranges, or whatever colors you'd like and a background. Each claw is made using three 2 7/8 inch squares of a different blue or red-orange and the background, which you will make your diagonal half squares from. You will also need one 2 1/2 inch square of the blue or red-orange for each claw, and two 2 1/2 inch squares of the background for each claw.

Let's take care of those diagonal half squares first. Take a blue and background 2 7/8 inch squares and place them right sides together. Draw a line corner to corner, (diagonally) through the wrong side of the lightest color, this is the cutting line. If you have a quarter-inch foot, sew on either side of that line, then cut on that line. (If you do not have a quarter-inch foot, just add two more lines, 1/4 inch on either side of the first line.) Your diagonal half squares should be 2 1/2 inches. Press to the dark. Repeat with the other two blue 2 7/8 inch squares. Then with all of the 2 7/8 red-orange squares.


| | | |
| --- | --- | --- |
| Now we can put together our crab claws, we'll do one section at a time. | &nbsp &nbsp &nbsp | |

Assemble as shown here. They all go together the same way. Your finished block should measure 12 1/2 inches.
And if you'd like to make your claws all cooked, that's ok with me!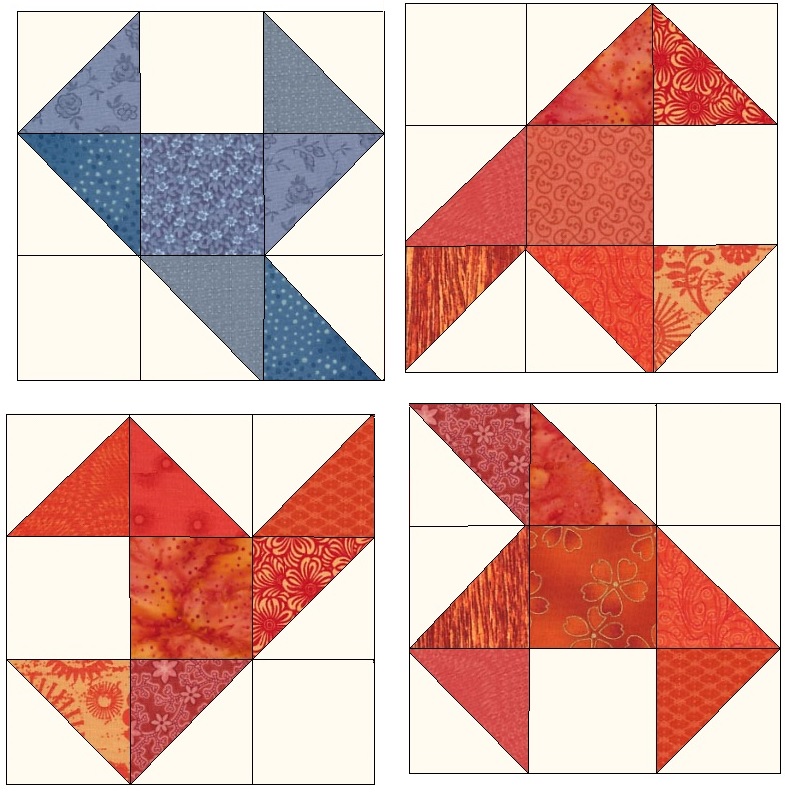 &nbsp &nbsp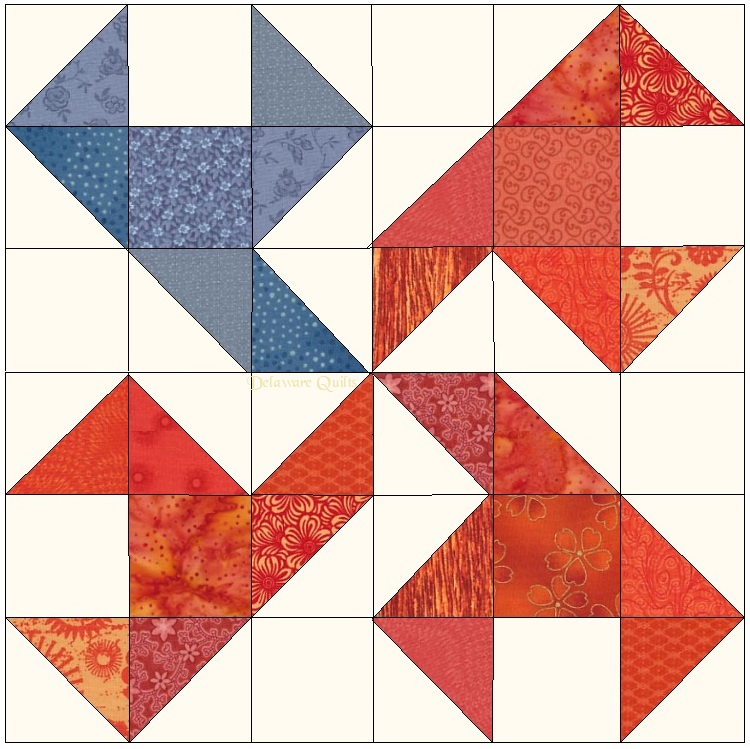 &nbsp &nbsp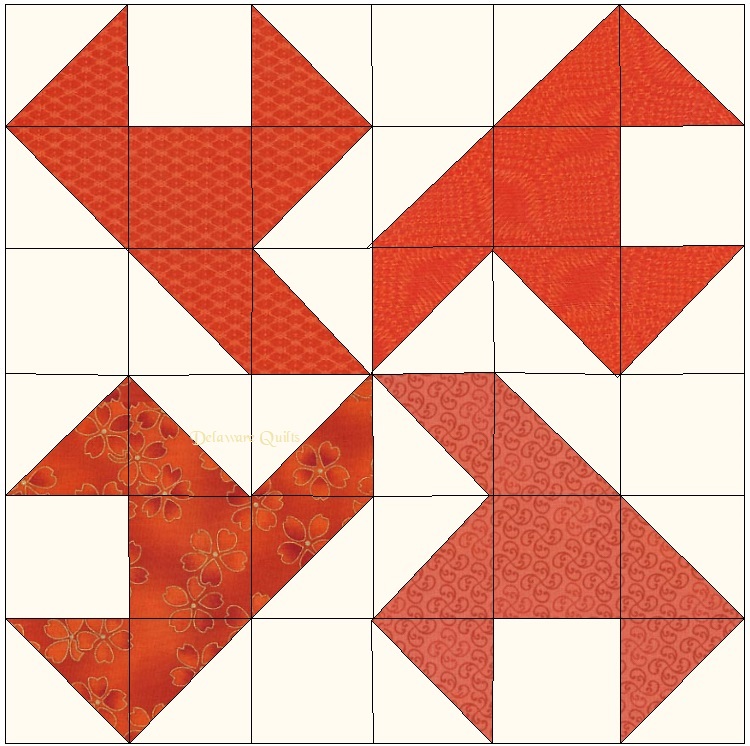 Here are some Crab Claws made by friends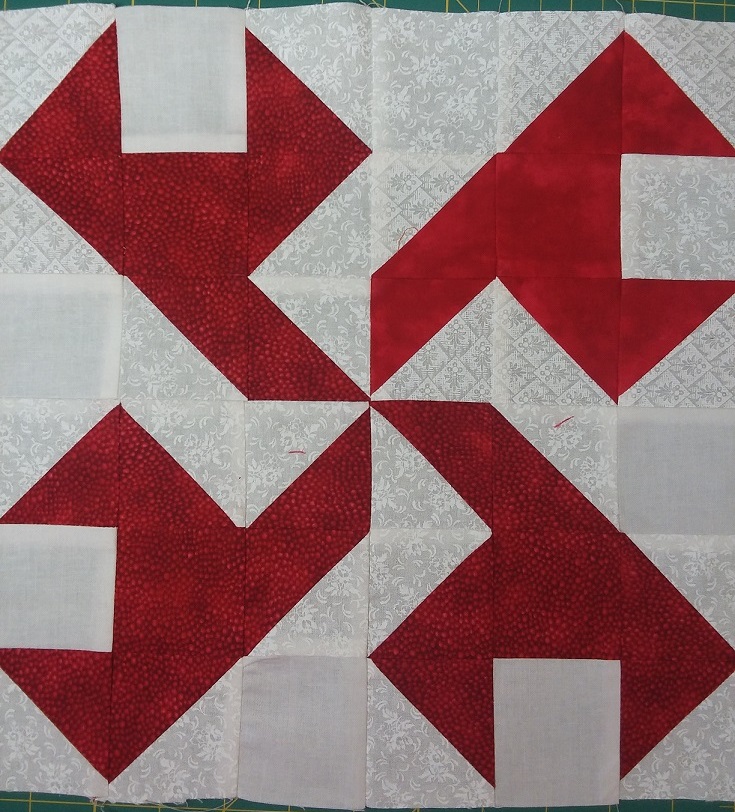 &nbsp &nbsp &nbsp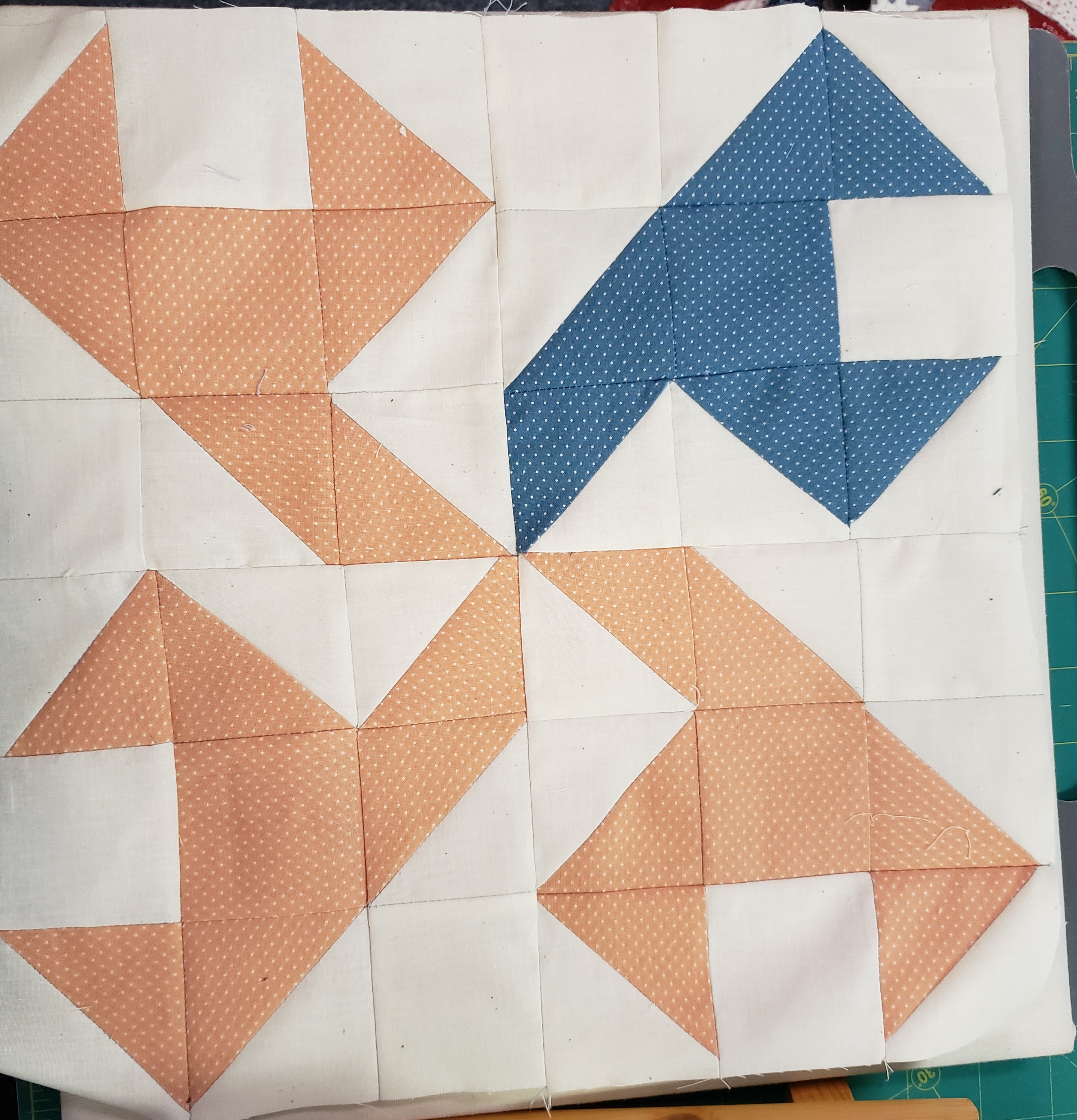 Crab Claws © Delaware Quilts March 24, 2022
The content on these pages, including text and images are the sole property of the Delaware Quilts and may not be used or reproduced in any manner without consent. All Rights Reserved.

Posted March 31, 2022

|Home| Quilts| Blocks| Quilt Patterns For Relay| Email|