Dandy Quilt Block


This block uses two different fabrics, a dark and a lighter background. I made my block with a white on white background and a navy print.

You will need to cut:

Two 4-7/8 squares of the darker fabric and two of the background.
Five 4-1/2" squares of background fabric
Eight 2-1/2" squares of the darker fabric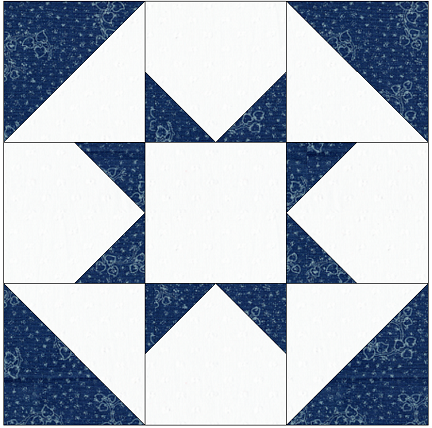 Step one: Back to those easy diagonal half squares, directions here. Use the two 4-7/8 squares of the darker fabric and two of the background to make a total of four diagonal half squares.

Step two: You are going to sew what I call snowball corners on
four of the 4 1/2 inch background blocks. You can "eyeball"
this, or to be safe, draw a diagonal line from corner to corner
on the wrong side of the eight 2-1/2 squares.
(This is a 2 1/2 inch block, I've enlarged it here so you can see the diagonal line better.)


Next, put one of the 2-1/2 marked squares on top of one of the 4-1/2 background fabric squares, right sides together, with the line as shown. Sew on the diagonal line. Repeat with the rest of the background fabric squares. Trim the fabric 1/4 away from the sewn line. Press the seam out, away from the background fabric.




Taking the squares you just made, and repeat with the other corner. This should measure the same 4 1/2 inches when you are finished.




Step three: Take two of the snowball type blocks, and place on either side of the remaining 4 1/2 inch background.


Now make two sets like the one below with the left over pieces.




Put the rows together as shown above. Your block should measure 12 1/2 inches, making it a 12 inch finished quilt block. (Finished in a quilt, using up 1/4 inch seam allowances on all four sides.)



By rotating the four corners, you come up with an alternative Dandy Block.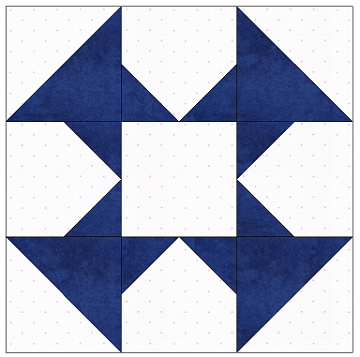 This pattern can be used for personal use only and can not be used commercially without the owner's permission. No copies may be made without the owner's permission. This includes the patterns as well as any graphics and/or instructions that are associated with a pattern.

Dandy © Delaware Quilts February 2003



|Home| Family| Quilts| Blocks| Retreat| Email|