&nbsp &nbsp &nbsp &nbsp



Easy Scrappy Stars


This month's block is really easy, but you can't do much with just one of them. However you can make eleven and make a wall hanging or make a whole bunch and make a quilt.


These are so easy it is sort of silly and yet they look so impressive when put together everyone will love your quilt. You can use all new or all scraps or a little bit of both.
For this BOM we'll make a small wall hanging of just seven stars. I will give you all the requirements for this exact wall hanging. At the bottom of the page are a few more quilts made using this block with the same background fabric in each block.

For this wall hanging you need:

Forty-two 4 ½ inch background squares. They can be all the same, or all different, but keep them all light.
Seven very dark 4 ½ inch squares. (I'm using all dark fall colors for my wall hanging)
Forty-two 2 ½ inch squares from a medium color. (Again, I'm using light fall colors)
Step one is to draw a diagonal line through all of your small squares on the reverse side.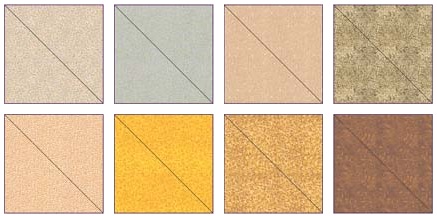 Using four of the light background colored 4 ½ inch squares sew on a small square diagonally on the line you drew and as shown here. You need two corners added to each large of these four squares.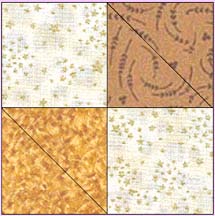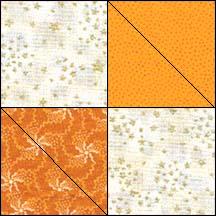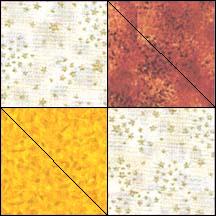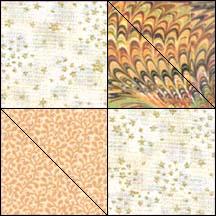 You will also need 20 of the light background colored 4 ½ inch squares with just one corner sewn on.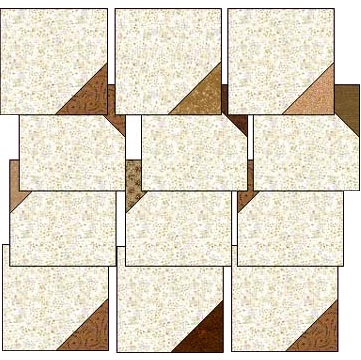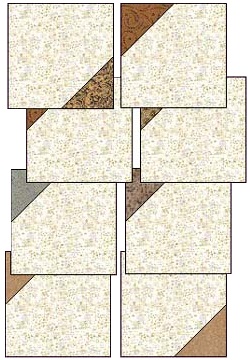 And finally you need the seven very dark 4 ½ inch squares, with two corners sewn on each one.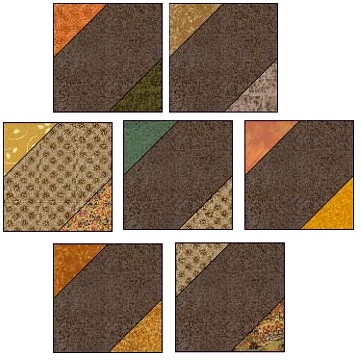 Now we can assemble our little wall hanging.
Row one


Row two


Row three


Row four


Row five


Row six


Row seven



The finished wall hanging will be about 28 inches square.
If you'd like to make a quilt using this pattern, you could make all the stars the same. This first diagram shows all the same background and star points, EXCEPT that I am showing the border blocks, which are blocks with only one corner covered, in red.



This diagram shows a little quilt with the outside borders trimmed a little.
&nbsp &nbsp
| | | |
| --- | --- | --- |
| | &nbsp &nbsp | And here is a baby quilt that Meloney made. |
Easy Scrappy Stars © Delaware Quilts August 2007
The content on these pages, including text and images are the sole property of the Delaware Quilts and may not be used or reproduced in any manner without consent. All Rights Reserved.

Updated June 17, 2020

|Home| Quilts| Blocks| Retreat| Email|