&nbsp &nbsp



Hope Of Hartford



A long time ago I saw this block somewhere and fell in love with it. However I couldn't find a name for it, and I looked everywhere. I made one and set it aside while continuing my search for a name. A few years later I had a sampler swap where everyone had to make a different block. One of the ladies said she wanted to make the Hope of Hartford, and I'd never heard of it so looked it up in Block Base. Well imagine my surprise when I realized I'd found the name for my block at last!

This block isn't as complicated as it looks, just some triangles and rectangles and a center square. We'll use a technique called partial seam to attach the units to the center square, very easy I promise. And look at the results!

For the Hope of Hartford you will need:
&nbsp &nbsp From your background cut four 2 7/8 by 5 1/4 inch rectangles and one 6inch square which you cut in quarters diagonally
&nbsp &nbsp From the purple cut one 6inch square which you cut in quarters diagonally and one 2 7/8 inch square
&nbsp &nbsp From the hot pink cut two 5 5/8 inch squares which you cut in half diagonally
When you cut these squares, you created bias edges. Be very careful when sewing and pressing not to stretch that bias.



Place a background and purple triangle right sides together and together sew on the short side. Repeat with the remaining purple and background triangles. Be sure to sew them all on the same side so all four are alike. (check diagram!)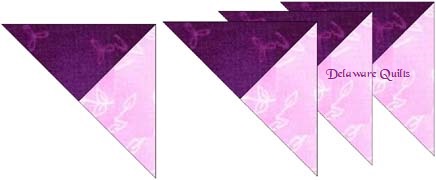 | | |
| --- | --- |
| Sew this two color unit to a hot pink triangle. Press to the pink. Trim back to 5 1/4 inches if needed. | |
| | |
| --- | --- |
| Repeat with the remaining units. | |
Add a background rectangle to each unit and shown here.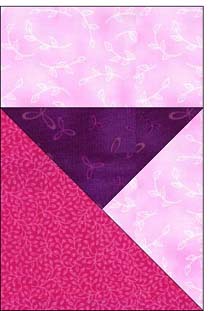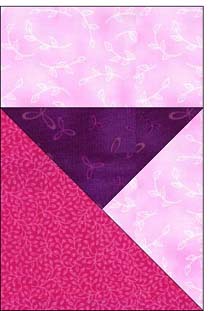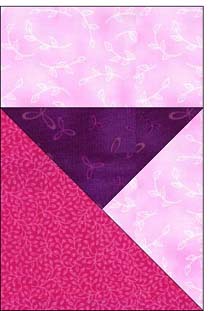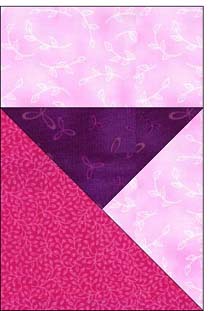 Now comes what some people call the trickey part, but it isn't really that hard. Sew your first unit to the square, but only half way! This is very important. You'll come back and finish it later.


(You are viewing the unit from the RIGHT side of the fabric, and the purple square is the WRONG side.)


| | |
| --- | --- |
| | Close up view |
Press the center square flat, towards the larger unit. Keep adding rectangles to the center square.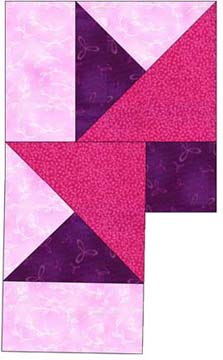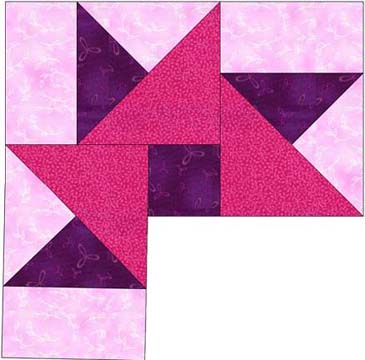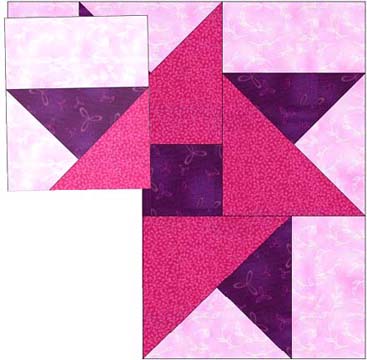 Now you can go back and sew the rest of the first rectangle down, and your block is finished.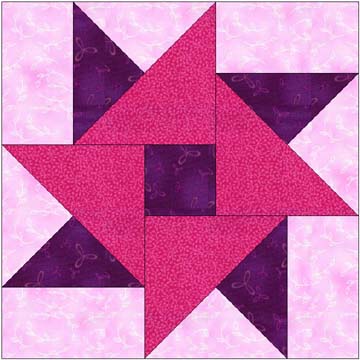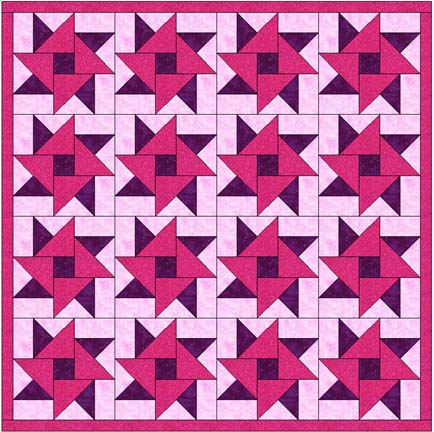 Hope of Hartford © Delaware Quilts August 2007
The content on these pages, including text and images are the sole property of the Delaware Quilts and may not be used or reproduced in any manner without consent. All Rights Reserved.

Updated June 16, 2020

|Home| Quilts| Blocks| Retreat| Email|