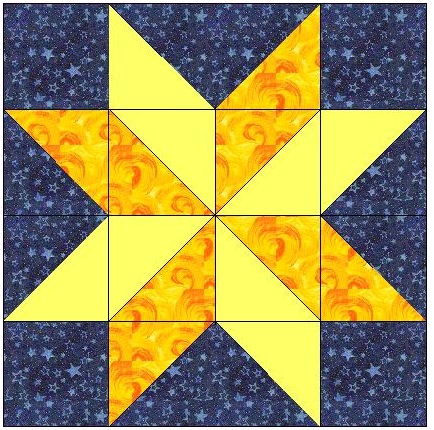 Hunter Star



Here is a new star for me, the Hunter Star. A friend made a whole quilt of this block, and I liked the star, so I've written up my own directions for it. I hope you'll like this star for your star sampler.


Check your measurements very carefully. Each block should measure 12 1/2 inches when it is finished. Accuracy from beginning to end will assure that your blocks come out perfectly. Measure carefully, sew carefully, and you will have a perfect block.

For the hunter star block you will need two contrasting star colors and the a background-

from all three fabrics cut four 3 7/8 inch squares

from your background cut four 3 1/2 inch squares

This block is made up of a lot of diagonal half squares. (You can find directions with diagrams for making diagonal half squares by following this link. .)




You need to use all the 3 7/8 inch squares to make diagonal half squares. You will need four diagonal half-squares of each one of these combinations.


Make two of each row,
and assemble your Hunter Star as shown above.
Your finished star should measure 12 1/2 inches.


This pattern can be used for personal use only and can not be used commercially without the owner's permission. No copies may be made without the owner's permission. This includes the patterns as well as any graphics and/or instructions that are associated with a pattern.

Hunter Star © Delaware Quilts March 2006
|Home| Family| Quilts| Blocks| Retreat| Email|