| | | |
| --- | --- | --- |
| | &nbsp &nbsp &nbsp &nbsp &nbsp &nbsp &nbsp &nbsp &nbsp &nbsp &nbsp &nbsp | Block of the Month |
Jack in the Box


For a 12 1/2 inch Jack in the Box (12 inches when sewn in a quilt) you need the following cuts.
For the flying geese units you need:

Four 5 1/2 inch by 3 inch rectangles of the B&W print.

Eight 3 inch squares of the white-on-white.

For the Diagonal Half Squares (or HST) you need:

Four 3 3/8 inch squares of the white-on-white.

Two 3 3/8 inch squares of the red

and two 3 3/8 inch squares of the black.

For the center strips you need four 5 1/2 by 2 1/2 inch strips of the red and one 2 1/2 inch square of black.
&nbsp &nbsp &nbsp &nbsp &nbsp &nbsp &nbsp &nbsp &nbsp &nbsp &nbsp &nbsp



Find directions to make a Jack in the Box Quilt here

Make four flying geese units.
Place a 3 inch w-o-w square on the top of the 5 1/2 by 3 inch rectangle as shown. Sew diagonally from corner to corner. Trim leaving a 1/4 inch seam allowance. Press to the square.



Now repeat on the other side of each rectangle using the other 3 inch w-o-w square.



Next come the diagonal half squares (DHS) or half square triangles, which ever you prefer calling them. You can use which ever technique you want to make them, but this is my favorite.


First, mark your lightest squares diagonally through the center. (This will be a cutting line when you are finished.) Place your red 3 3/8 inch square, right sides together with the 3 3/8 inch background square. Sew on either side of the drawn line, exactly 1/4 inch from the first line. Cut this square in half on the cutting line. You will now have two diagonal half-squares, which should measure exactly 3 inches. Repeat with the remaining 3 3/8 inch squares.

Make four units like this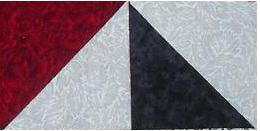 and then four like this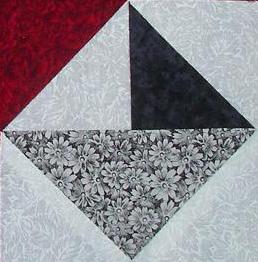 .

Now sew a red strip between two of the units you just made. Notice how those units are turned, putting the red DHS in the center next to the red strip. Make two units like this.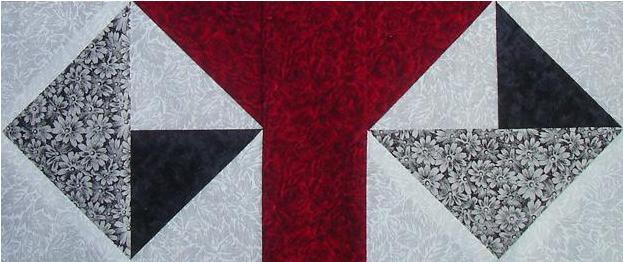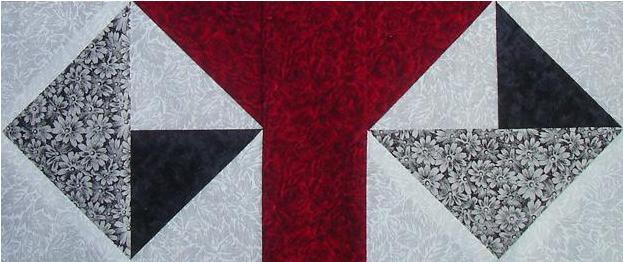 This unit will be turned around when you put the block together



Sew together this middle row


Assemble following the diagram.

Your finished Jack in the Box block should measure exactly 12 1/2 inches.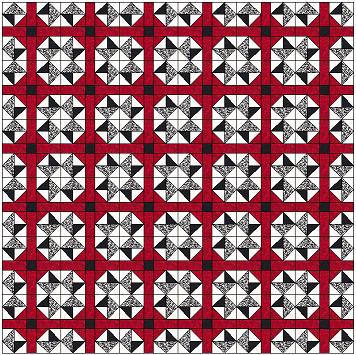 &nbsp &nbsp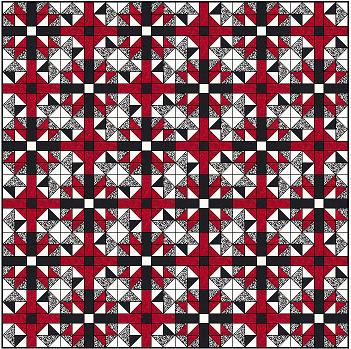 Surprise… look at what you get when you put this quilt together. And here it is with the Apline Cross block
| Home | Family | Relay | Quilts | Blocks | Projects | Retreat | Email |

Please note… if you send me an email, in order for me to reply to you,
you must add quiltersretreat@hotmail.com to your address book. Otherwise
your server may deliver my reply to your spam folder, and you will never get it.

Updated June 11, 2014

Copyright © Delaware Quilts December 2010
The content on these pages, including text and images are the sole property of the Delaware Quilts and may not be used or reproduced in any manner without consent. All Rights Reserved.


2815