&nbsp &nbsp &nbsp &nbsp



Rail Fence



Glenda asked me to do a four color Rail Fence block, so here it is! This is an easy block, but one that still requires that you measure, cut and sew carefully. There are two different ways to put this block together, pick which one seems easier to you.

For the Rail Fence block you will need one 2 inch strip at least 26 inches long of four different colors.
| | | |
| --- | --- | --- |
| One way to put this together is to cut your strips into 6 1/2 inch segments, and sew them together in shorter units. This might be easier for you if you have trouble sewing long straight lines. Be sure to press all the seams into the same direction on all four units. | &nbsp &nbsp &nbsp &nbsp | |
Another way is to sew your strip in one long length, press the seam allowances all in the same direction



and then cut that long unit into 6 1/2 inch segments.




Whichever method you use, your completed segments should measure 6 1/2 inches, and your block should measure 12 1/2 inches when you are done.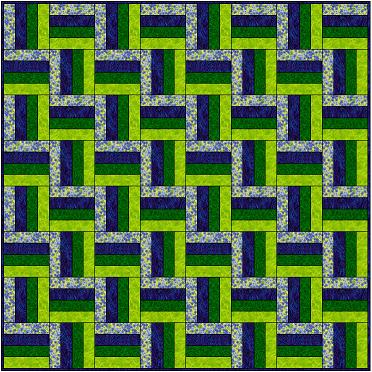 Rail Fence © Delaware Quilts February 2003
The content on these pages, including text and images are the sole property of the Delaware Quilts and may not be used or reproduced in any manner without consent. All Rights Reserved.

Updated June 7, 2020

|Home| Quilts| Blocks| Retreat| Email|