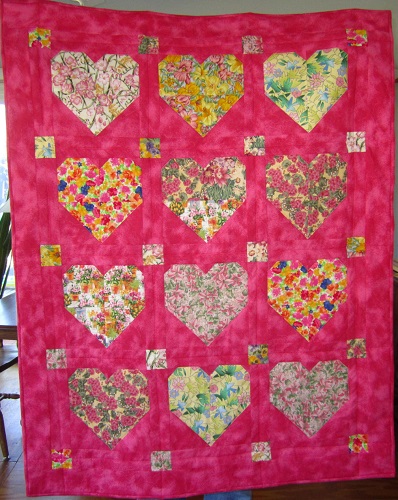 &nbsp &nbsp &nbsp &nbsp



Scrappy Hearts


This pattern will make a darling wall hanging for Valentines Day, or you can make a baby quilt for a precious little one.

These hearts a very easy to make and the possibilities of how to use them are endless. Hearts do not have to be red, you can make them any color you wish. I will call the heart pieces "red" only to distinguish then from the background fabrics.

The instructions will give you a scrappy heart, but you certainly can make them non-scrappy if you prefer. Each diagonal half square will give you two bottom heart halves.

IMPORTANT: These instructions will give you an 8 inch finished heart. If you plan to make another size heart, you will have to adjust the size blocks you are cutting. (Other size heart blocks and the cuts to make them are listed below)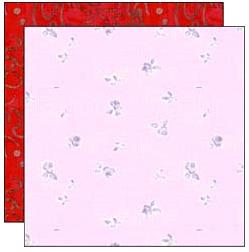 Cut one 4 7/8 inch square of both a red and a background fabric.
Place the red block and background block right sides together. Carefully
draw a line down the center, corner to corner, diagonally across the block.
(This will be a cutting line when you are finished.)
Now if you have a true 1/4 inch foot on your machine, you can
sew on either side of this drawn line. If not, you will have to draw a
second line on either side, exactly 1/4 inch from the first line.
This is your sewing line.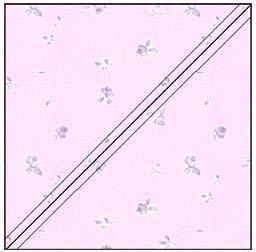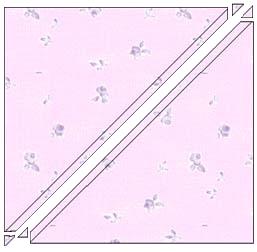 After you have sewn on your sewing line, 1/4 inch on either
side of your corner to corner to line, you will cut this square in half
on your cutting line.

Don't forget to trim your dog ears.
You will now have two diagonal half-squares,
which should measure exactly 4 1/2 inches. Press
one to the background, and the other to the red.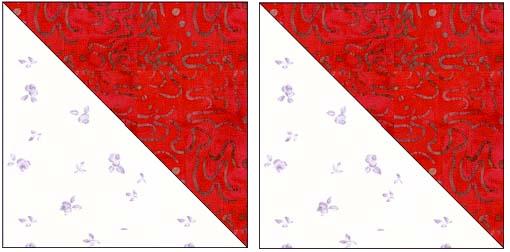 Repeat this step with a different red and background square three more times. You now have four different pairs of red and background diagonal half squares. Sew different pairs together (below) and you have the bottom half of the heart block. Press to the left.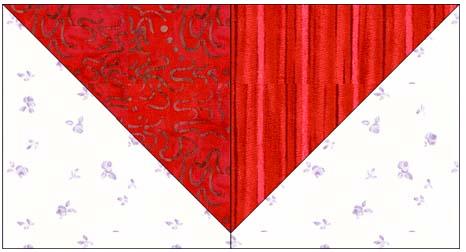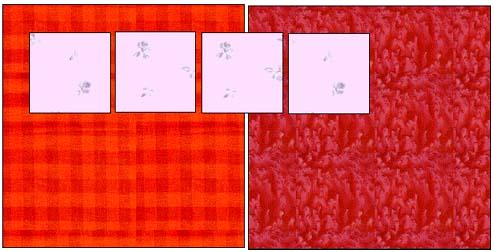 Next cut two 4 1/2 inch blocks from two
different reds, and four 1 1/2 inch squares of
your background fabric.

(If you want to cut for four hearts at one
time, cut eight different 4 1/2 inch reds and
sixteen 1 1/2 inch squares of background fabric.)
Sew two of the small squares onto the large square.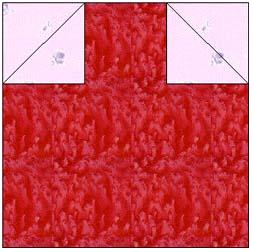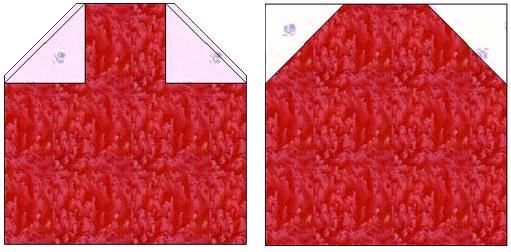 Trim off excess, leaving a 1/4 inch seam allowance.


Repeat for the second large square. Press one set of squares toward the background, and the other the opposite.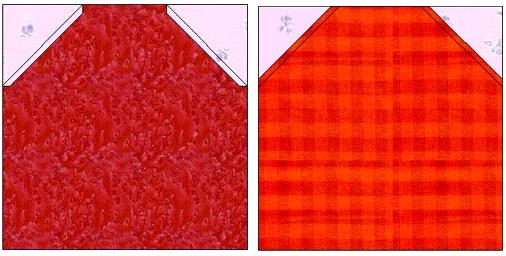 These two blocks are the top half of the heart. After you've sewn them together, and pressed to the right,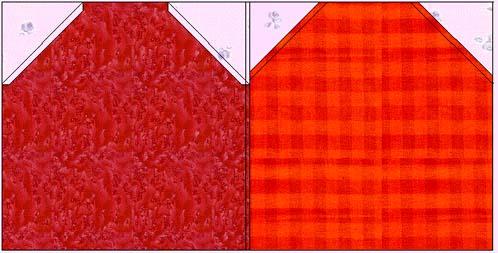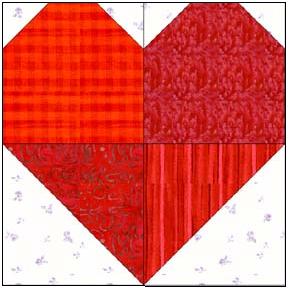 add them to the bottom half, and your heart is finished!
Here is a baby quilt made of scrappy hearts and two wall hangings.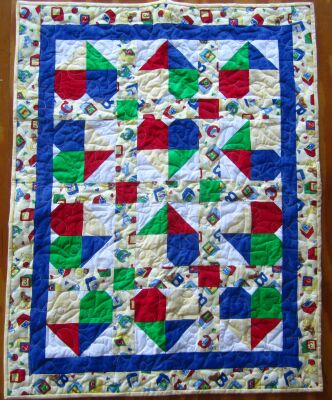 &nbsp &nbsp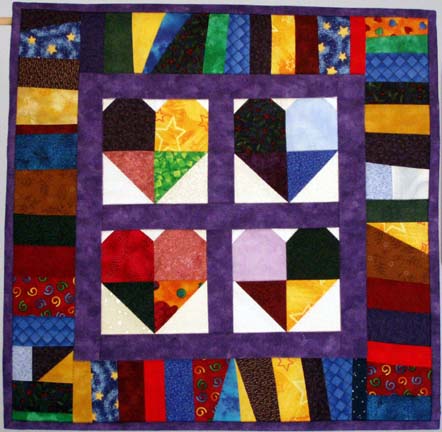 &nbsp &nbsp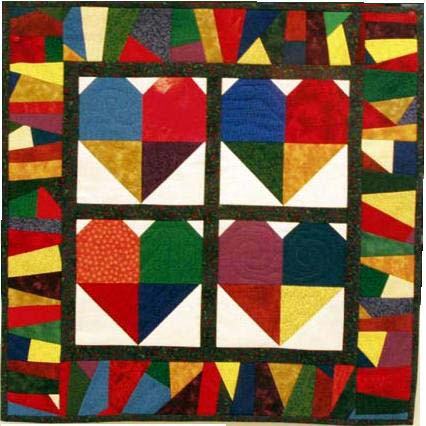 And here are two more wall hangings, one scrappy one not.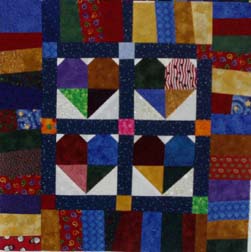 &nbsp &nbsp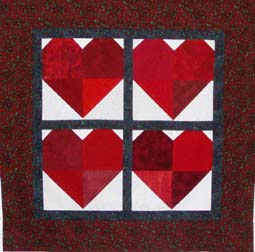 These are two scrappy heart quilts which were made for charity.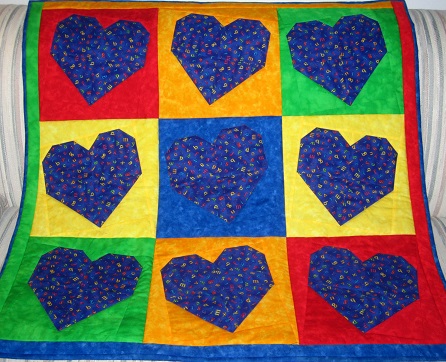 &nbsp &nbsp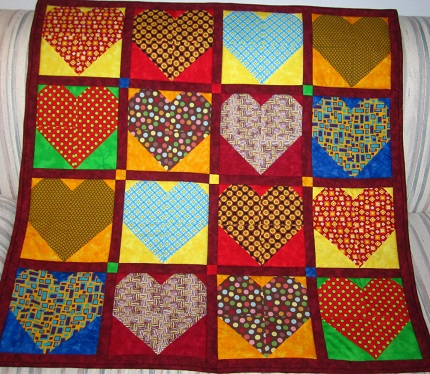 You can make your hearts any size you want, to suit what ever need you have.

Cutting your squares 2 1/2 inches (2 7/8 for diagonals) will give you a finished heart of 4 inches. Small squares are cut 1 inch.

Cutting your squares 3 inches (3 3/8 for diagonals) will give you a finished heart of 5 inches. Small squares are cut 1 1/8 inches.

Cutting your squares 3 1/2 inches (3 7/8 for diagonals) will give you a finished heart of 6 inches. Small squares are cut 1 1/4 inches.

Cutting your squares 4 inches (4 3/8 for diagonals) will give you a finished heart of 7 inches. Small squares are cut 1 3/8 inches.

Cutting your squares 4 1/2 inches (4 7/8 for diagonals) will give you a finished heart of 8 inches. Small squares are cut 11/2 inches.

Cutting your squares 5 inches (5 3/8 for diagonals) will give you a finished heart of 9 inches. Small squares are cut 1 3/4 inches.

Cutting your squares 5 1/2 inches (5 7/8 for diagonals) will give you a finished heart of 10 inches. Small squares are cut 2 inches.

Cutting your squares 6 inches (6 3/8 for diagonals) will give you a finished heart of 11inches. Small squares are cut 2 1/4 inches.

Cutting your squares 6 1/2 inches (6 7/8 for diagonals) will give you a finished heart of 12 inches. Small squares are cut 2 1/2 inches.

Remember, finished means the size your heart will be when it is sewn into a quilt. The unfinished size is 1/2 inch larger.



Scrappy Hearts © Delaware Quilts December 1999
The content on these pages, including text and images are the sole property of the Delaware Quilts and may not be used or reproduced in any manner without consent. All Rights Reserved.

Updated June 20, 2020

|Home| Quilts| Blocks| Retreat| Email|