&nbsp &nbsp &nbsp



Slanted Diamonds


Check your measurements very carefully. Each block should measure 12 1/2 inches when it is finished. Accuracy from beginning to end will assure that your blocks come out perfectly. Measure carefully, sew carefully, and you will have a perfect block.

To make one block you will need five 4 7/8 inch squares of two colors. (You will have one extra diagonal half square)

At the bottom of the page are other sizes you can make this block and a bonus.

For the Slanted Diamonds block you will need a lot of diagonal half squares. You need to use the red and blue 4 7/8 inch squares to make them. Place the red and blues right sides together. Draw a line corner to corner, diagonally, through the wrong side of the lightest color, this is the cutting line. If you have a quarter-inch foot, sew on either side of that line, then cut on that line. (If you do not have a quarter-inch foot, just add two more lines, 1/4 inch on either side of the first line.) Your diagonal half squares should be 4 1/2 inches. Repeat with all your squares.




Press the seams of the top and bottom row in the same direction, and the middle row in the opposite.
If you have cut and sewn accurately, your finished block will be 12 1/2 inches.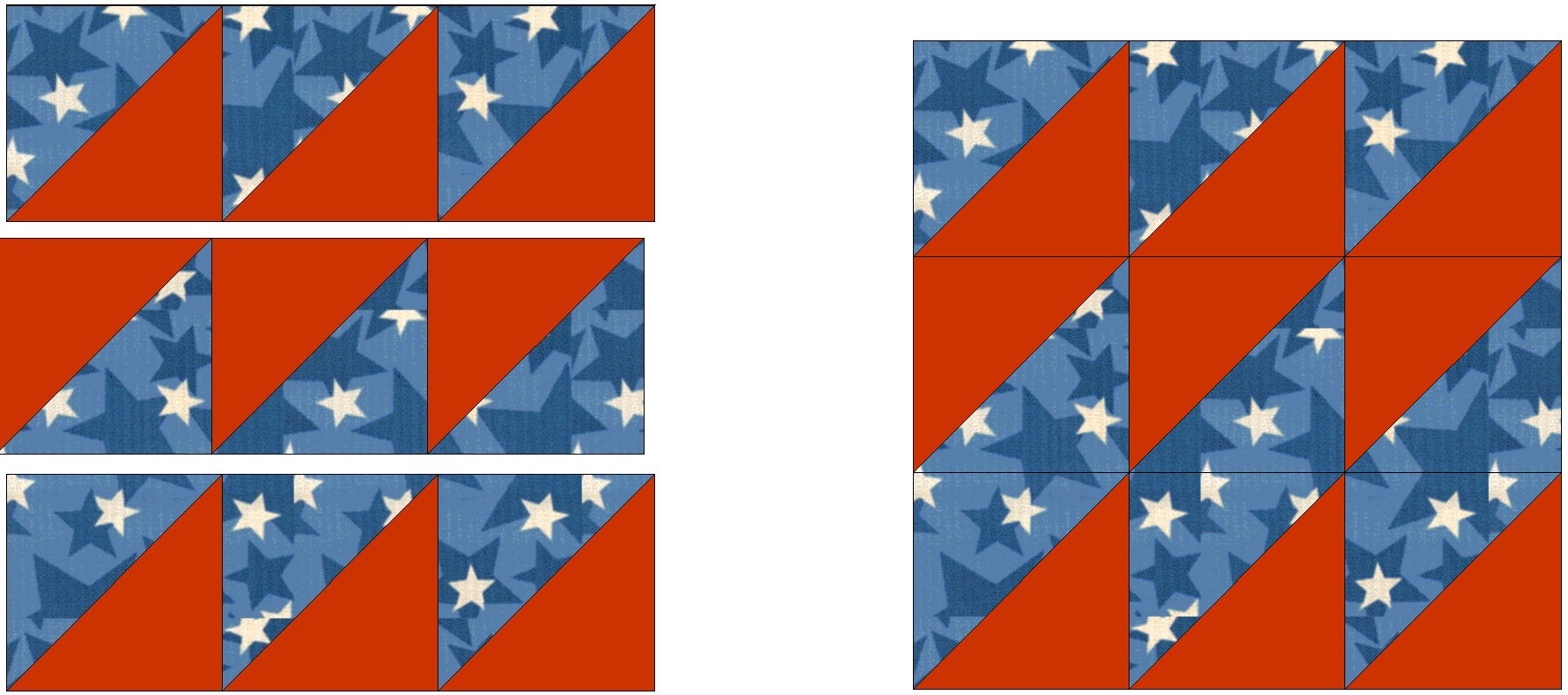 OK, you just read how to make a Slanted Diamonds block.




Have you made a block yet?




How about a Slanted Diamonds quilt? Do I hear groaning at the thought of making ALL those diagonal half squares? It really isn't that hard, and there are shortcuts you can take to make the job easier.

First, you have to decide which size block you want to make, and/or which size quilt I guess. If you want the pattern to show, use a smaller size block. Both quilts here use the same two blocks. Both quilts are 60 inches square. One quilt uses 9 inch blocks, the other uses 15 inch blocks. Which one do you think the pattern shows better? (I prefer the nine inch blocks myself, and would probably even go smaller, like six inches.)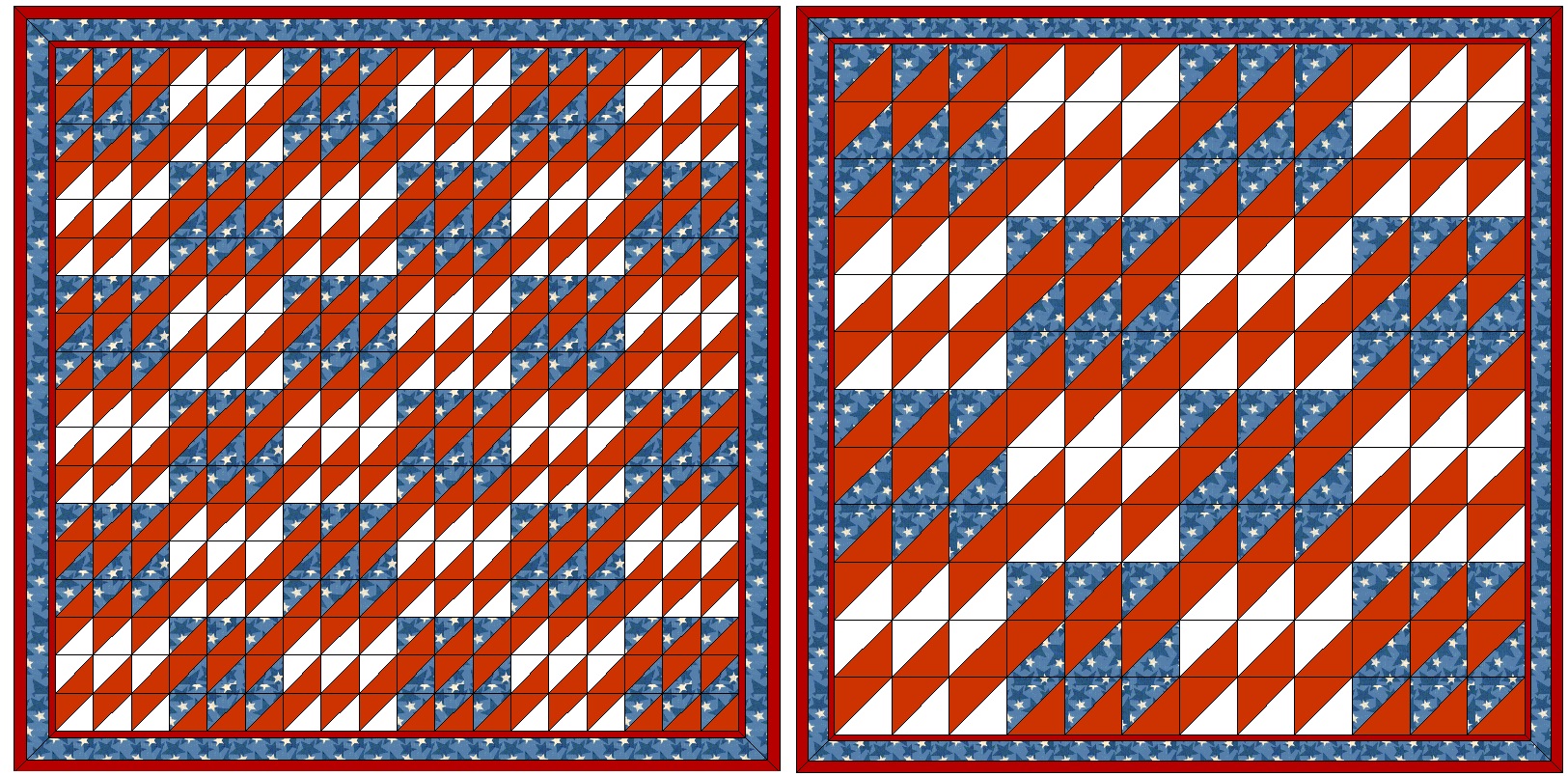 And don't get all worried about having to make all those diagonal half squares, like I said I have a shortcut. My favorite method for making a lot of the same diagonal half square is the grid method. (A link to How To diagrams can be found here)

I simply draw a grid the size I want on the lightest color fabric, and then sew on that. I can make my grid as large as I trust myself to make it, which would depend on how large my squares are. I usually don't go over much larger than a fat-quarter of fabric, or 18 inches by 20 inches, again, depending on the size of my squares. (If I was cutting six inch squares, I would use a 19 by 25 inch piece of fabric for my grid. The grid diagram below is a 16 by 21 inch piece of fabric.)

This 5 inch grid is marked to make 24 diagonal half squares. And the second diagram shows how I cut it up.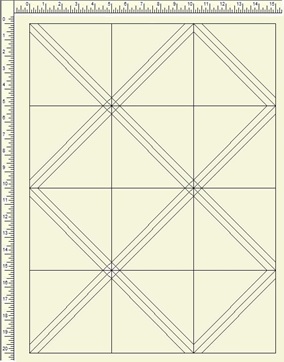 &nbsp &nbsp &nbsp &nbsp &nbsp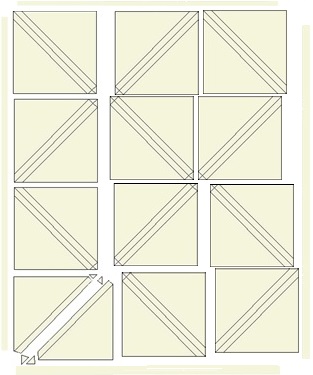 The red, white and blue quilt above is made of just two blocks, you can decide which size to make your blocks, and your quilt.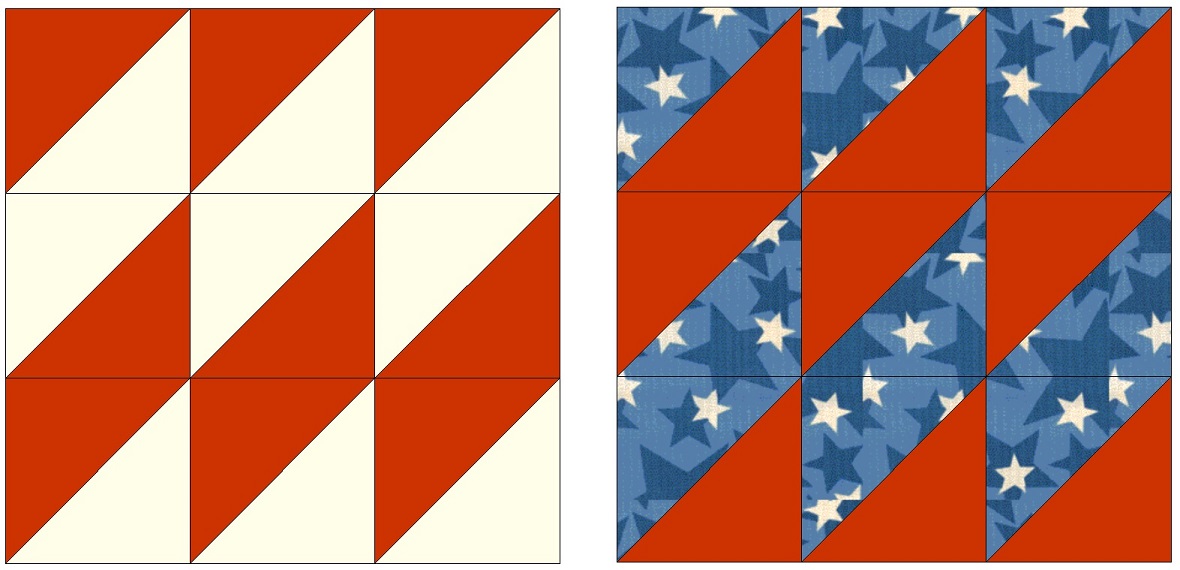 Because I don't know what size block you want to use or what size quilt you want to make, I can't give you yardages, sorry. The layout of the quilt is quite simple, just alternate the blocks. One block goes red side up and the other goes blue side up. And that's all there is to it.

Since I can't do more for you, how about another quilt? This one also takes just two blocks. Well two of the same block…when setting the quilt the blocks are alternated, every other block is turned around to make the design.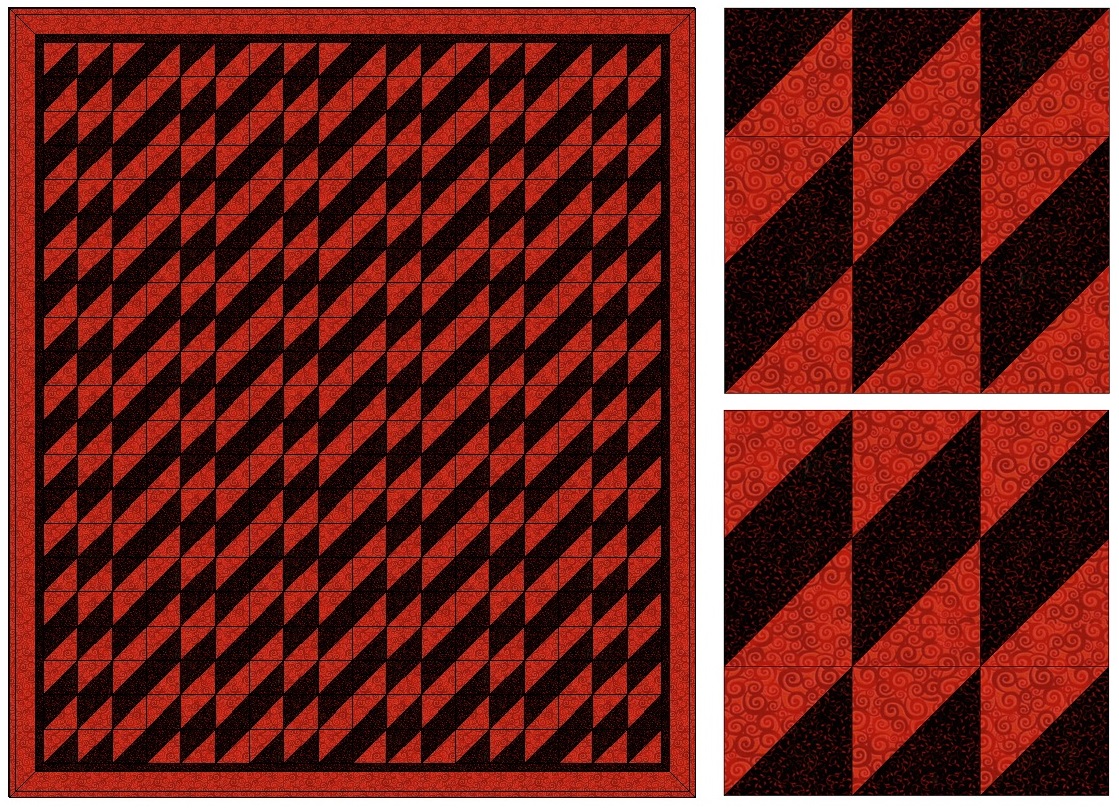 Here are different sizes to make Slanted Diamonds blocks:
&nbsp &nbsp &nbsp &nbsp Cutting your squares 1 7/8 will give you a finished block of 3 inches.
&nbsp &nbsp &nbsp &nbsp Cutting your squares 2 7/8 will give you a finished block of 6 inches.
&nbsp &nbsp &nbsp &nbsp Cutting your squares 3 7/8 will give you a finished block of 9 inches.
&nbsp &nbsp &nbsp &nbsp Cutting your squares 4 1/8 will give you a finished block of 10 inches.
&nbsp &nbsp &nbsp &nbsp Cutting your squares 5 7/8 will give you a finished block of 15 inches.
&nbsp &nbsp &nbsp &nbsp Cutting your squares 6 7/8 will give you a finished block of 18 inches.

Or if you are making a whole quilt of just this block, you can cut all your squares the same size, whatever size you want. As long as you cut carefully and sew carefully, use whatever size those diagonal half squares turn out to be. If you must, measure and square them all to the same size.









I liked the first quilt but wanted to see it in more subdued colors. I like this even more.

&nbsp &nbsp &nbsp &nbsp





This pattern can be used for personal use only and cannot be used commercially without Delaware Quilt's permission. No copies may be made without Delaware Quilt's permission. This includes the patterns as well as any graphics and/or instructions that are associated with a pattern.

Slanted Diamonds © Delaware Quilts February 2003 Updated October 2021

|Home| Quilts| Blocks| Retreat| Email|