Stepping Stones
We're starting out this series of Block of the Month with Stepping Stones, a very simple block. What really makes this block work nicely into a quilt is contrast. So, you will need a very dark color, and a very light complimenting color, as well as a white or white-on-white background.


To make it a colorful quilt, make each block a different color. Examples of colors – dark red and pink, navy blue and sky blue, forest green and mint green, deep orange and pale yellow, deep purple and light lavender.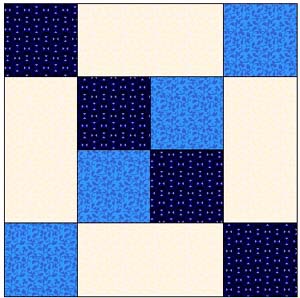 Check your measurements very carefully. Each block should measure 12 1/2 inches when it is finished. Accuracy from beginning to end will assure that your blocks come out perfectly. Measure carefully, cut carefully, sew carefully, and you will have a perfect block.

For the stepping stones block you will need a dark and a light of a complimenting color, and your guild background–

from the dark cut four 3 1/2 inch squares
from the light cut four 3 1/2 inch squares
from your background cut four 6 1/2 by 3 1/2 inch rectangles



First sew a background rectangle between a dark and a light square.
Make two of these.
Now make a four patch using two light squares and two dark squares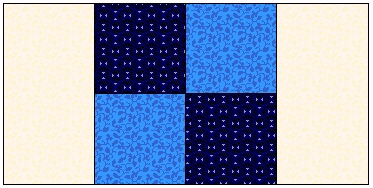 Then add the remaining background rectangles to either side of the four patch

Assemble as shown in the diagram above, and your stepping stone block is complete. It should measure 12 1/2 inches exactly.



This pattern can be used for personal use only and can not be used commercially without the owner's permission. No copies may be made without the owner's permission. This includes the patterns as well as any graphics and/or instructions that are associated with a pattern.

Stepping Stones © Delaware Quilts January 2003





|Home| Family| Quilts| Blocks| Retreat| Email|