2009 has been an interesting year, and I'm not going to bore you with all the details. Boys…errr.. men are all fine, as are their ladies and animals (all have kitties now) and they are all working. I'll get some photos when they are home for Christmas, or New Years, or when I see them next.


But I do want to tell you about our Florida Trip 2009, our being just John and I, much to the dismay of the rest of them. It's so hard to pick just a few photos for the whole trip, and even hard to pick a few for each day, so instead here are a whole bunch, with the story (shortened of course) of the whole trip...


We left a day earlier than planned when the weather man started talking about snow and ice on our route south. It was a good move, because if we hadn't left early we would have run into that yucky winter stuff. Also, that gave us more time to take side trips and see some things we'd never seen before, like St Augustine Florida and Route A1A along the Florida coast.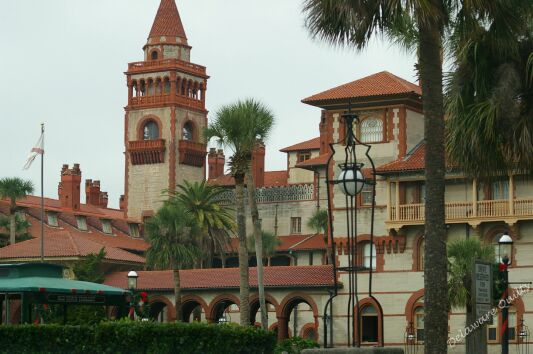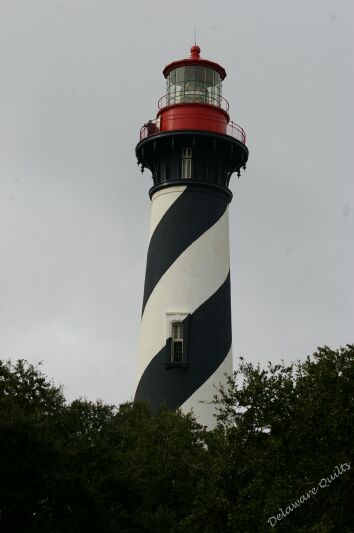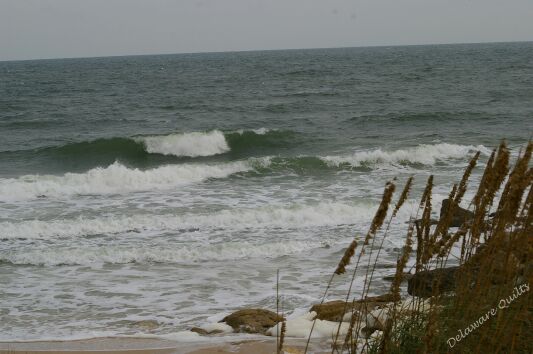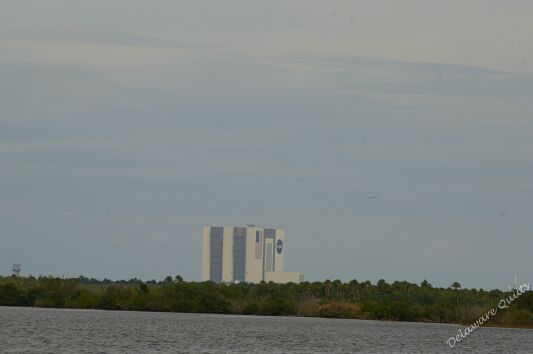 Our first day at Walt Disney World started at Epcot, where we took the tour of the Land, then did the Seas with Nemo and Friends, had a delightful lunch at the Coral Reef, then went Soarin' which I highly recommend ( unless you are afraid of heights), went to visit Figment in a Journey into Imagination, were shrunk in Honey I Shrunk the Audience and were entertained by a joyful celebration on the way out. (Hi - 79°F Lo - 62°F)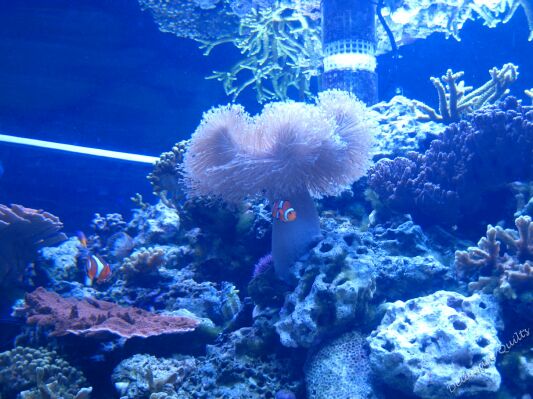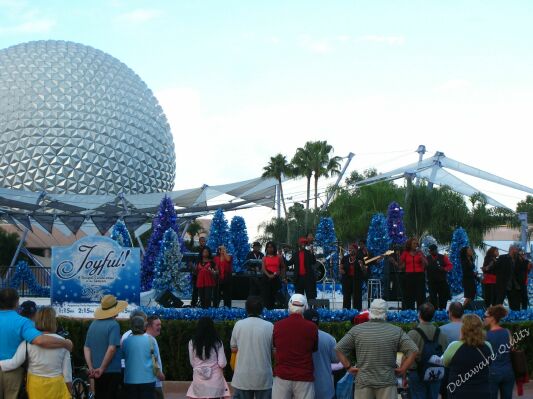 Day two we went to the Animal Kingdom. I'll admit, it was my least favorite park until this visit, but it moved up considerably due to seeing more this visit than on previous visits. We did the Safari, and saw quite a few animals. Then we saw the Tough to be a Bug show, cute, but being close to the Tree of Life was the best part, seeing all the animals carved in that huge tree was such fun.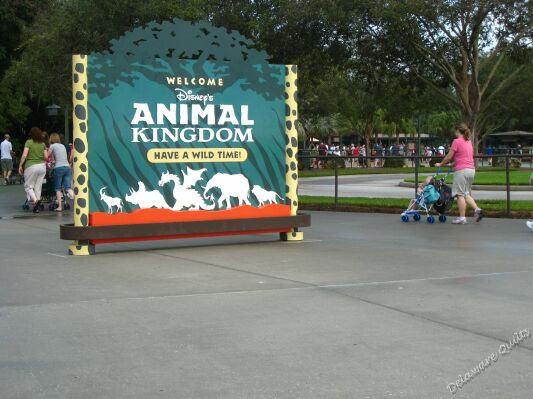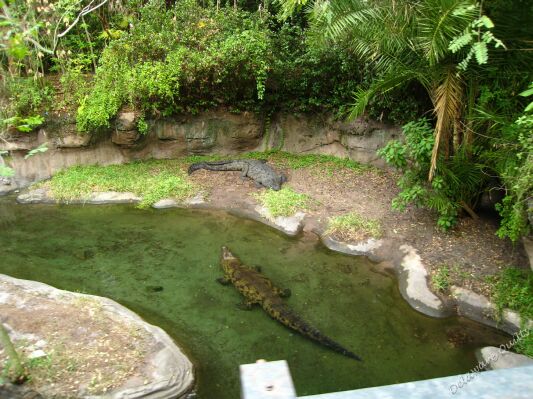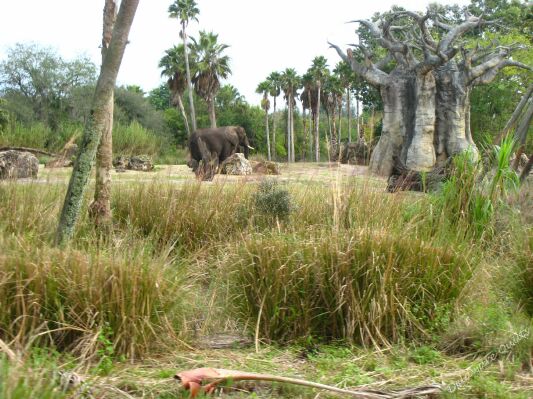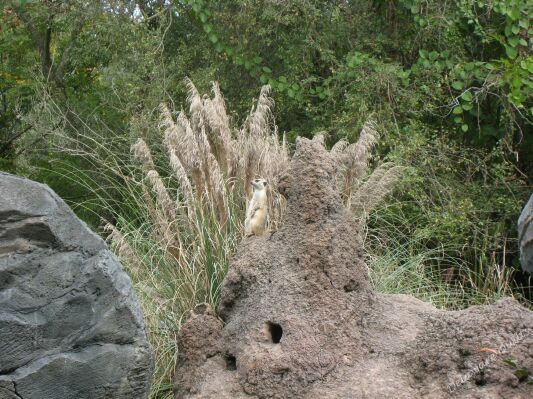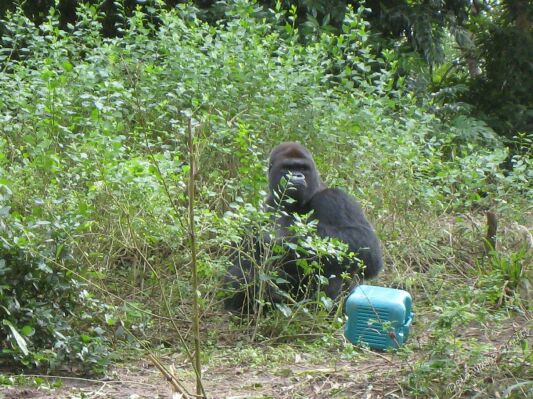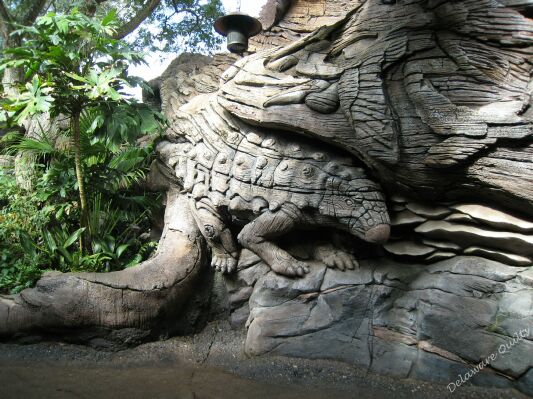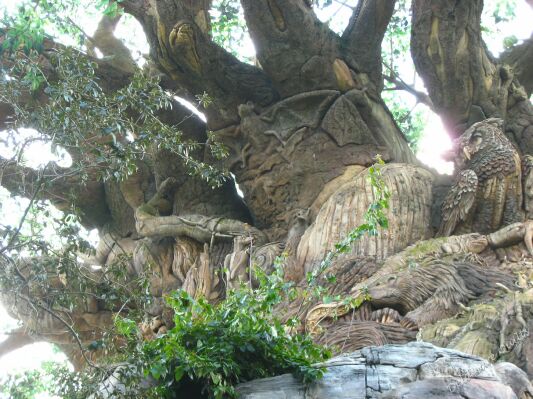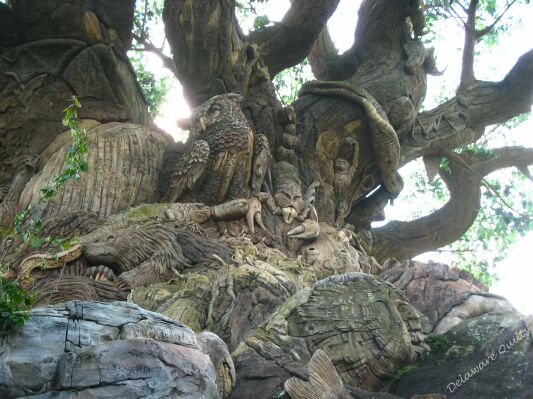 Then we saw someone I never expected to see at WDW two weeks before Christmas, Santa, on vacation too! Well he sure looked like Santa to me.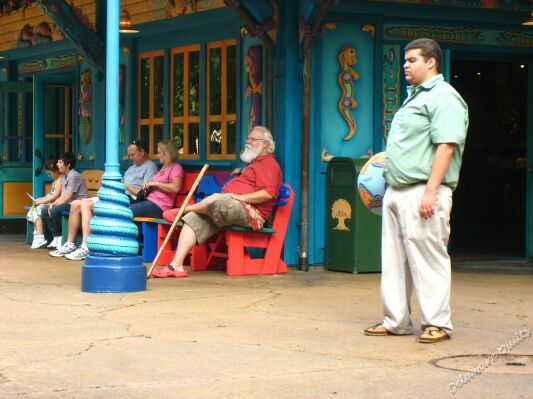 Click for closeup

We had lunch at the Rainforest Café which was pretty good and filling for sure. After lunch we headed to the Festival of the Lion King, which I would visit again and again and again if I could... the music was great and the colors, and wow ... it was just all around wonderful.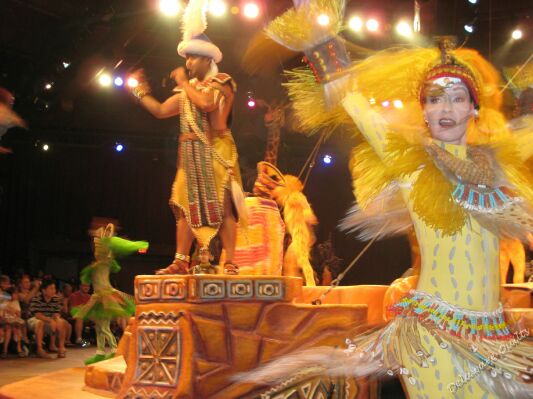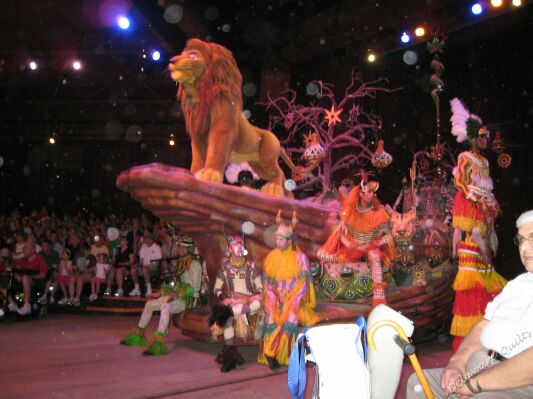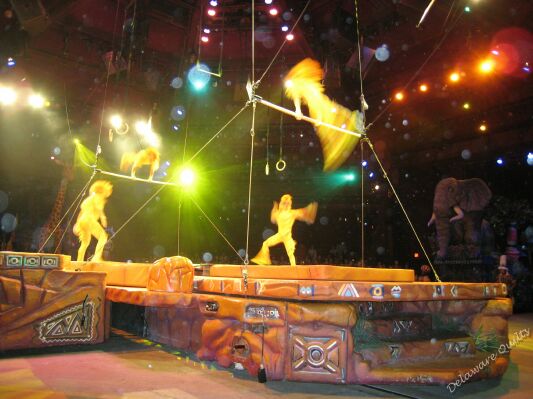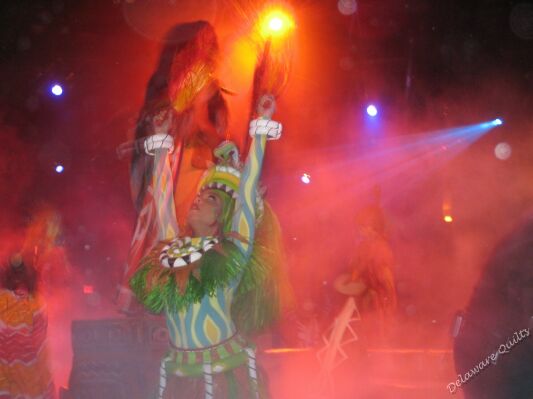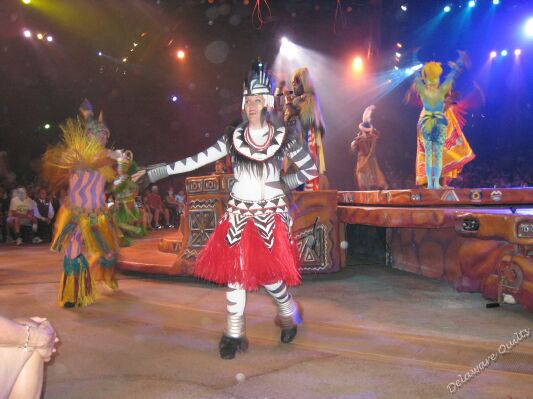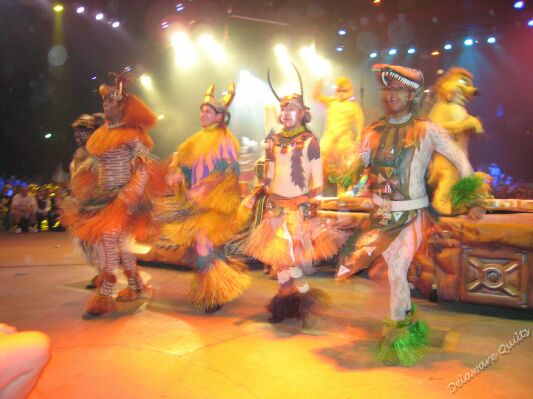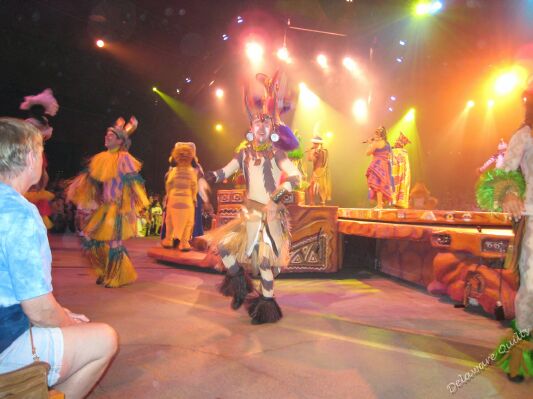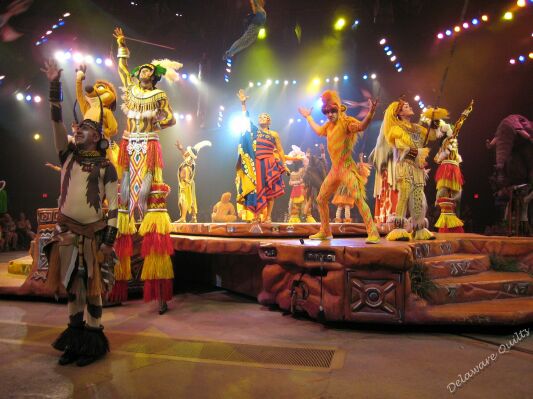 That was followed by Mickey's Jingle Jungle Parade, which was equally as colorful.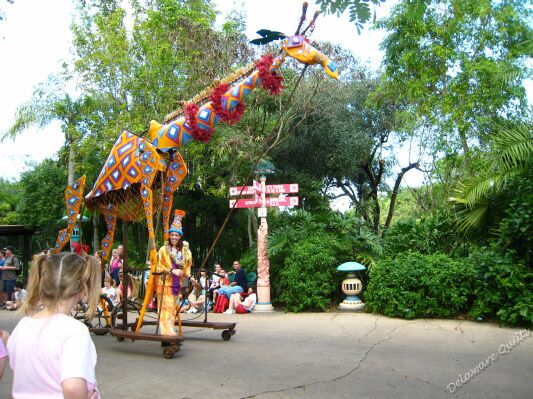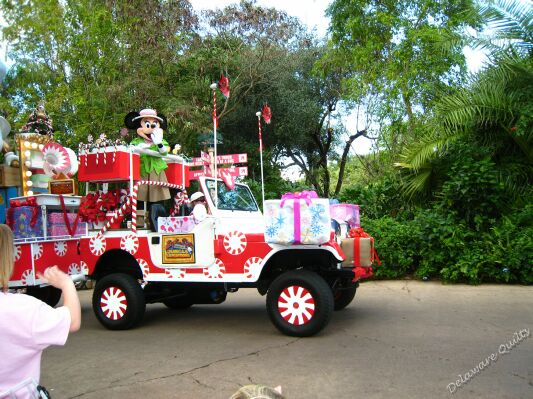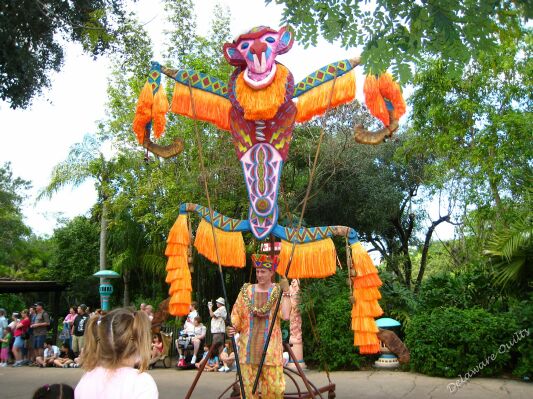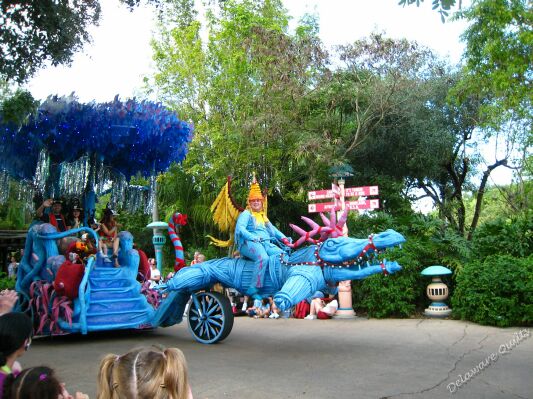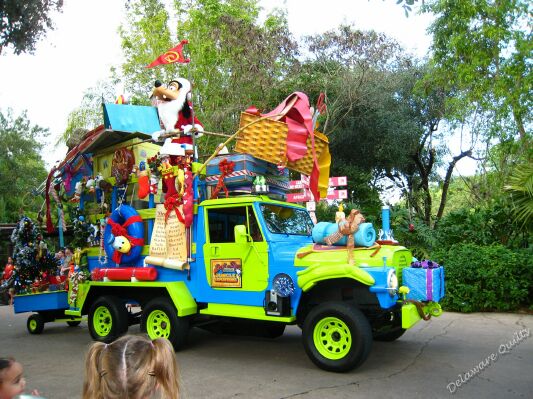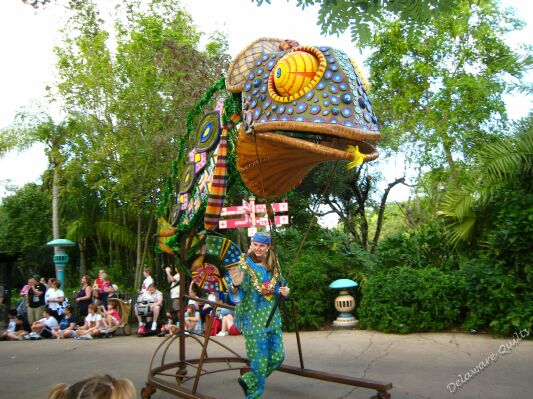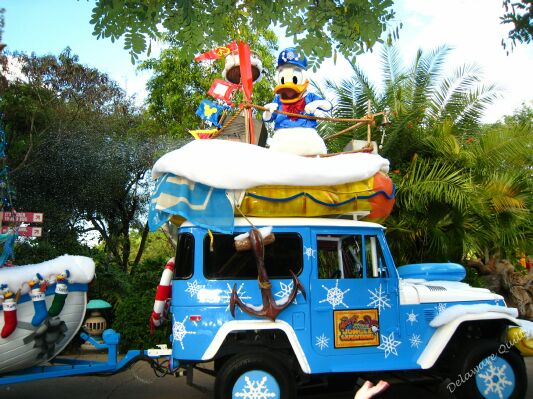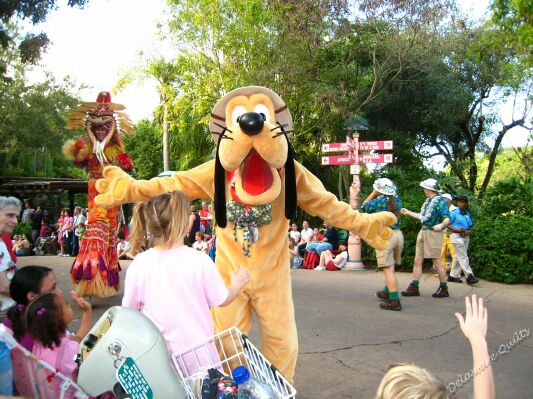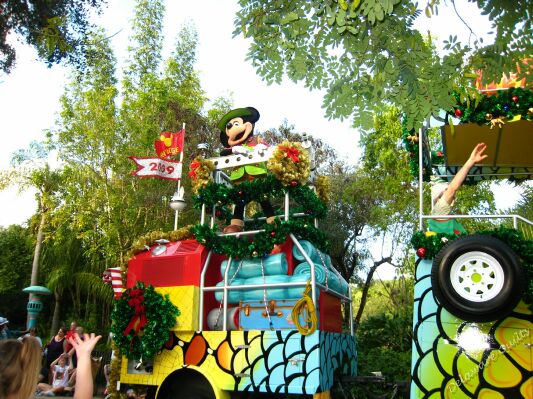 We decided to go over to the Magic Kingdom to watch the castle illumination, and it was worth the trip. I'm so glad Mickey and friends helped Cinderella decorate with the help of the Good Fairy. (Hi - 81°F Lo - 66°F)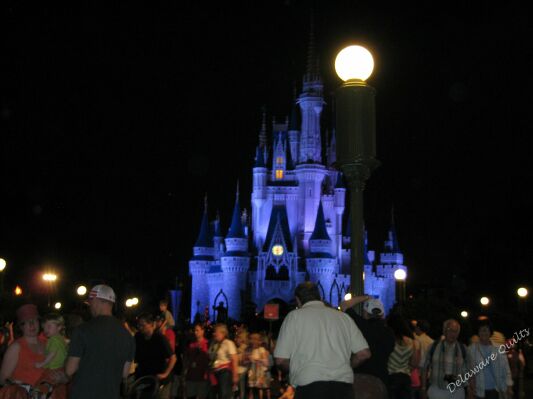 before and after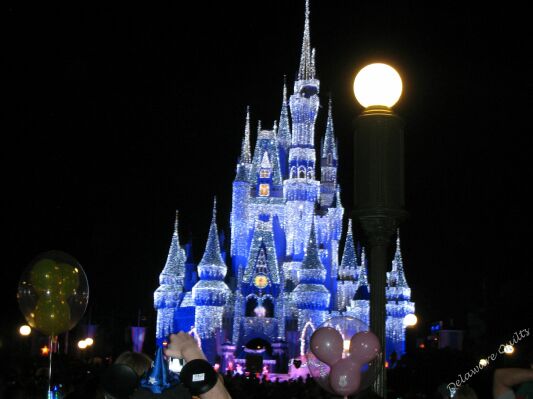 Wednesday we headed to Disney's Hollywood Studios where we did some of our favorite's including the Great Movie Ride (time to change it I think), The Backlot Tour, Muppet Vision 3D, then had lunch at Mama Melrose's Ristorante Italiano (yummy plus quiet) and saw Muppet Vision 3D again (hey, we like it!)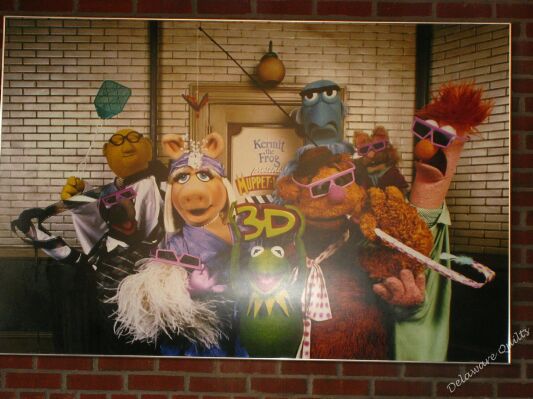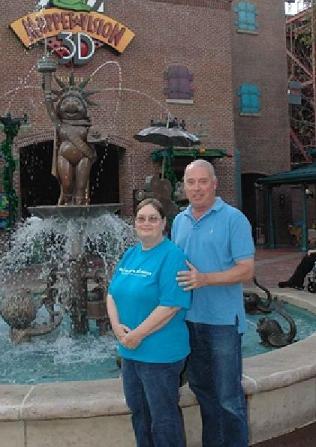 We managed to catch the Block Party Parade, colorful and cute.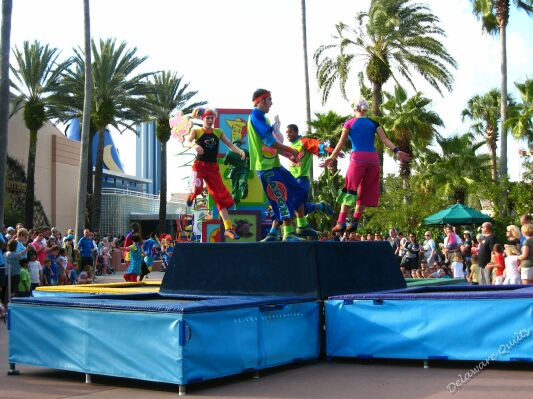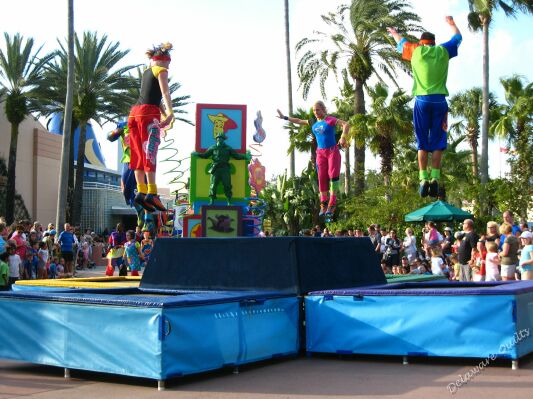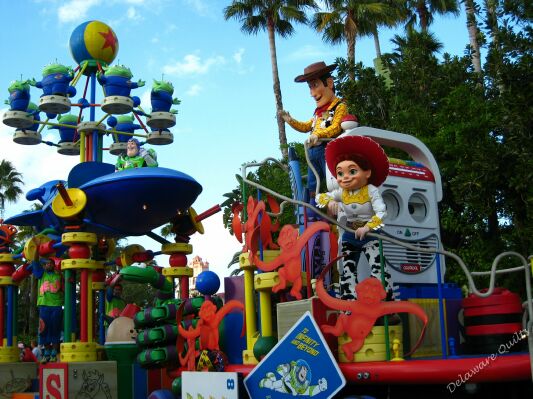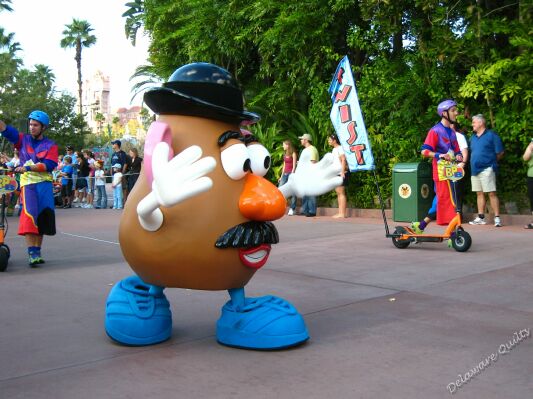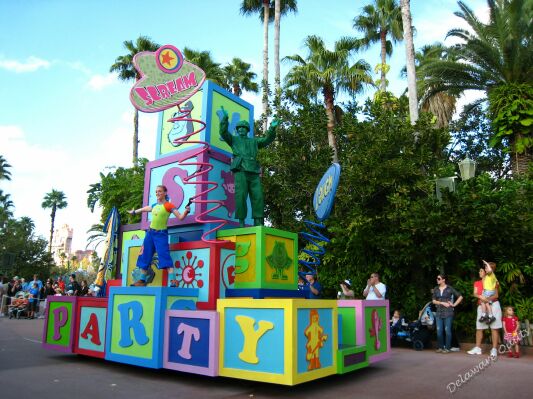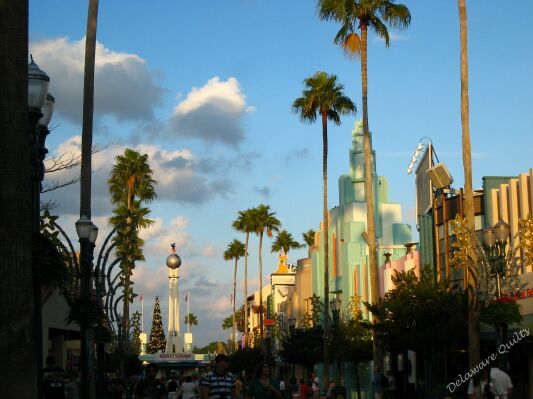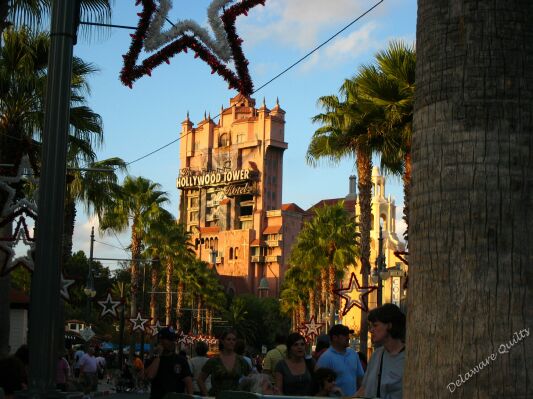 Then we went on the new Toy Story Midway Mania ride, which was a lot of fun. No photos since it is such a fast ride and fun. Not fast as in speedy, but fast as in your ride through an arcade shooting at things. First time through John beat me by 200 points, second time around I think he let me win, LOL!


Next we had a snack, delicious ice cream sundae and then saw the Beauty and the Beast show, which was ok, but I liked the Lion King much more.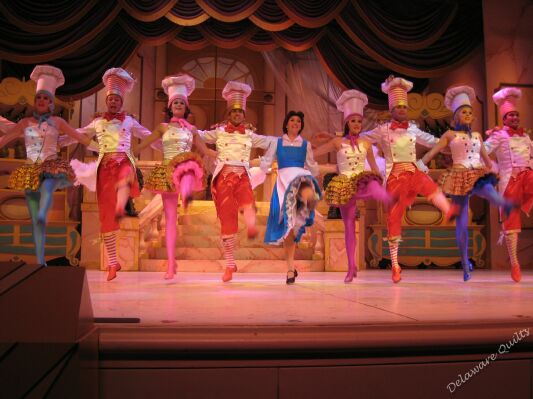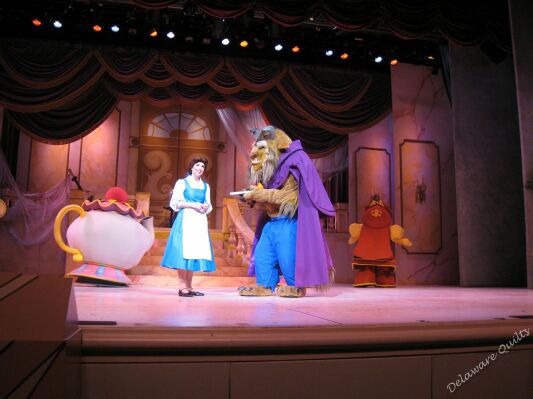 John was greatly disappointed that there was no Fantasmic that night, but was very happy we got to see the Osborne Family Spectacle of Dancing Lights again. (Hi - 84°F Lo - 71°F)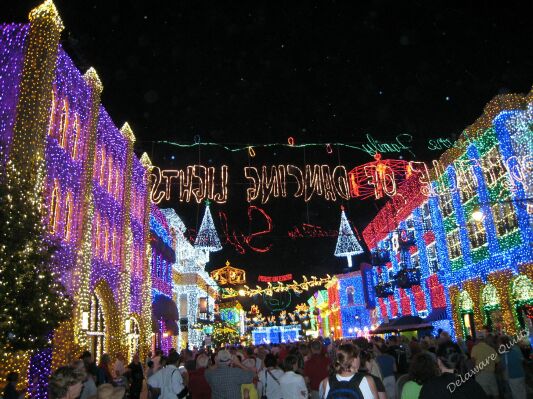 Thursday we started the day at the Magic Kingdom, dooming all to a rainy day. (My Magic Kingdom weather history is rain 6, dry 3) We managed to get into Buzz Lightyear's Space Ranger Spin before there was a line (John beat my score) and then went to see Monster's Inc. Laugh Floor which we thoroughly enjoyed. When we exited the Laugh Floor the sky had opened up, and we put on our rain gear before heading to Buzz Lightyear's Space Ranger Spin again (I won that time) and then across the street to Stitch's Great Escape and then another ride with Buzz (anything to stay out of the rain, and they forgot to collect the fast pass the first time)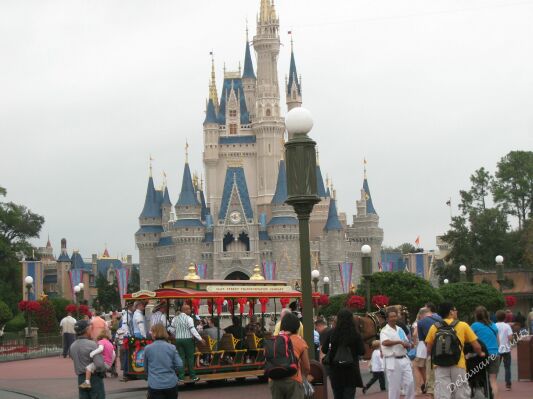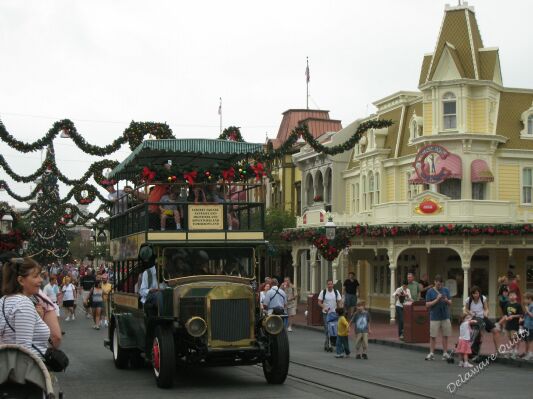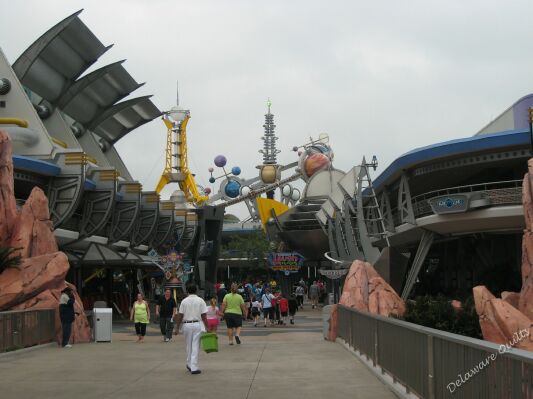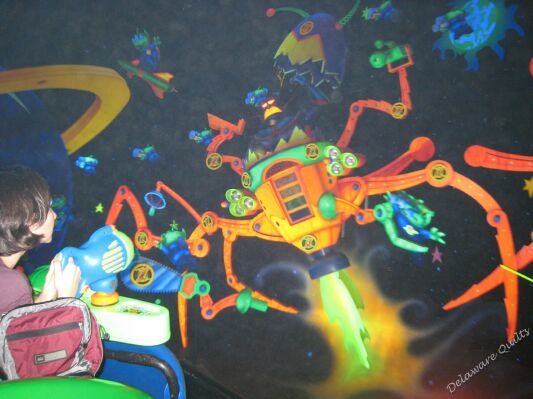 The rain had finally let up some when we left, so we headed to Fantasyland, where we rode the cups at the Mad Hatter's Tea Party. When our heads stopped spinning we got to see a fun musical street performance. We've seen these guys in the past, and were happy to catch them again.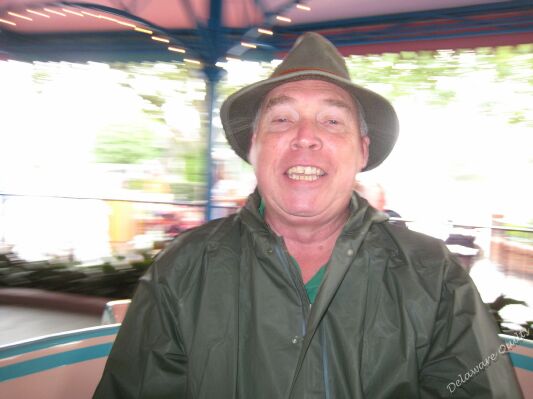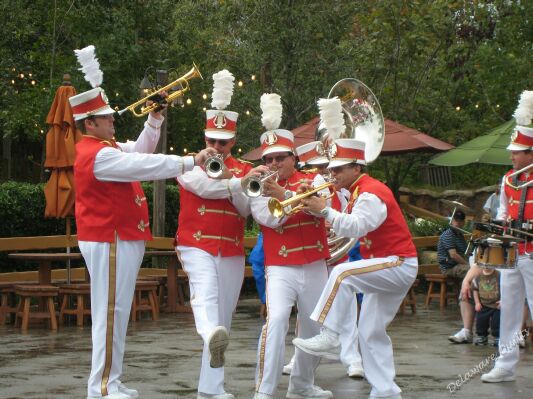 Lucky us, caught another parade on the way out of the park.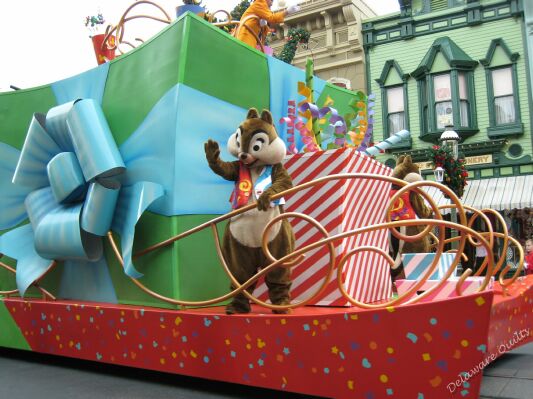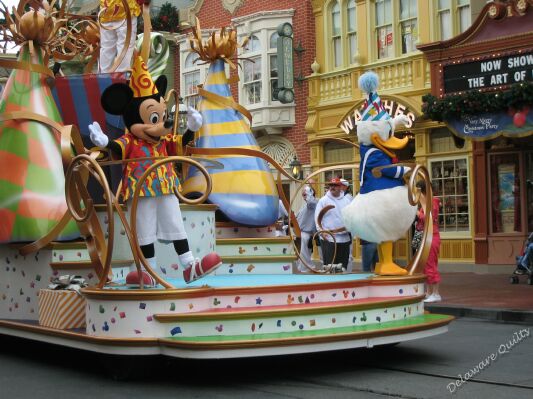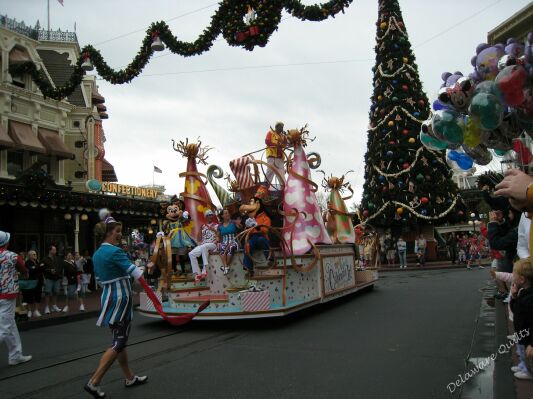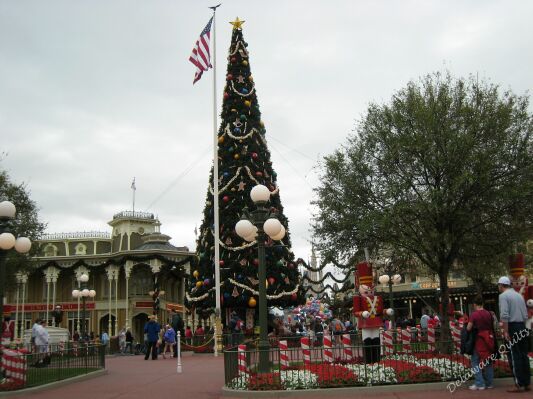 Next stop was Epcot again, and this time the World Showcase. We started in Mexico since it was raining again, then came out and traveled to Italy where we heard a lovely story told by a witch, la Befana, which I have shared on my blog here. On the way back to Germany for dinner we stopped to see the American Adventure.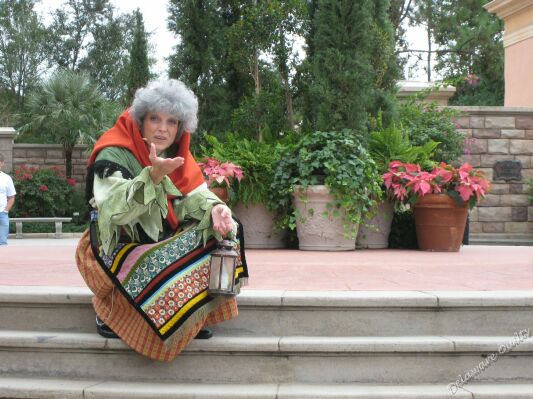 Dinner was at the Biergarten Restaurant, which was yummy, and the entertainment certainly put us in a festive mood. It was dark when we finished dinner, and thankfully the rain had stopped. We went from Germany back to see what we had missed, and just happened upon the Candlelight Processional which was quite lovely, and added to our Christmas spirit.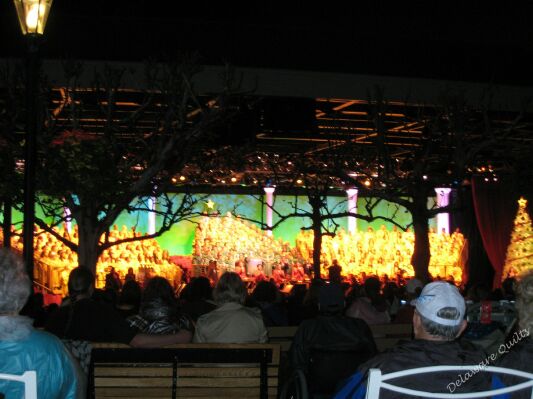 We found a great place to watch IllumniNations Reflections of Earth, another one of John's favorites. It was cold, but it was worth the wait. We rode through Spaceship Earth on our way out. (Hi - 77°F Lo - 55°F)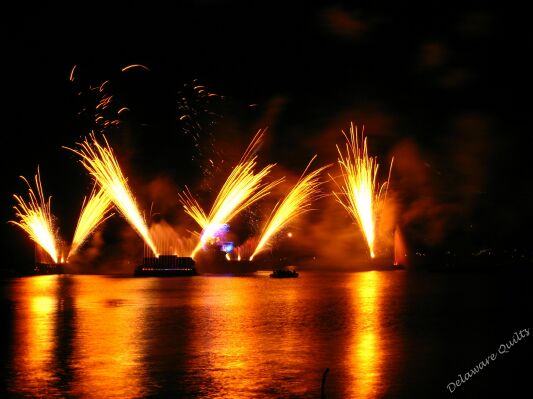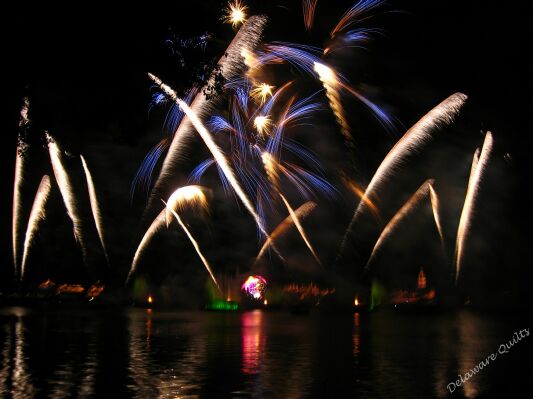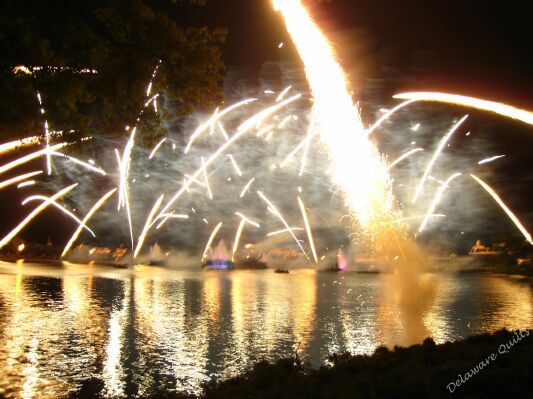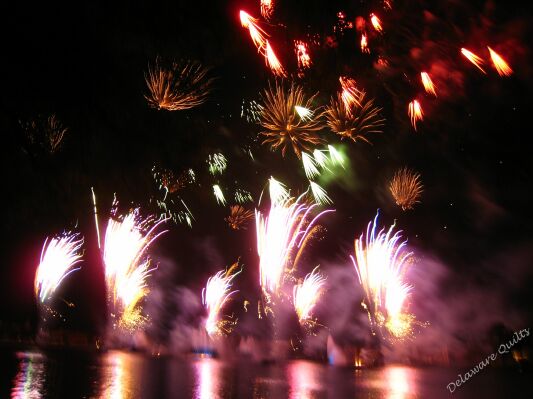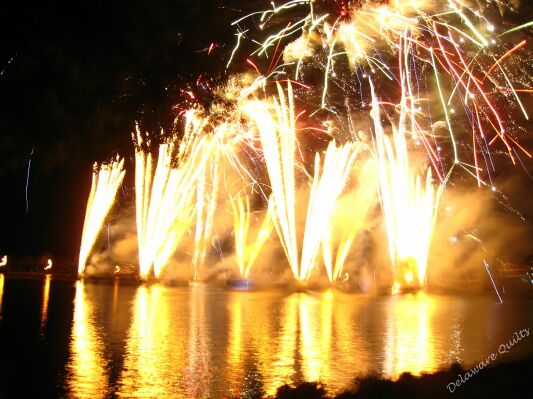 Our final day at WDW was again cold and damp, of course, since I had planned that day to be at the Magic Kingdom. (Magic Kingdom weather history is rain 7, dry 3) While John got his morning coffee and delicious cinnamon bun I caught some Disney street entertainment. Then it was on to Tomorrowland where we stopped by Monster's Inc again, rode Buzz's ride again, did the Carousel of Progress (which I first saw in 1965 at the World's Fair in NY), rode the Tomorrowland Transit Authority and did a little shopping before lunch. Lunch was at the Crystal Palace where we dined with Pooh and friends.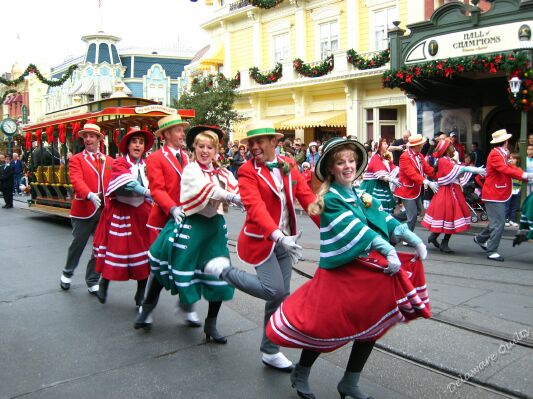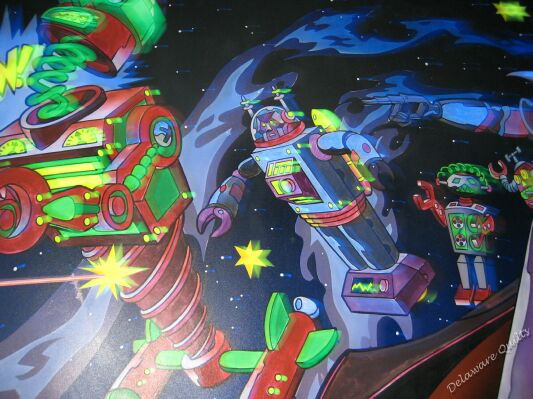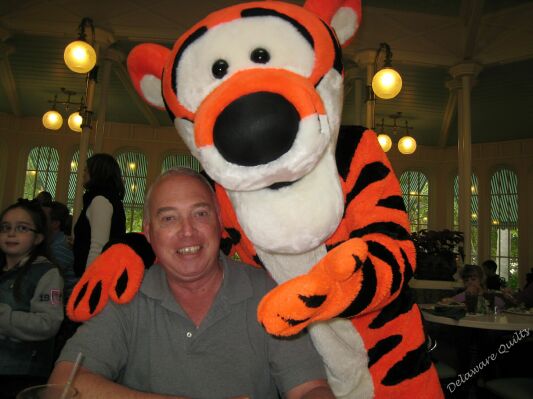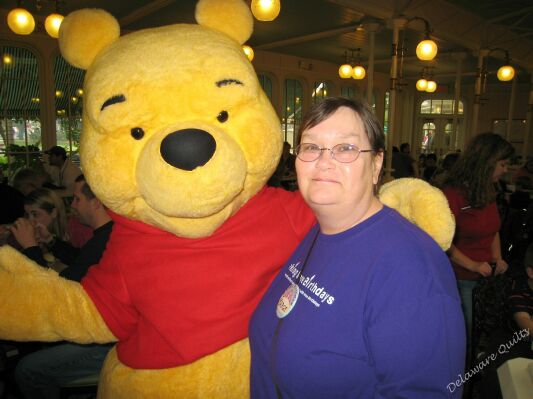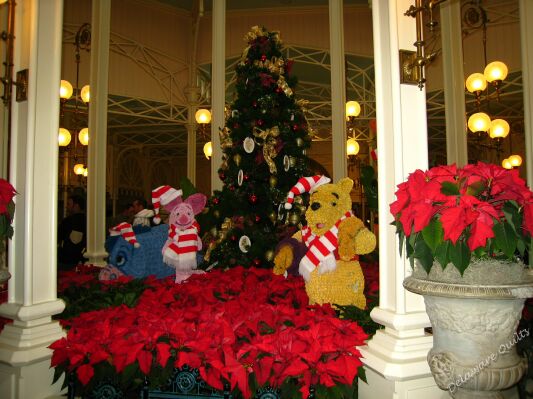 After lunch we moseyed around, visiting the Enchanted Tiki Room, catching another parade, went to the Country Bear Jamboree, rode the Pirates of the Caribbean which has a few new faces in it,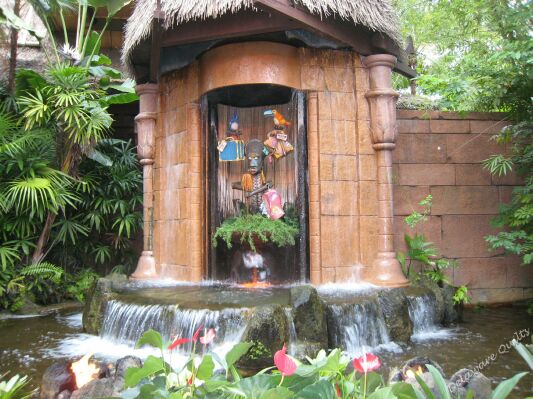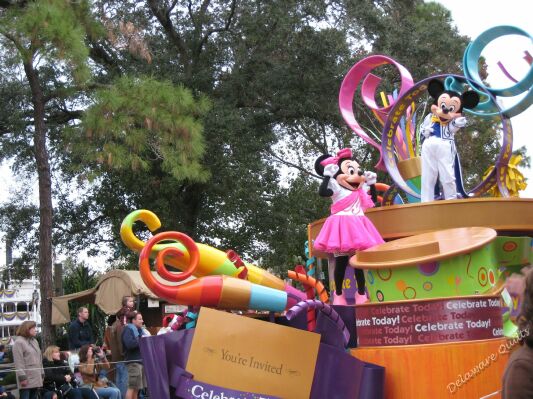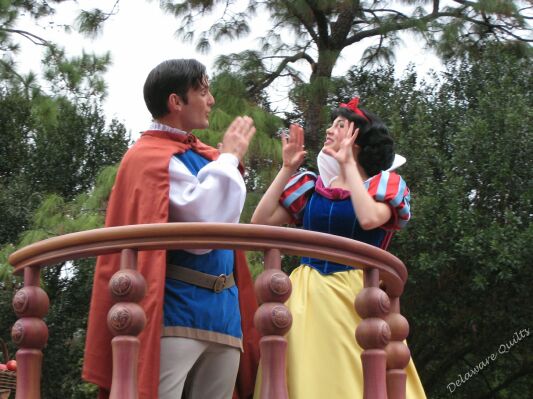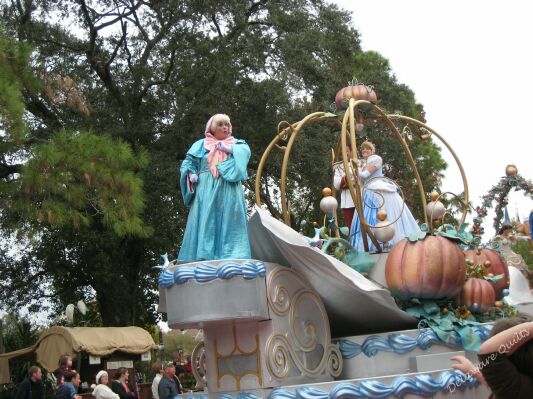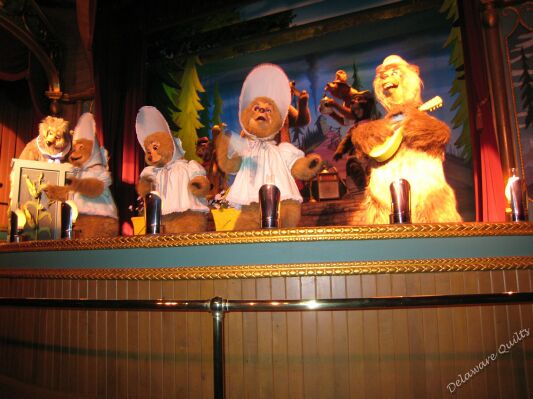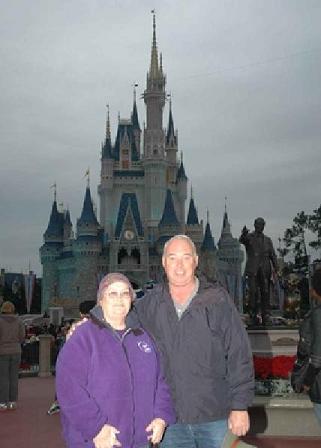 And then went back to Epcot one more time just to see what we could see. I know John was hoping to see IllumniNations again, but it was just too cold for me so we ended our Disney adventure and headed back to reality. (Hi - 64°F Lo - 52°F)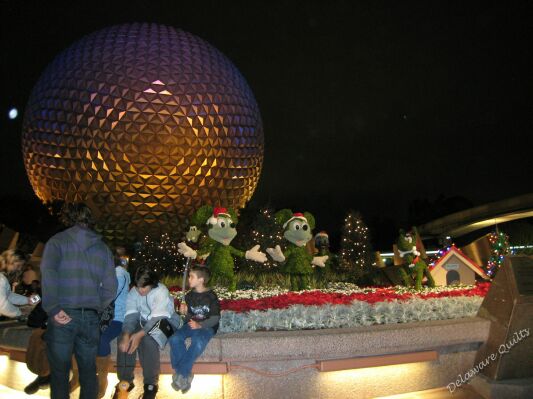 The next morning it was 74°F as we left Kissimmee and was down to 45°F by time we reached Fayetteville. We barely saw the sun at all that day, and it rained almost all day, as it did the rest of our trip. But we made it home safely, with many memories of another great trip and wishes of more great trips like that to come.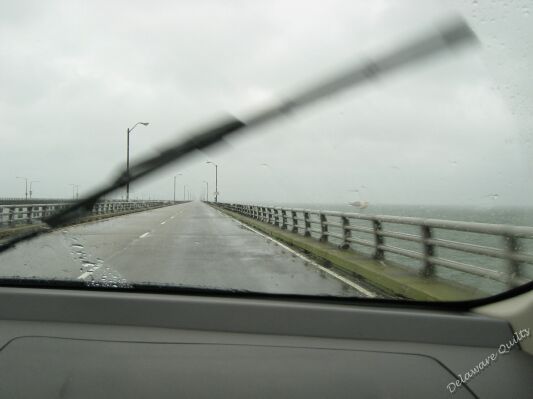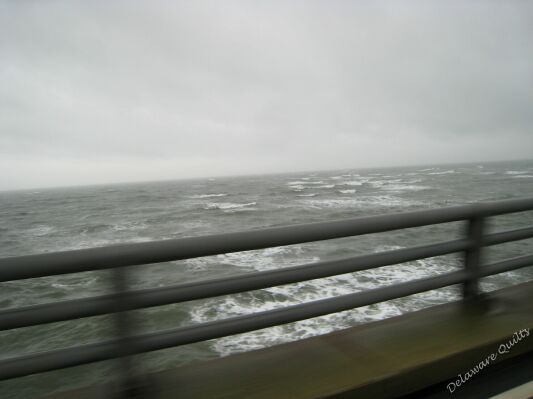 Posted December 15, 2009

| Home | Family | Relay | Quilts | Blocks | Retreat |




Copyright © 2009 Delaware Quilts.


The content on these pages, including text and images are the sole property of the Delaware Quilts and may not be used or reproduced in any manner without consent. All Rights Reserved.





1237