First day out and about in the island. The weather was beautiful. Got hot a couple of times when we were walking around down town. It also rained at night time, but most of us were already in for the night, so it hardly mattered.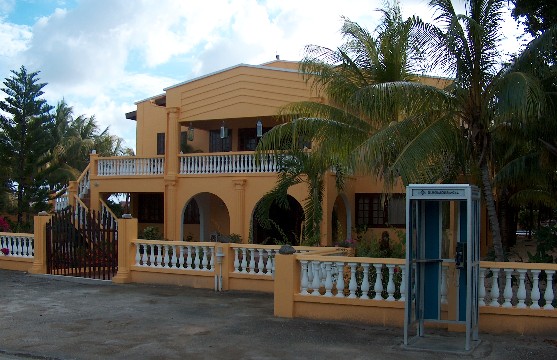 Hotel Roomer




Don't worry Bruno is just hanging out taking a quick late morning nap at the bar.




We had breakfast in the morning and then had some guest speakers come in to talk with us. We were told some locals were going to come by and tell us what it was like to grow up on the island. Two girls came by that were about our age. Art actually sat next to one on the plane and got to talking with her. Turns out her father owns a dive shop on the island a had already heard about a group of students coming from New Jersey.... lol well turns out they were referring to us, shame we got lumped in with that state.

The girls were really nice and I learned more then I thought I would. We heard before we came that we would hear English, Spanish, and Dutch on the island. Before that didn't mean much to me, but I understand a bit now why.

We also heard about the social life on the island, bars, fun things to do and see, as well as what type of foods and drinks to try. The two things I really soaked in were to try the conch and the pina coladas. They also told us it was really cool to stand at the end of the runway near the road when the large plane comes in at 2 in the morning. Something I will have to try before we leave.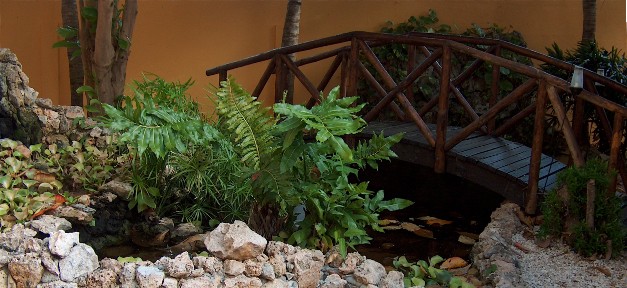 This little pond is behind one of the eating areas and is filled with little feeder guppies.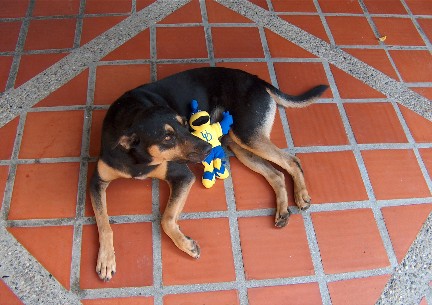 I told you Bruno was ok, here he is posing with UDee.




Here is a wide shot of the backyard. The bar is at the far right.



Then we broke into groups and called taxis to get into town. Later on we are going to rent bikes, but for time being there is just a couple of pick up trucks the science team is using. The ride there was amazing as we took our first look at the island in day light. You could see Mount Washington in the distance behind Klien Bonaire, the smaller island. The water looks soooo perfect and inviting. Town was nice, I took a little video clip on my way in, but at the end of the clip I didn't realize it was still shooting and there is a shot of my feet as I looked at the camera. I'll try to edit the video later and get it online.




When we got there we walked through a little tiny mall area with a couple of local shops and then were at the water. It took me about half a second to realize right at my feet where fish. With out getting into the water you couldn't even count the species of fish you could see, let along the numbers. After a second of watching the huge 2 feet bright blue parrot fish I could start to see corals. The first wild coral I saw was some sort of brain coral, followed by a huge beautiful montipora plate coral. I wanted to jump right into the water and probably would have had I had a mask and snorkel with me.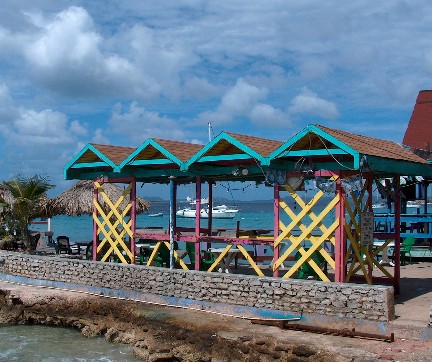 We grabbed something to eat at a local restaurant/bar which was decorated with all sorts of parrots, not real ones, but souvenirs which you could by. I tried a virgin pina coladas and it was for sure the best I ever had it also won't be my last. Later we stopped in some gift shops to find the oddest thing we could find under $5 for a little competition Doug started.(we won't, I won't display an image of what we bought though...lol)

Dinner was pretty good later that evening. Some of us heard we were having pasta, but none of us expected three different types.