Well Steph and I arrived just about on time to the meeting location where I met Paul who was having his wife take him to the airport. We arrived to the airport just after my partner for my research project, Nate, and the rest of the group arrived shortly after. We waited in one line to try to check our luggage quickly and found out we couldn't do it because our final destination was international, so we got in another line.

I didn't think I packed enough in my book bag, but the guy running the x-ray machine couldn't see through it all even with my lap top removed so he had it searched by hand which took a couple minutes. Then I had a quick breakfast, boarded the plane, was in line to take off for about 20 minutes, and then we were off to San Juan, Porto Rico. Flight wasn't too bad, I sat next to a grand mother and her grand daughter who was just old enough to crawl. The little girl was cute and wasn't too loud when her ears were bugging her luckily.

In Porto Rico, Doug(the professor that flew with us) and Paul were going to just hang out in the air port so I left with Nate and a group of his friends he knew from class and a previous study abroad. We tried to find lockers or some place we could store our luggage, but there was no such thing, so we lugged out carry ons around with us and hailed a cab.

We asked the driver to take us to a place where we could food and hit the beach. He recommended a restaurant. Everyone seemed to be happy with their food, but I had the worst cheeseburger of my life. Oh well. Quickly forgot about that when we left and headed for the beach. I didn't take a bathing suite with me, but Nate had an extra I borrowed.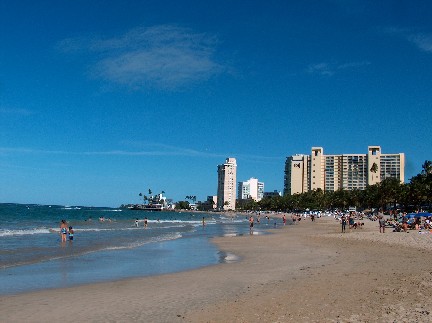 A shot of the beach at San Juan.


The beach was pretty, the sand was soft, the water was warm. The beach had netting around it though to keep any of the animals out, so there wasn't anything too interesting in the water, but red and green macro algaes. Afterwards we tried to dry off a bit, hailed a cab, got back to the air port, changed, and then waited around for two hours for the plane. I got a good way into my new book, "Coral Propagation".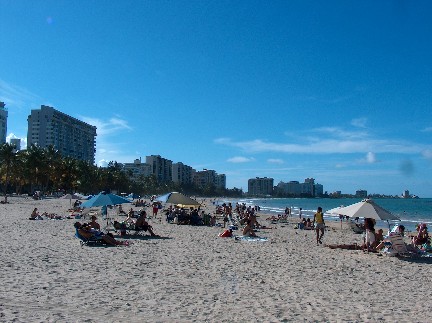 Another shot of the beach at San Juan.


The plane was a small(~40 passanger) twin prop plain, but was actually a pretty smooth ride. Landing in Bonaire I could see the basic outline of the island because of the lights and got a rough idea of how populated it was, but couldn't see the water or anything. After passing through customs at the Flamingo Airport, we traveled about 1 mile by taxi to the resort. On the way we saw a couple of nice houses which all had stone walls in front of them which sort of reminded me of what I would think Mexico is like in places.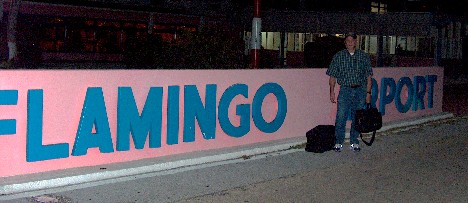 Paul at airport, right before we got yelled at to get
out of the way because another plain was coming in.


The resort is amazing. Hotel Roomer, formerly The Great Escape, is soooo cool. When we arrived the owner and his dog walked out to the taxi to great us. The owner and his family who are Dutch purchased the place this past September and have just finished cleaning up the place. The owner gave us all a free round of drinks at the bar which is right next to the pool. The beds are brand new, the walls were painted, the landscape cleaned up. It is very nice. You can hear nothing but Tree frogs in the air.(not too loud, perfect mood setters) The sky is perfectly clear and you can see all of the stars. Was nice to be able to just relax and appreciate wear we are staying. Tomorrow we can soak some of the rest of the island.

I just felt my shoulder…. I think I have started my sun tan already. I don't have too many pictures from today, but the group I hung out with in San Juan had a group picture taken at the beach, which I will upload later if I get my hands on a copy.


More pics to come tomorrow and less text.