In April of 2001 we used free flights to make another trip to Disney World, here's a report on that trip.



"What We did for Spring Break 2001"





Our room was high class, beyond what we dreamed of. Although not quite first class, it was certainly us. It had a bedroom with two queen size beds and a TV, and a small living room with a TV, table and chairs, small sink and refrigerator, microwave and a view.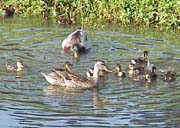 We looked out over a small pond that came complete with wild life. That wild life included one very busy cormorant, a mother ducks and her little brood of babies, and what I think was a Great Blue Heron.

We were close walking distance of the elegant lobby and restaurant, spa and fitness center, pool and hot tub, tennis courts, etc. We didn't have time to enjoy all there was, but I did get a chance to test the hot tub at the end of our first day there. It felt so good on my tired feet and back!!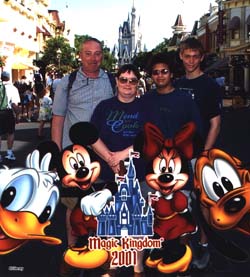 We were up early Monday, and headed directly to the Magic Kingdom. Our previous three trips there had been wet ones, and it was splendid to be there in the sun. However, for some strange reason, we had this desire to be wet, and started out the day on Splash Mountain.... where we got wet.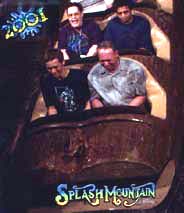 Having fulfilled my obligation of one wild ride per trip, John and I wandered around visiting smaller calmer rides and doing a lot of people watching the rest of the day, while the boys enjoyed the fast pass advantage, and rode some favorites over and over again.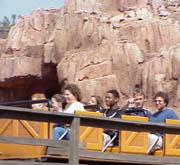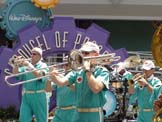 We were joined for lunch by my friend Dee who joined us on one ride, and a mini jazz concert by a Disney group we enjoyed a lot.
| | |
| --- | --- |
| More rides, some shows, dinner, and another adventure ended our day. | |

Tuesday we slept in a little... well the guys tried to at least. We headed out to MGM studios for some rides on the Rock 'n' Roller Coaster and Tower of Terror. (That we did not include John and I, so the boys got to ride more frequently using fast pass)


We enjoyed the Indiana Jones Stunt Spectacular, Muppets 3-D, Hunchback Musical Adventure, Beauty and the Beast Live, and more. Then we headed over to Epcot where we journeyed through Spaceship Earth, were shrunk in Honey I Shrunk the Audience, and dined in The Land. We then rushed back over to MGM to end the day with Fantasmic, which was totally awesome. The battle between good and evil was worth seeing. And of course we know who won!!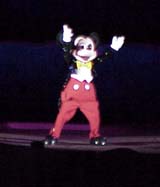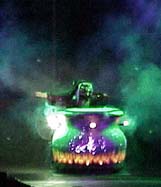 Tuesday was so long, we actually did sleep in on Wednesday, all the way to 8:00. We decided to see what we hadn't seen before, so headed to Epcot to try to get on the Test Track. The boys managed to secure fast pass tickets for 8:10PM, so we had time to kill. After going through the Living Seas, we decided we'd never seen the Animal Kingdom so off we went.

We went on the Maharajah Jungle Trek.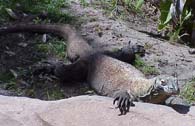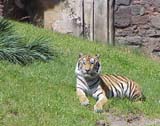 rode the River Rapids
(the boys rode,
we watched)
enjoyed the Flights of Wonder bird show,
and rode the Dinosaur ride
(the boys rode,
we waited).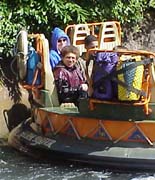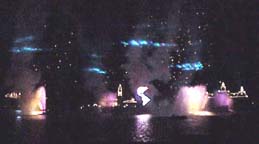 We then went back to Epcot for dinner, the Fast Track, the parade and the IllumiNations spectacular. Mike and I then headed back to the room, and John and Jonathon headed to MGM Studios to see Fantasmic one more time.

We were up early (TOO early) for our flight back. Transportation picked us up at 3:40, getting us to the airport before the ticket agents were. We sat around, checked in, then sat around some more till our 6:45 flight. We took off on time, and actually arrived close to scheduled arrival time. We were home by noon, tired and weary, but glad to be home. It was a wonderful holiday, and we enjoyed it all, and are already talking about the "next" trip.






|Home|Family|Quilts|Blocks|Swaps|Retreat|Ocean Waves|Email|