If you have made a wall hanging, don't forget to add a sleeve to hang it with. I cut my sleeve one inch wider than the width of the wall hanging. (The length of the sleeve will depend on how fat your hanging rod will be.) I fold back the sides of the sleeve until they are one inch away from the binding when sewn down.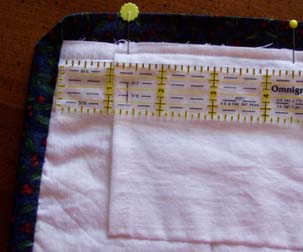 I sew the excess down neatly by machine. I fold the bottom edge under twice to make a smooth edged sleeve.
The rough edge of the sleeve I attach after the binding is sewn on. I attach it between the binding stitch and the raw edge of the wall hanging.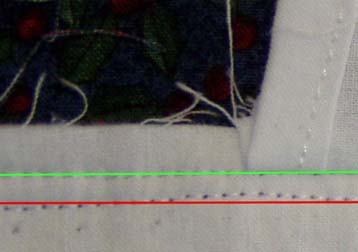 In this photo the sleeve is folded up so you can see the sewing lines. The sleeve
and backing are both white, and the blue you see is the binding. The red line
shows where I attached the binding and the green line is where I attached sleeve.




This shows it with the sleeve folded down.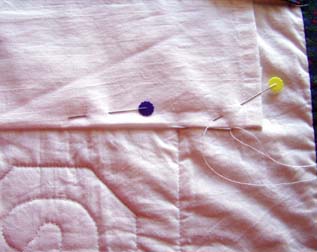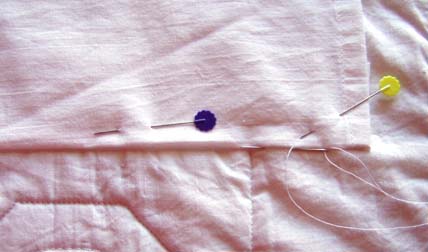 close up
I sew the bottom of the sleeve down by hand, being careful not to let my stitches go through to the front of the wall hanging.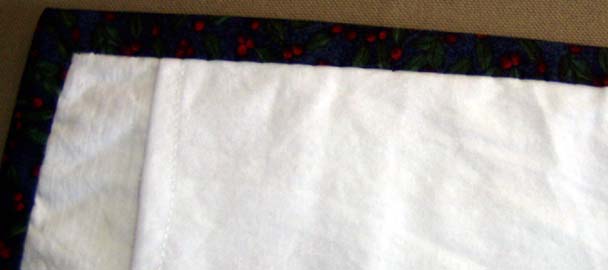 And here it is with the binding all finished.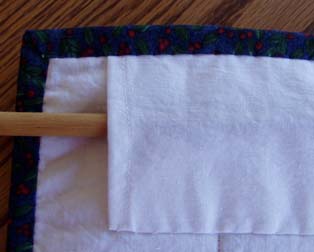 Here is the same sleeve with a rod inserted. (The pocket on
this wall hanging is larger to accommodate a larger rod which accompanies the quilt
hanger in my family room. The rod on that hanger is much fatter than the rod shown here.)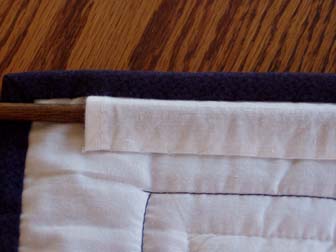 Here is a different wall hanging with the completed sleeve, with a rod in the pocket.




|Home| Quilts| Blocks| Retreat| Email|


Updated May 31, 2020



The content on these pages, including text and images are the sole property of the Delaware Quilts and may not be used or reproduced in any manner without consent. All Rights Reserved.