Some of My Log Cabins
The first quilt I bought was a log cabin, before I felt confident enough to make a huge bed quilt. Years later, log cabin is by far my favorite quilt to make. I love seeing how many ways the same block can look when put together differently.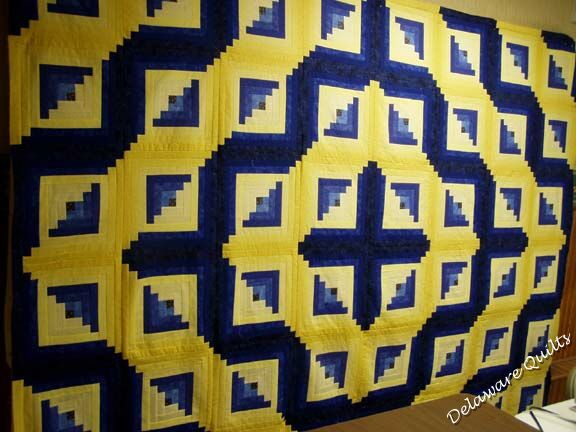 This is one of my favorites. This appears to be three dimensional, but it is purely an optical illusion. The affect was achieved simply with the color choices, and where they are placed. This quilt belongs to my "baby" who'd better be taking good care if it!


This is a log cabin quilt I call No Blue Balls, and you can see why. This pattern follows the same steps as other log cabin blocks, you just use different size strips to achieve the circular look. No two blocks are the same in this quilt. Jackie quilted this quilt, and did a wonderful job as usual.
This quilt is not for sale

&nbsp &nbsp &nbsp
Below is one of my commission quilts. When this one was ordered, the lady had no idea what she wanted, just that it be blue and yellow. I'd had this pattern in my head for years, and had a wonderful time making it. It's done with all different blues and yellows, and done in a scrappy method, no two blocks were the same. I hated giving this one away, and may just have to make another one someday.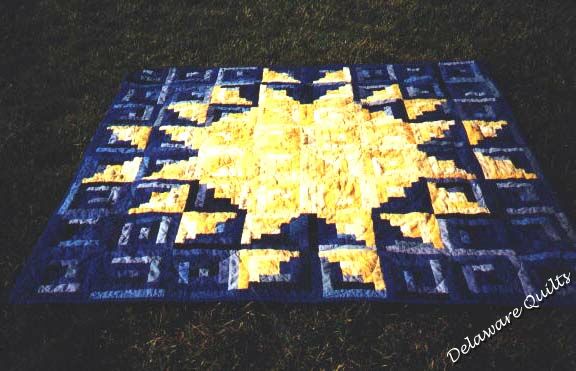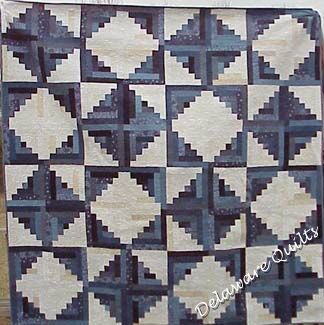 This is my sofa log cabin and is not for sale.
It's almost a queen size,
and was made from
a variety of blues and
white-on-whites.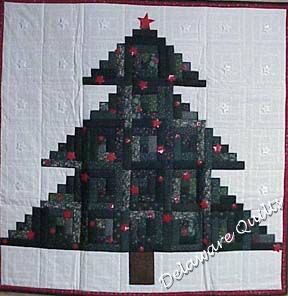 This is what you get when you make a bunch of all green log cabin blocks, some all white log cabin blocks, and a few half green and half white log cabin blocks. Put them together in the right order, and you get a Christmas tree. This one has some red star buttons to decorate it, and there are white stars in the white blocks.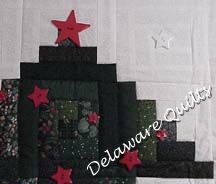 And here are more green and white blocks, a lot more!
This was another commission project, twin log cabins.

This photo really does not do this quilt justice. The center flowers are pale yellow, and it is much prettier in person. This "Tulip Bed" quilt is from Log Cabin Flower Quilts by Nancy Brenan Daniel. This was made for my sister-in-law and her hubby as a wedding gift.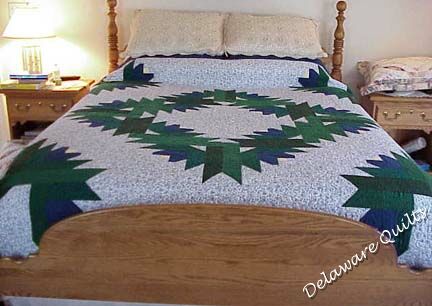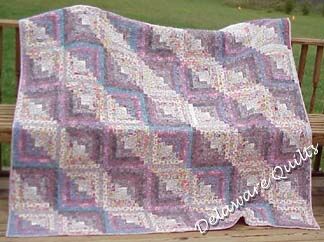 This floral log cabin is made up of all florals, including the white on white center square. The floral strips were separated into lights and darks, and then pulled randomly from a shopping page to keep it honestly scrappy. It was great fun to make, and was a really fun class to teach. Many ladies found the blind pick challenge more than they could handle, and there was a wee bit of cheating, but many beautiful quilts resulted.

This quilt has sold
Here is a photo of a quilt I made for the first niece to be married. She and her beau asked me for a quilt long before they were married, and I gladly obliged. In this photo you not only see their quilt, but first born. (They now have three handsome boys and a darling little girl. I wonder if they still have the quilt?) This quilt was a pleasure to make, and I know that it is loved.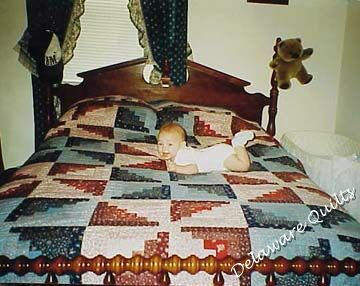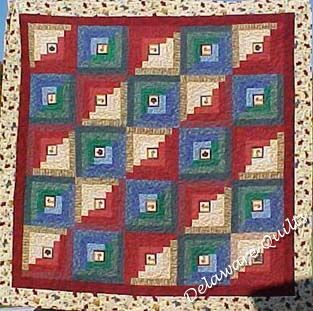 This Doggie Log Cabin quilt I made for my in-laws, who happen to love dachies, and have a few other animals in the house as well. It's made up of mostly dachies, with a few mutts added, and one kitty!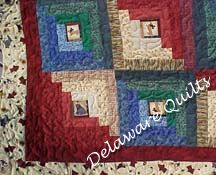 |Home| Family| Quilts| Blocks| Retreat| Email|

Copyright © 2012 Delaware Quilts.
The content on these pages, including text and images are the sole property of the Delaware Quilts and may not be used or reproduced in any manner without consent. All Rights Reserved.