Friday afternoon I taught a Scrappy Mystery Class.
And, since I was teaching, there are no photos.
However, I do have one of Maureen and Maria working on their projects after class,


and here is a mini view of my finished quilt.

I can report that the ladies were all very pleased with the class,
and we all had a great time doing it.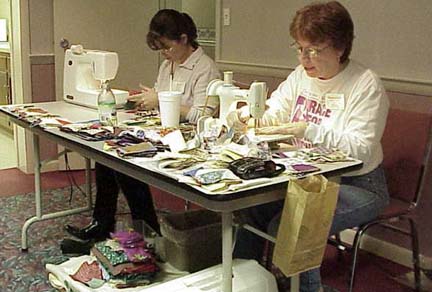 When class was over, some people got down to some sewing.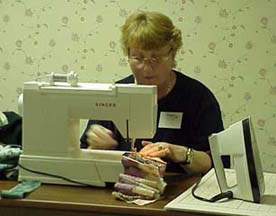 Wanda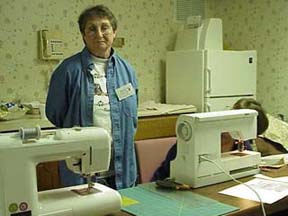 Ellie and Snady, threading her machine!

Others, were still shopping, or shopping again!



This year we added a new feature to the Quilters Retreat, the Retreat Challenge.
I sent those who wanted to participate a fat quarter of the challenge fabric, which is pictured here.
Challenge rules were very simple, they were to make a quilted project from the fat quarter.
The project had to be quilted, and finished. They could add as many and as much other fabric
to it as they wanted, and the projects were judged by all the retreaters!

There were 13 different projects for us to vote on, and choosing was very hard.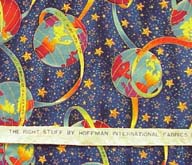 The winner of the $50 cash prize was FAS/CO,
with her beautiful hand quilted hot air balloon quilt.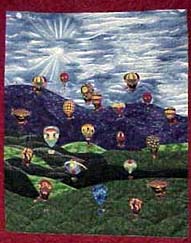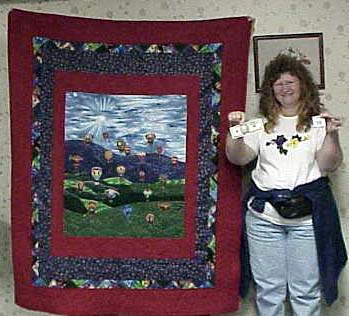 After that fun, we moved on to Show and Tell.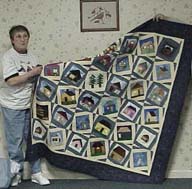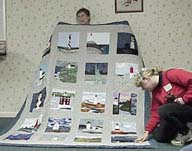 Ellie showed us her house quilt made for her by chatters after her house fire, and a quilt she won at a raffle.
Beth showed us her Hoffman Challenge, and her award winning Teddy Bear quilt.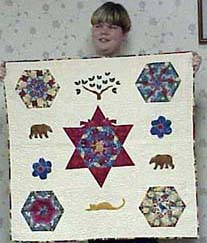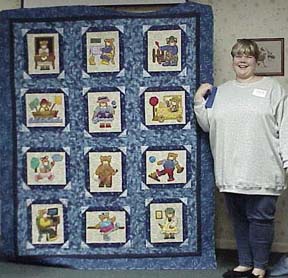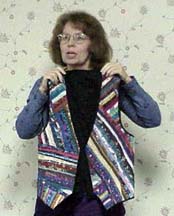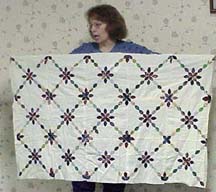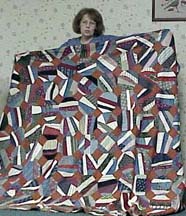 Dulci showed us her string vest, which she showed us how to make the next day,
and her Texas Tears quilt, and an old quilt which she was hoping to find more information on.
(On her way home to Texas, she learned that it is from the mid-1800s, and was worked on by adults and children.)


Patchwork Princess brought her Kitty Cats Quilt to show us. This was from a swap she did.

Later Peni was the lucky winner of our charity drawing,
when one of her cat blocks was drawn from the 63 collected.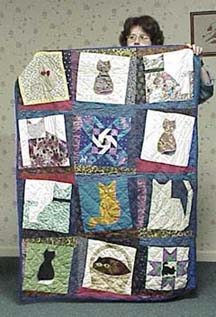 Wanda brought her finished kimono quilt for us to see. She started this at last years retreat. Both front and back were stunning.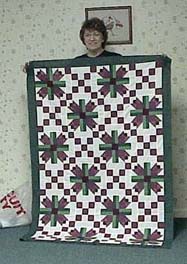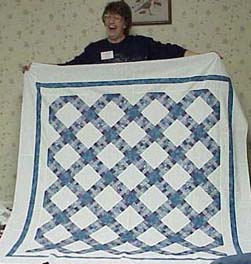 Rita showed us just two of her beautiful quilts.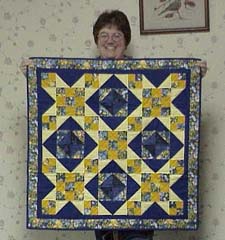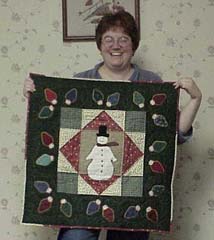 Holly proves she is a finisher,
with her mystery project from 1997, and a winter wall hanging.



Dachsie showed us two Round Robin projects.
Makes you want to run out and join one, right?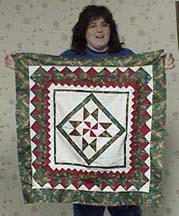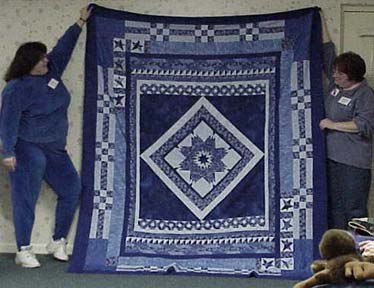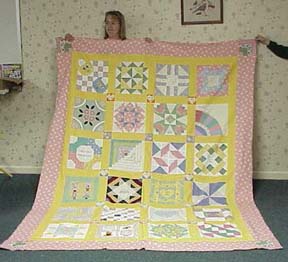 TK shared with us her finished wedding quilt. This top was made
from blocks which chatters made, and were delivered to
her at last years retreat. Blocks came from all over, and she even
has some left over, which she plans to make pillow covers with.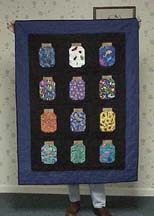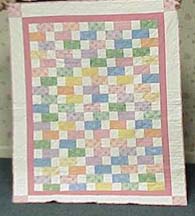 Snady made these two quilts, one for charity, and one for a little friend.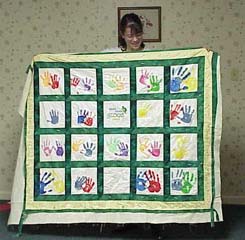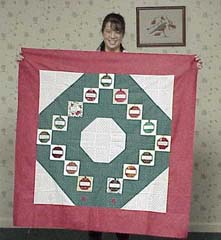 Maria put both of these quilt tops together at the retreat.
And she learned how to stipple while there.
Although...., well ..... ask her about that stippling.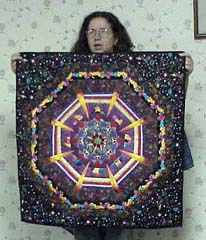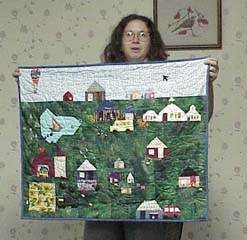 Laurie showed us her "math" quilt (I forget it's name, something to do with math) and her inexpensive expensive scraps quilt.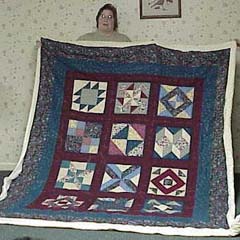 Miss Diane shared with us her WIP, her hand pieced and quilted quilt.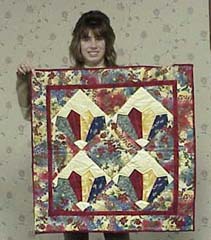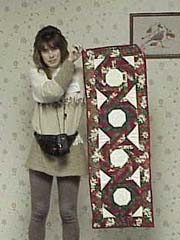 Diamonds shows off her projects.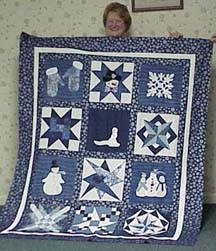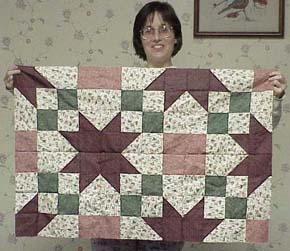 Wizard showed her winter quilt, and Stretch showed a WIP.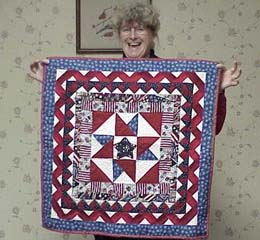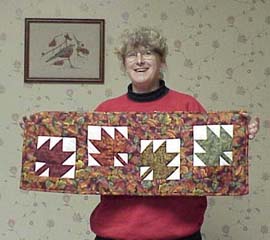 Bonnie showed us two of her projects.


Saturday morning after breakfast, the Inn was empty except for a few of us. Quite a few of the ladies took a tour of the Amish farmlands which was provided by the Inn.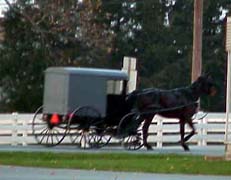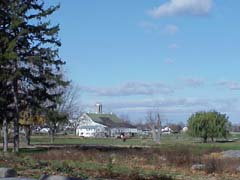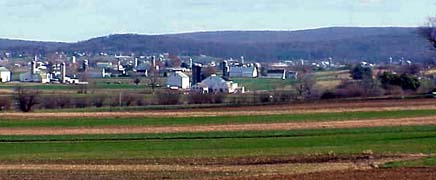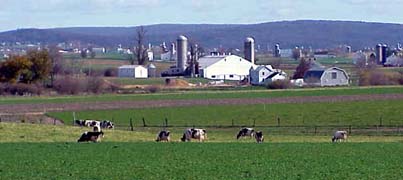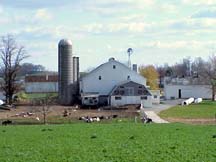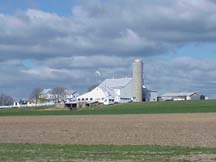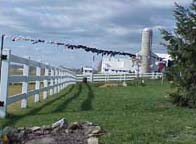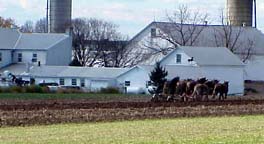 Those who didn't take the tour went shopping, again! AND when the tour ladies came back, they went shopping too! (I'm surprised there is any fabric left in Lancaster County!)

By one o'clock, people started trickling back in, to see the demos we had lined up.
Bang shows Holly a new applique technique, and Spike and Miss Diane watch Dachsie doing her stain glass demo.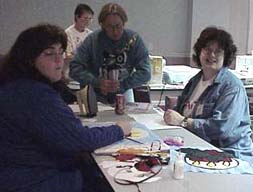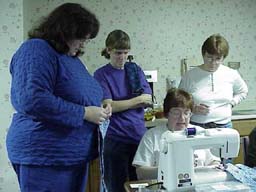 Dachsie seemed to always have someone wanting to see her demo. I am not sure what Holly was demonstrating, but she sure had an interested crowd.

As people started to return, all sorts of funny things happened.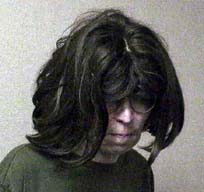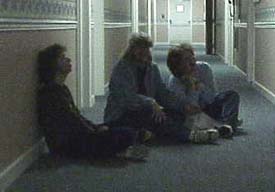 I really think it was one of those "you had to have been there" situations.

Later in the evening we had Quilto, and Show & Tell.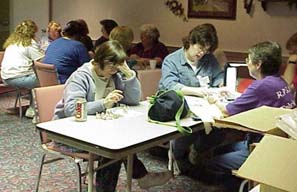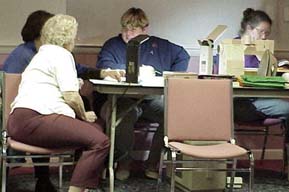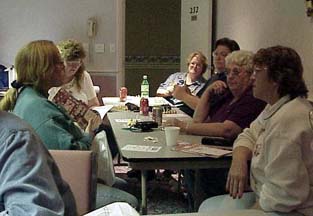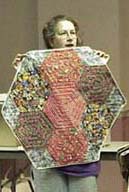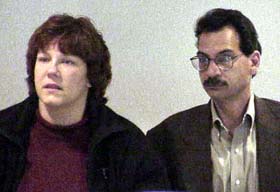 Laurie showed us a few more of her specialties.
And Liz and Larry enjoyed seeing them.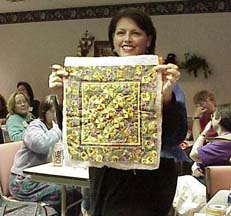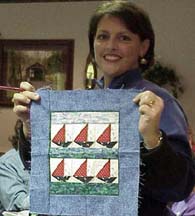 Carolyn showed us some of her minis.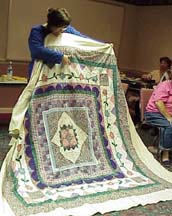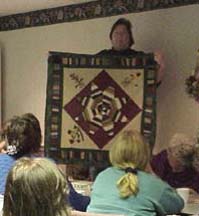 Dachsie and Miss Diane both showed us Round Robin projects.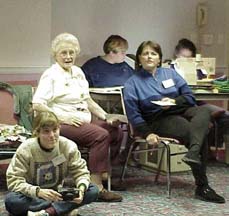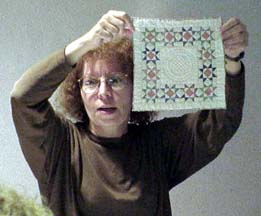 Spike, Irene and Carolyn enjoyed show and tell, and Dulciquilt showed us her mini.

What a better way to relax after a tiring game of Quilto, than a dip in the pool, or a soak on the hot tub? How about both.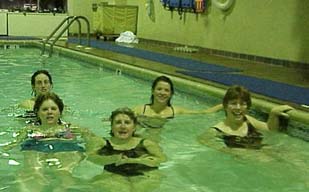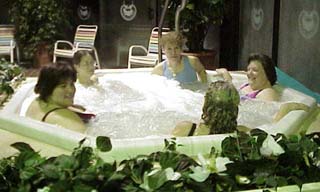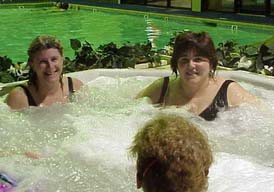 While some of us soaked, some ladies actually sewed.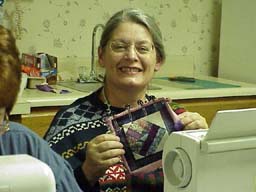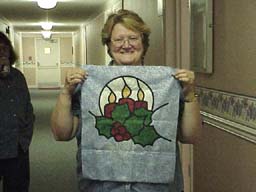 Pat and Wizard prove they are finishers.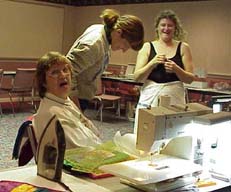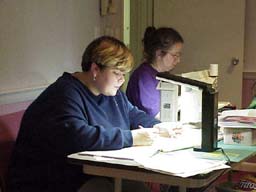 Spike checks out where wet Bonnie sat on Rita's lap.
Beth and Laurie sewed late into the night, despite the interruptions.



Sunday was the day we didn't want to see arrive, but it did!
Along with it were a few surprise visitors, Janice, Joan and Carolyn from Phila.
Here Spike tries to fill Janice and Joan in on all the fun they missed.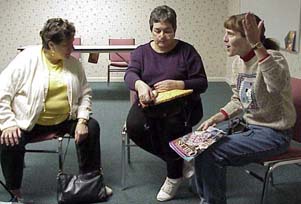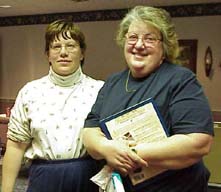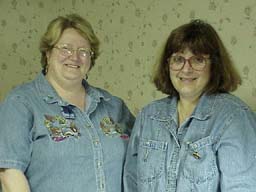 Roomies Cindy and Janet, Pansy and Wizard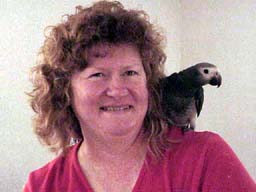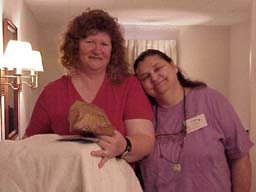 FAS with her new friend, and FAS and roomie Arden.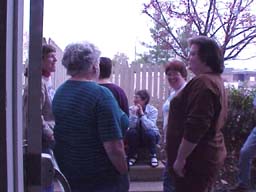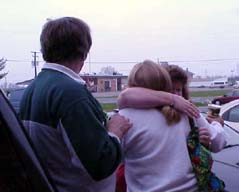 People tired to leave, but some how seemed to get stuck at the door.
Good-byes were hard to say.