|Home| Main Retreat Page|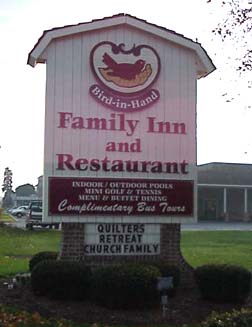 Quilters Retreat 2000
November 9, 10 and 11
Bird-in-Hand PA

Below is our cyber photo album of yet another delightful retreat.
Friday morning was our Quilters Dream Shopping Excursion, and the ladies were up and ready to go bright and early.
Here we are ready to start off.. Front row, left to right, Anne, Fran, Deloris, Rita, Mariann and Candy. Back row, Nancy, Dottie, Bonnie and Debbie.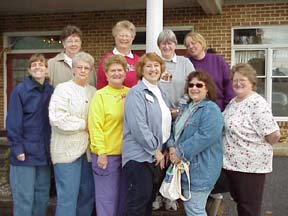 After a stop at Sauder's where we met up with Lynne and Charlotte, and where we contributed greatly to the PA economy, we went to Zinn's for lunch.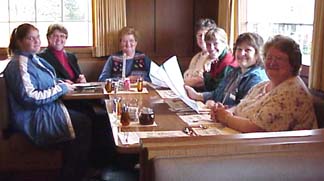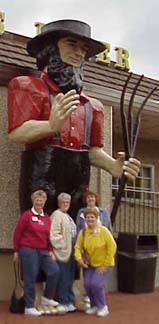 Next we went to Intercourse for more shopping. Here Debbie and Bonnie are at The Old Country Store, looking for fabric requirements for a quilt. Right, Anne and Nancy wait for a buggy to pass by as they head towards Zook's.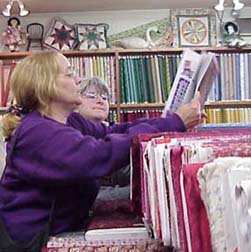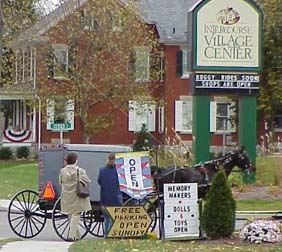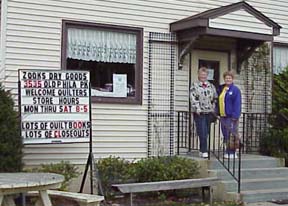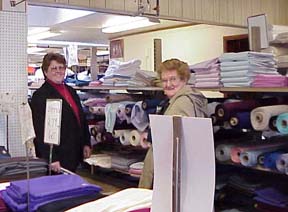 And here are Dottie and Deloris waiting for them out side, while inside Lynne and Charlotte are already shopping.

Nancy and Anne were soon shopping with the others.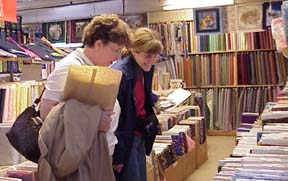 Friday evening we had show and tell.
Candy showed us what we saw her start last year.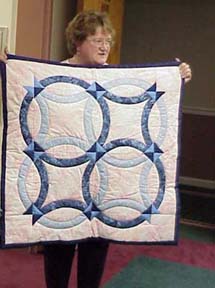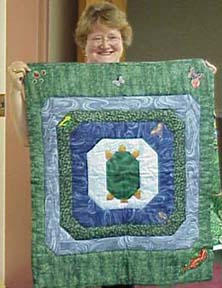 Debbie showed us some of her lovely applique.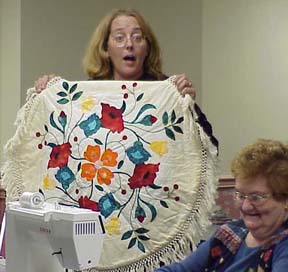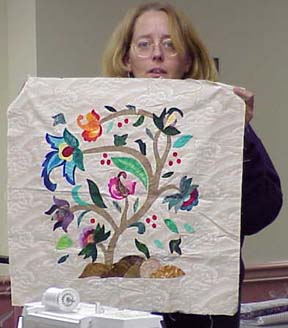 Anne showed us her Scrappy Mystery from last year's retreat, and a family heirloom. Anne's Grandmother had made the flowers shortly before she passed away. The quilt was finished for her by Lavinia in Tennessee. We all agreed Lavinia did a wonderful job.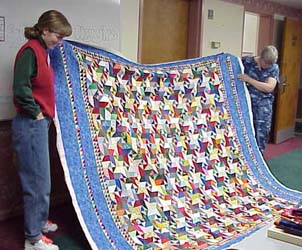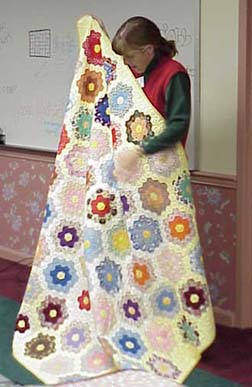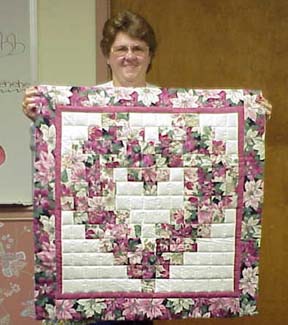 Lynne showed her WC Heart, and a sampler she actually finished while at the retreat this year.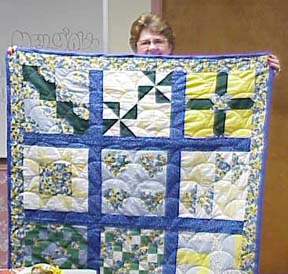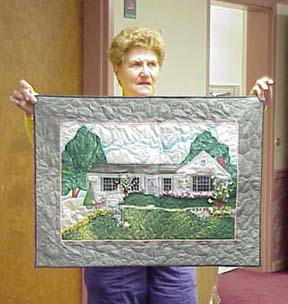 Deloris showed her home sweet home, and her Sunbonnet Sue perpetual calendar.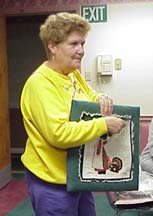 When show and tell and all the games were over, we got down to come serious work.... well some of us got down, others did some serious book viewing.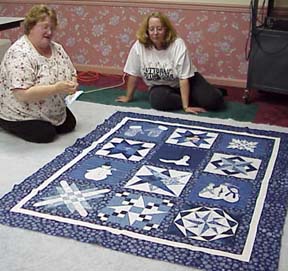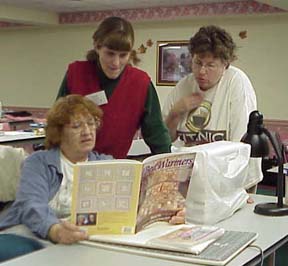 Saturday morning several of the ladies took the Inn's bus tour of the Amish farmlands.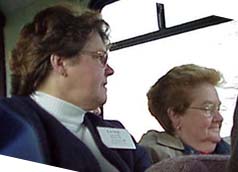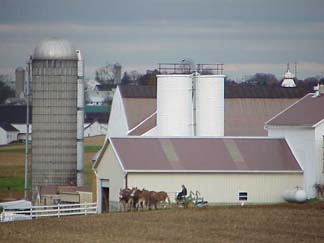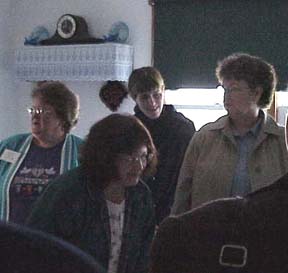 These ladies were watching the Mennonite lady of the house do some exquisite quilting, while listening to our guide tell us about the project.
In the meantime, this kitty was stalking birds at the bird feeder.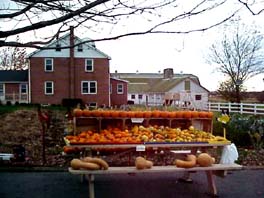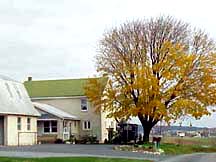 Some of the beautiful sites we viewed on the tour.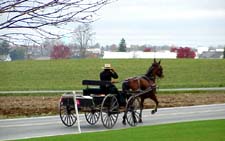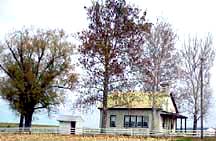 After more shopping, a delightful dinner at Millers, and a fun game of Quilto, more show and tell. Deloris and Anne show their goodies here..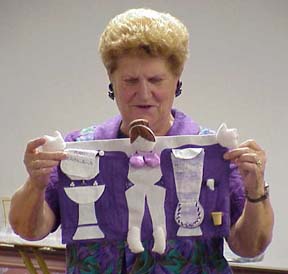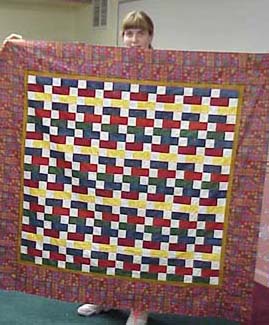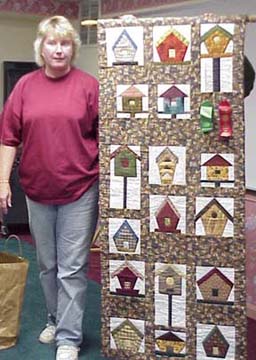 Wanda won a prize for her bird house wall hanging at the state fair. She learned paper piecing at last years retreat from Sandy, and was disappointed she wasn't there to see the finished project.
(FYI, she also won a third place ribbon for her kimono quilt which she showed us last year)

Wanda also showed two WIPs, her fish quilt, and her butterfly quilt.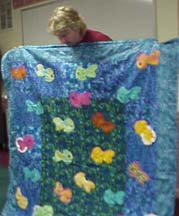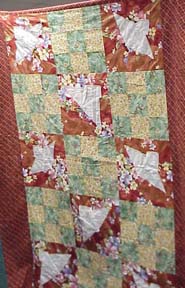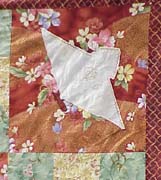 Here is a detail of the butterfly, made of old handkerchiefs.
Mariann showed us her son's almost completed quilt, and promised we would not see it again. I'll sort of miss it.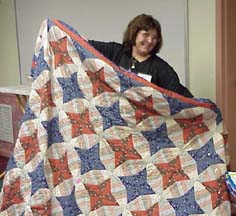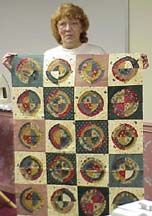 Rita showed off her bulls eye quilt, which drew a lot of interest. I know I want to try this technique.

Sunday morning were the goodbyes, and few last laughs.
It was hard to leave, we were all having too much fun.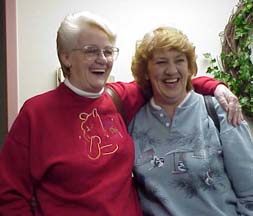 Roomies Laurie and Joy and Fran and Rita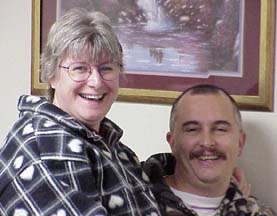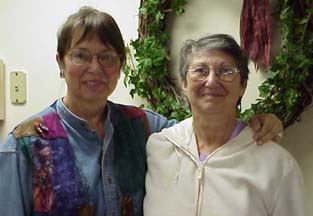 Roomies Bonnie and Gary and Nancy and Ellie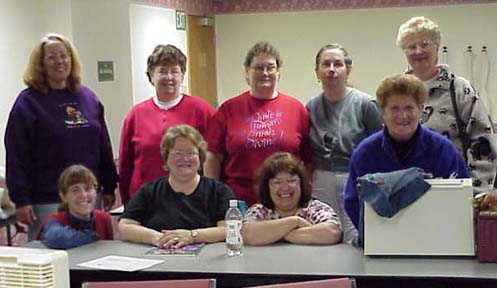 Debbie, Nancy, Marge, Laurie and Dottie.
Anne, Candy, Mariann, Deloris



Monday while the rest of you were back to work, Anne Nancy and I went exploring before heading to the airport. We finally found the "new" shop Deloris and Rita found. What an experience! I'll let the photos do the talking.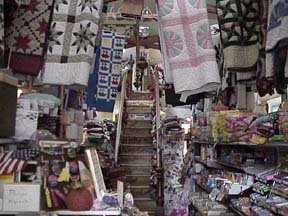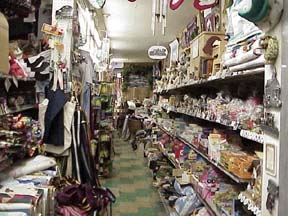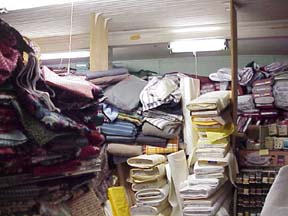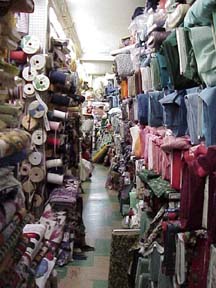 If you don't mind an avalanche, you will love this store.
The bargains are there, IF you can find them.
Nancy and Anne found a few!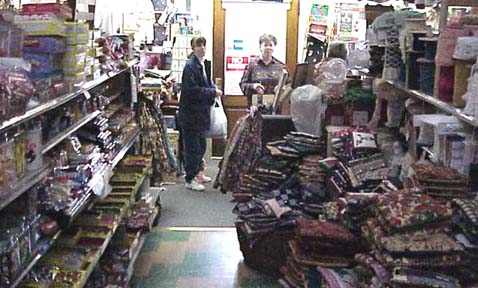 |Home| Family| Quilts| Blocks| Retreat| Email|