Our Thirteenth Year of Retreating!
And the seventh October Retreat
Wednesday October 14 through check out Sunday October 18, 2009
The first retreat in our new location
Amish View Inn and Suites


Normally I would take photos of the outside of the Retreat location, and certainly scenic photos to show our surroundings…. But this retreat was almost equal to the first one with the rain and wind. As a matter of fact, at home they were having a nor'easter, but up in Bird-in-Hand we just had rain rain and more rain, so there are not any outside photos to show. Once I got inside where it was warm and dry, I stayed inside most of the weekend. No, I did not go to any quilt shops, but the other retreaters made up for me and a whole lot more believe me! Yes I did go out to eat, right next door within walking distance even for me and my bum knees and I had a delicious meal. (And yes it was raining and yes I got wet, LOL)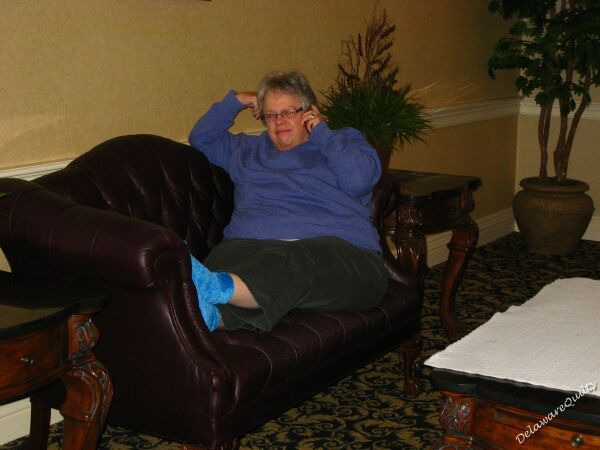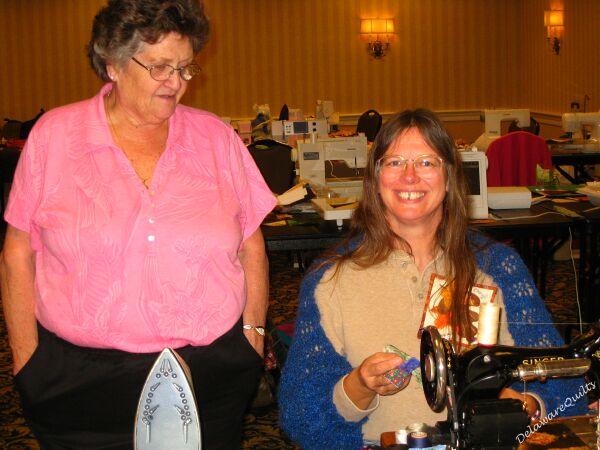 Miriam using the downstairs lobby as a personal phone booth, and Carol checks out Cheryl's old sewing machine.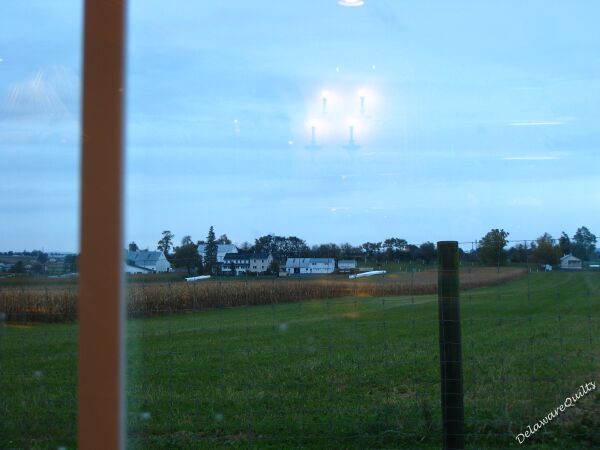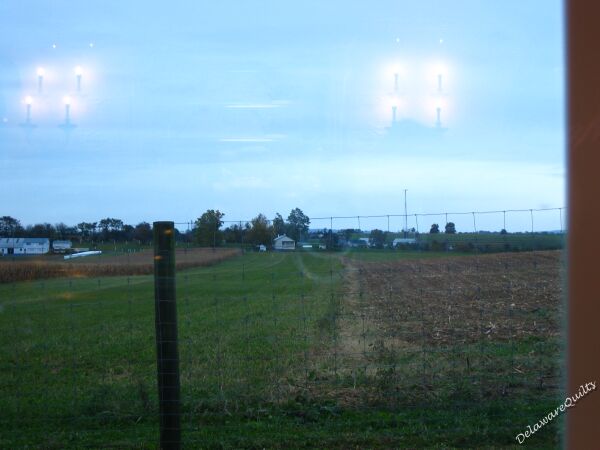 This is the view from the Great Room were we had breakfast every morning.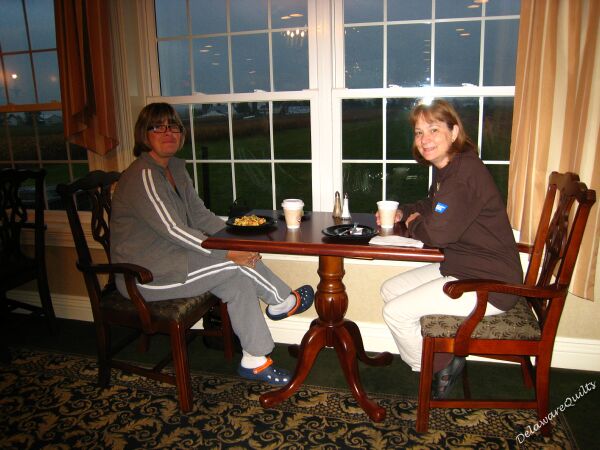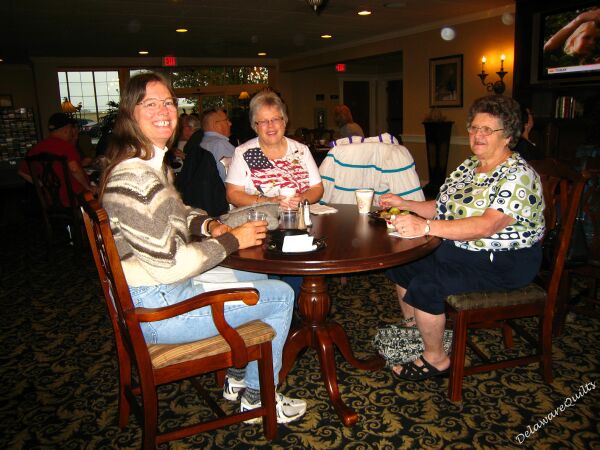 And here are some ladies enjoying their breakfasts
Everyone shopped on Thursday AND Friday (and some on Saturday too!) Other's worked on the retreat mystery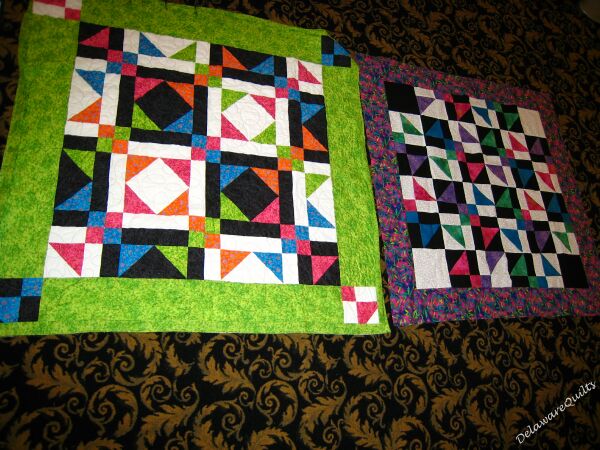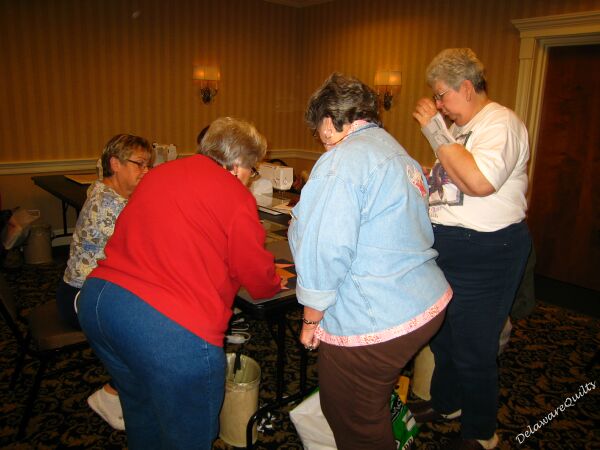 After dinner on Friday the mystery was revealed, and the hard part started, deciding how to set the blocks.
Judy, Miriam, Carolyn and Doris trying to decide which way to go with their blocks.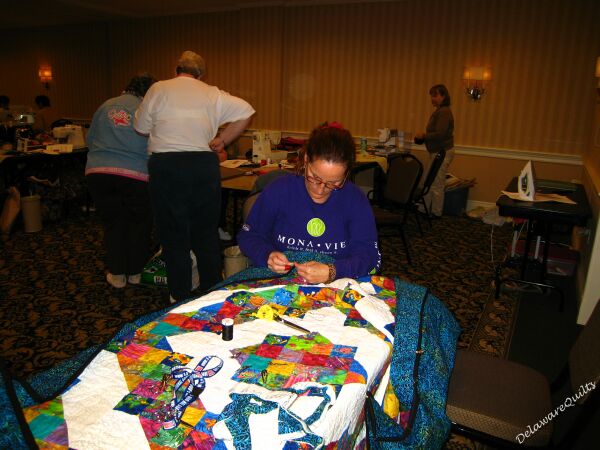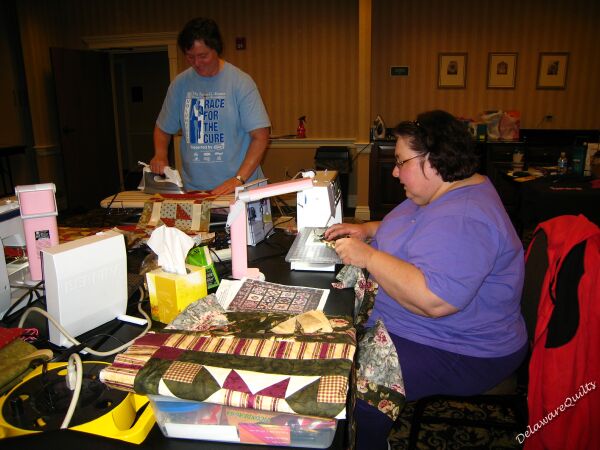 Laura was determined to finish her 2007 retreat project this year while Helene and Cathie were just as determined to finish some BOM samplers.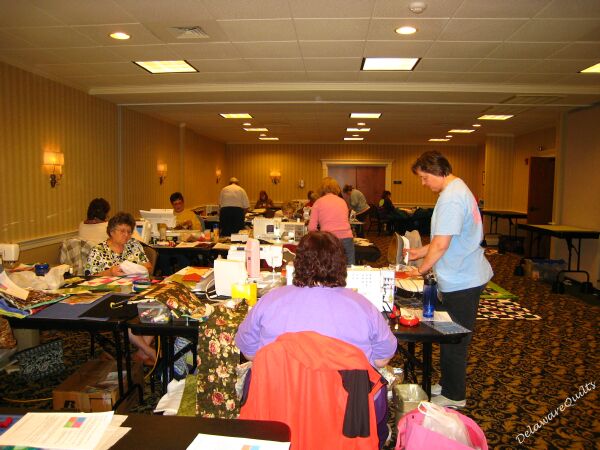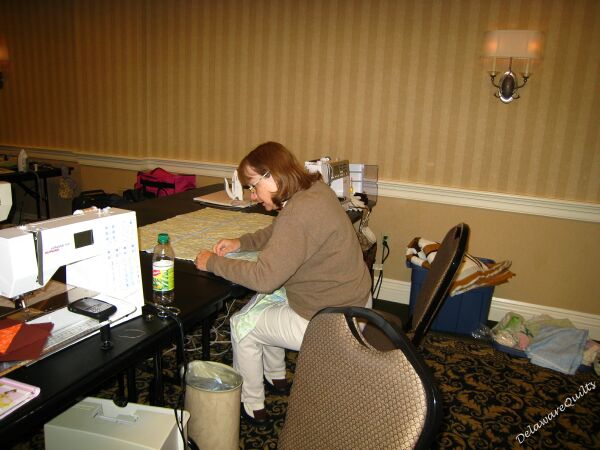 Conference room from the edge of one set of tables to the other side. And Janet all the way on the other side of the room sewing away.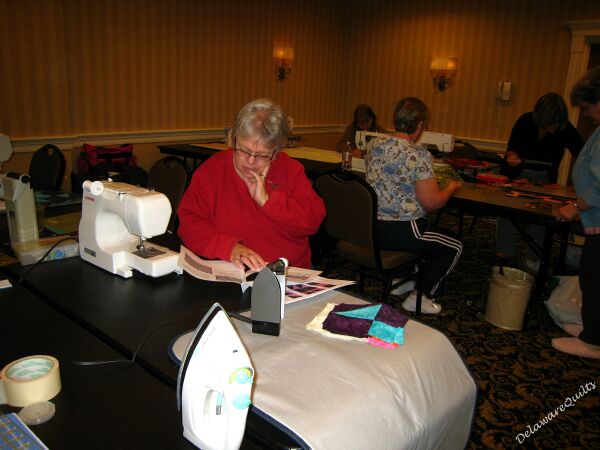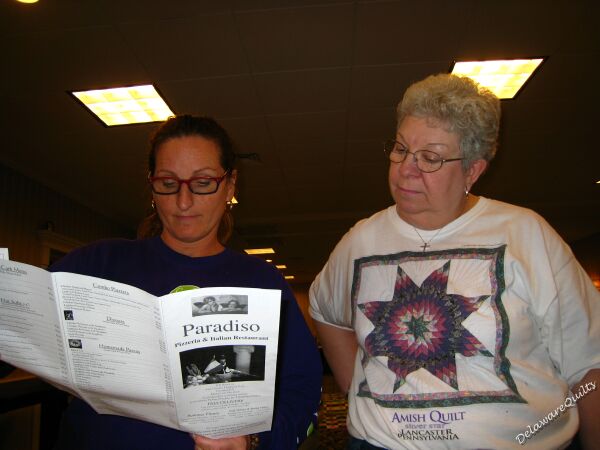 Miriam studying the pattern and Laura and Doris studying another pattern… whoops a menu for dinner delivery (Which was VERY yummy by the way!)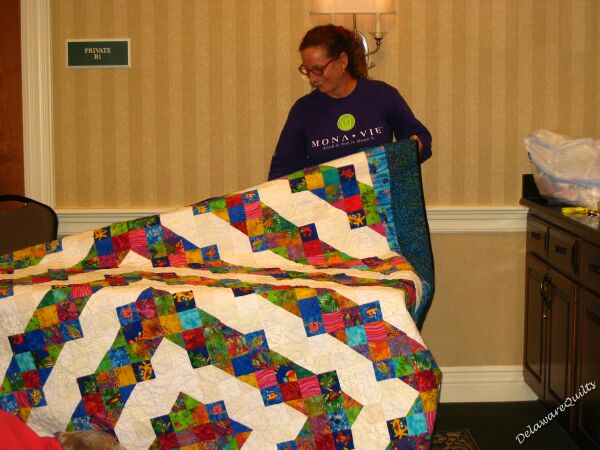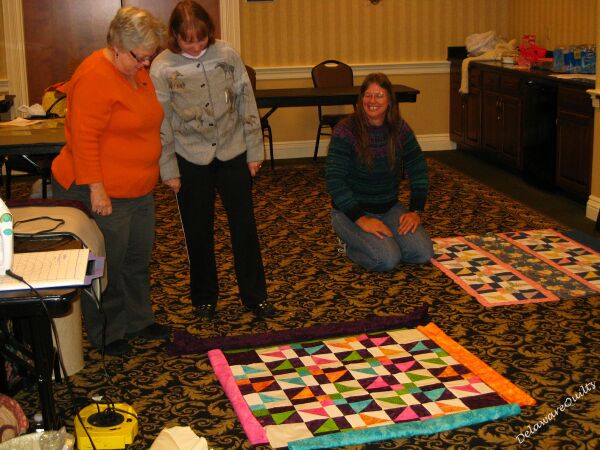 Laura FINISHED! (YEA Laura!!)&nbsp &nbsp &nbsp &nbsp&nbsp &nbsp &nbsp &nbsp &nbsp &nbsp &nbsp &nbsp &nbsp &nbsp Miriam, Janet and Cheryl working on layouts.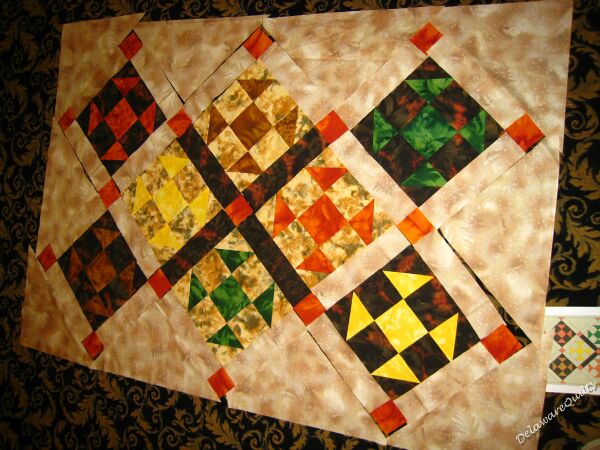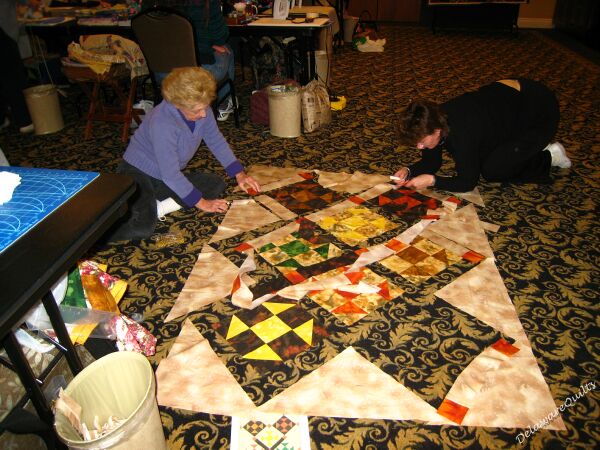 Ellen decided not to cut her blocks, and to set them on point. She did a great job, even if she did get ahead of herself at one point.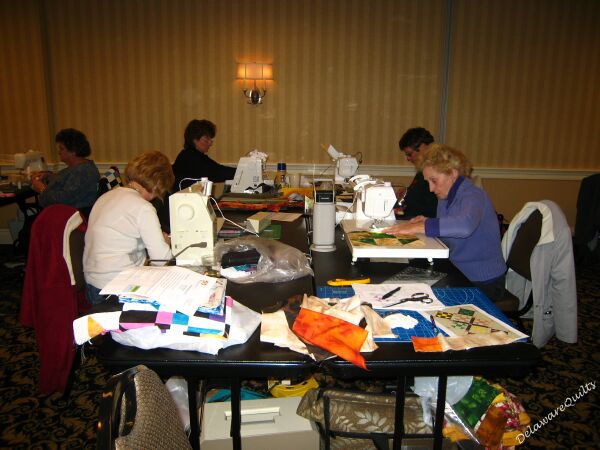 Busy ladies!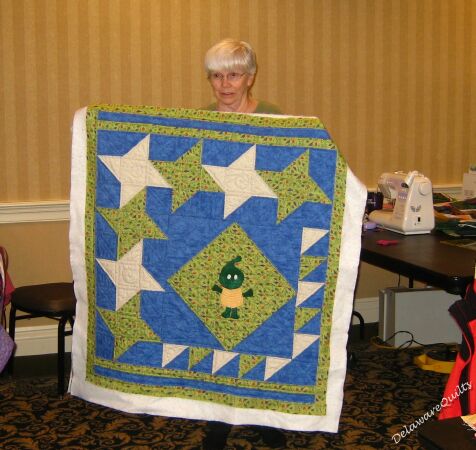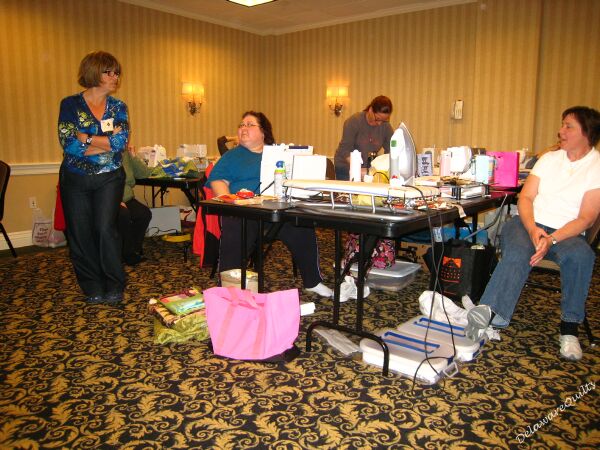 Barbara's Alien Baby Blanket and Michele looking for a good steal during the Pollyanna.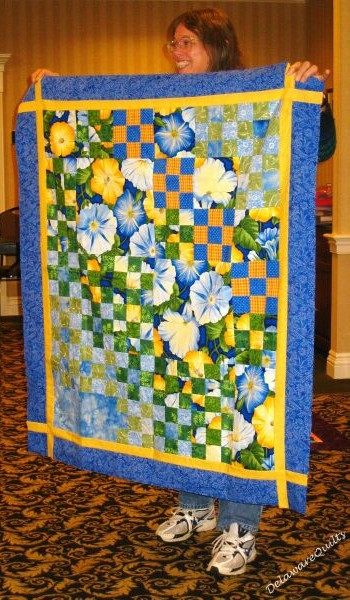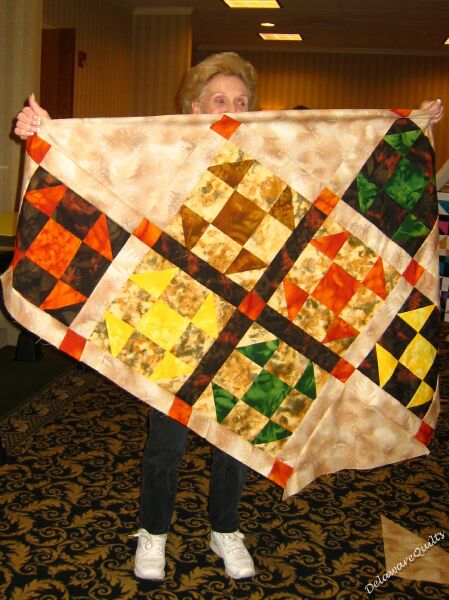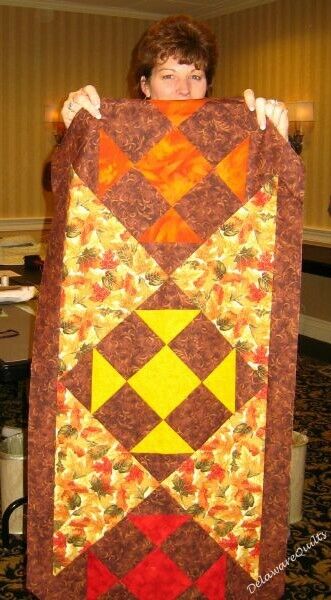 Show and Tell, Cheryl, Ellen and Judy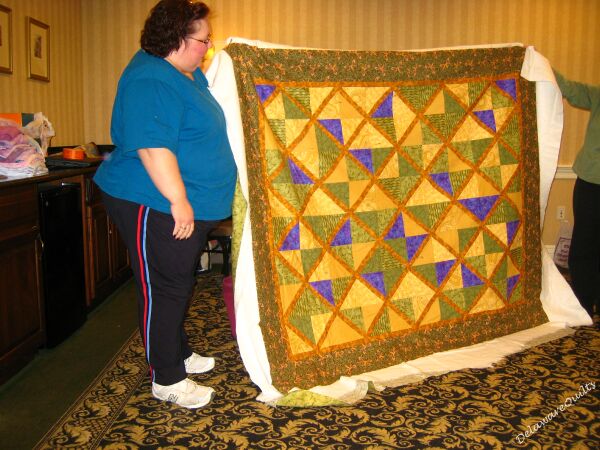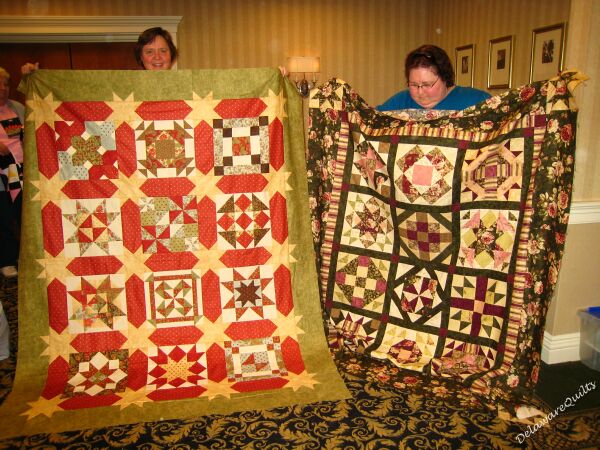 More Show and Tell from Cathie, then Helene and Cathie again.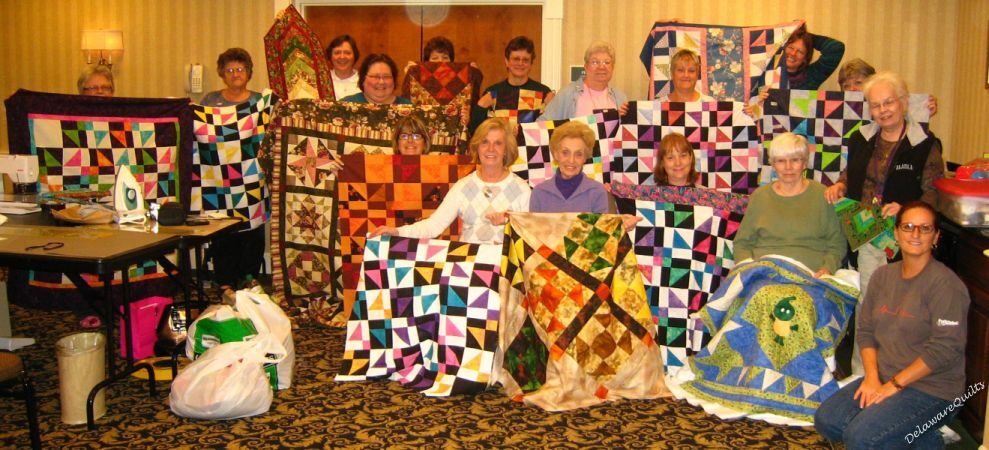 Group photo, with just some of the projects worked on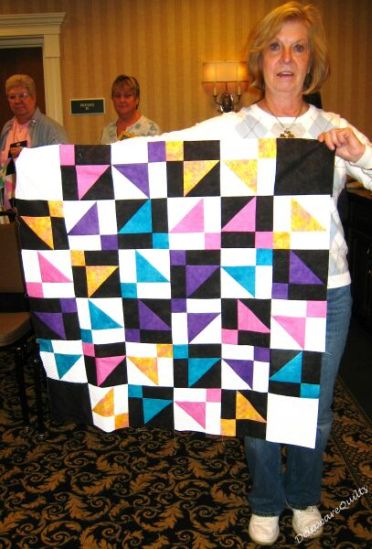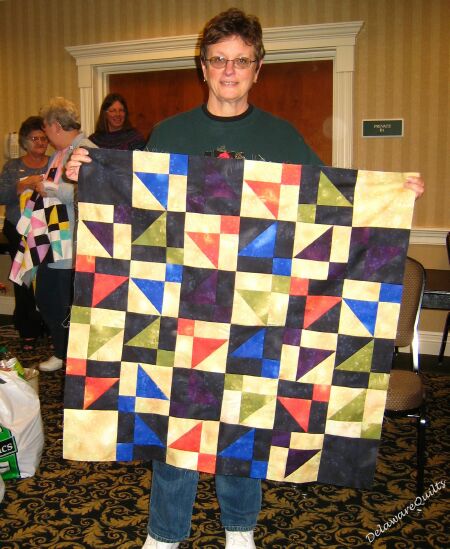 Lorraine and Kathi show their retreat projects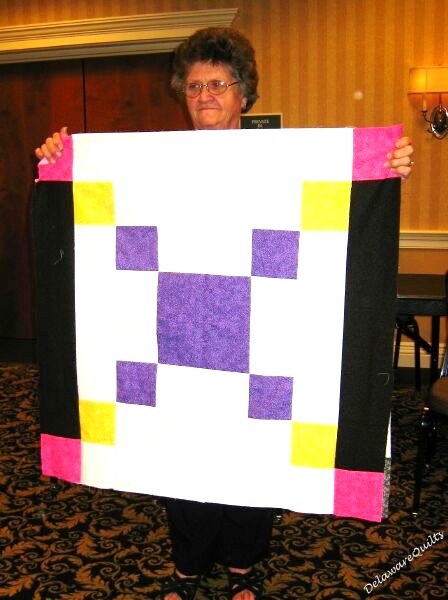 Carol shows her's too, and her pieced back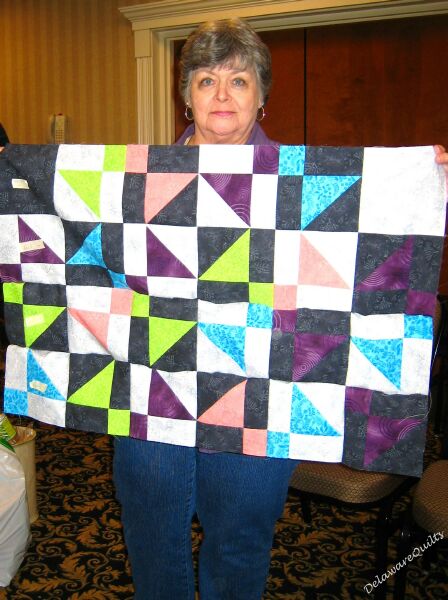 Doris and Carolyn's projects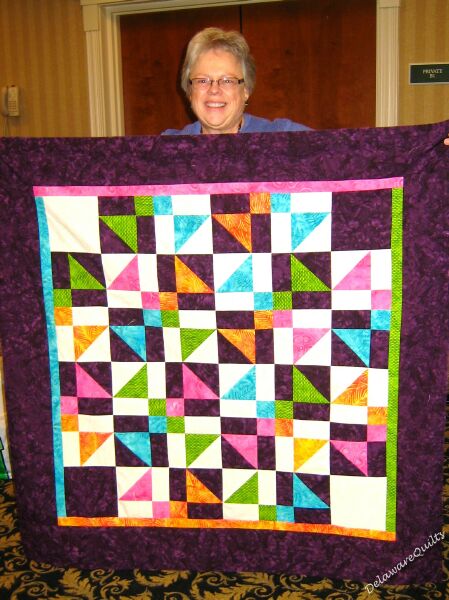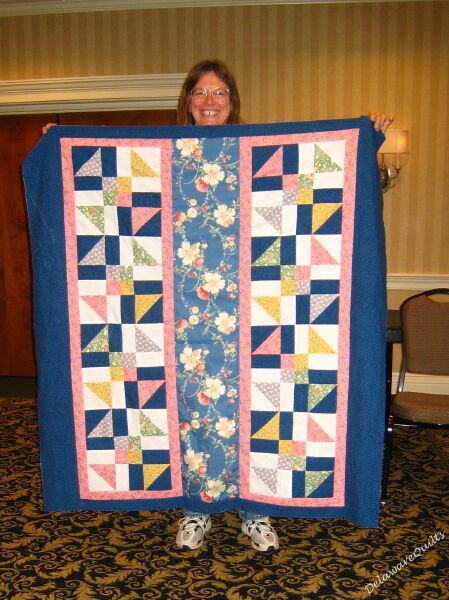 Miriam and Cheryl's projects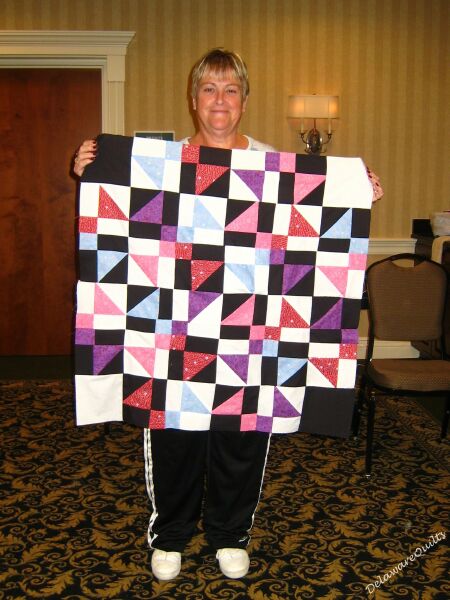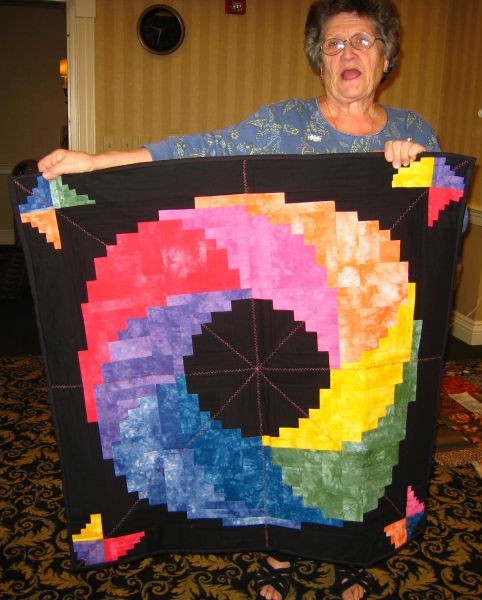 And Judy's first ever retreat project. Carol just happened to have her first ever retreat project with her too (Long finished but never brought to a retreat since it left in 2004)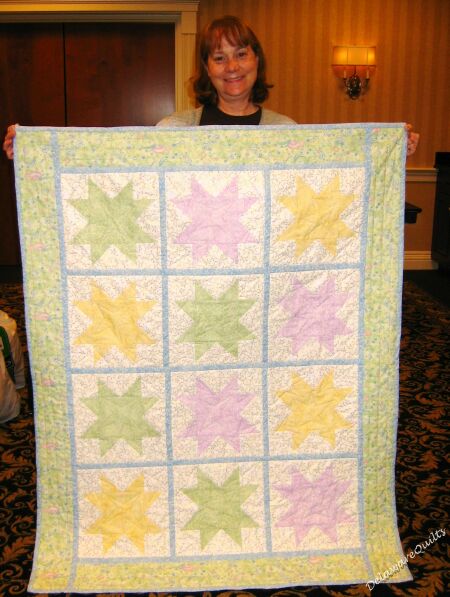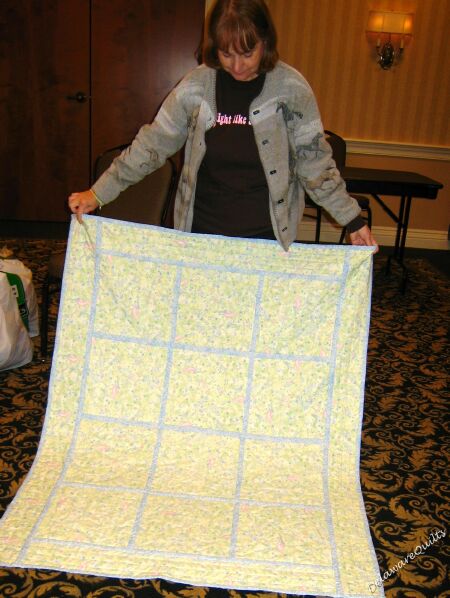 Janet shows off her 2009 retreat project, started and finished at this retreat.



Judy and Michele packed up to head home.

WE MISSED YOU BOTH JOAN AND DEBBIE!
Below are retreaters comments about the weekend and our new retreat home, the Amish View Inn and Suites:
We couldn't have asked for a better location for our quilting retreat. I've traveled a lot on business, and this hotel is by far the cleanest and most comfortable I've stayed at in a long time. The conference room was large and well lit, with plenty of power to run our sewing machines and irons. The rooms were wonderful! I loved having a great breakfast available every day to help get us off to a good start. The staff was very friendly and helpful. I would love to come back again and again. Thank you so much!


I found the accommodations at the Amish View remarkable. Everyone at the Amish View was more than accommodating which made the trip rewarding. The women at the Retreat were extremely friendly and pleasurable to be with.


The Amish View Inn & Suites was a wonderful change! The room, the service, the breakfasts and the people could not have been better. They welcomed us with open arms and couldn't have been more accommodating. Can't wait for next year's retreat!


Our new location was even better than advertised. Everyone at the front desk was helpful and informative. The rooms were spacious, beautifully decorated and so clean they looked like new. The housekeepers were very friendly and helpful as were the charming ladies who provided us with such delicious breakfasts every morning. The conference room was almost too big, and handled our electrical demands with ease. Great job on finding us a new retreat facility!


About the only complaint I had about the whole weekend was the miserable weather, but it didn't stop me from adding tremendously to the PA economy. The hotel was charming and I loved not having to go out and find breakfast.


I've been rethinking the whole retreat and I really can't say that there is anything to complain about. I mean there was the rain, but that certainly didn't stop any of us from shopping and eating and sewing, now did it? And I probably spent too much money and didn't get as much sewing done as I had hoped, but whose fault is that?

The Amish View Inn was just great. I really like the big conference room and I hope the October group stays the same size. There was enough room to get around and I like how much floor space there was for all of us to lay out our quilts. I feel kind of sorry for the poor person who had to vacuum the room -- all that thread is definitely going to do some serious tangling.

The bedroom was spotless and beautiful. The breakfasts were super -- and the two ladies serving the breakfast were as nice as could be. I really appreciated the free wireless. Check-in was easy-breezy and so was check-out. It really was a great place and I'm very glad you found it. Good job!!

Thanks again for all you do to get this group together. It's such a pleasure to spend time with the ladies.



Thank you for yet another wonderful October Retreat with a great group of ladies in Bird In Hand. At our "old location", everything was just fine, and I had few complaints about the facility. But I can truly say that EVERYTHING at the Amish View Inn has surpassed "the other place" in quality, by far!
Here are the finer points of staying at the Amish View Inn:

* the rooms are spacious, elegantly appointed, and impeccably clean (I thought that this whole facility must be brand new, but I was surprised to learn that it was 6-years old...it is very well maintained and kept clean & fresh)

* the views from both our room and the "Great Room" are magnificent, a close look at a working Amish Farm's fields

* the complimentary breakfast was phenomenal!... a wonderful array of hot dishes, specialty order items, and standard cold breakfast foods. Cooks Sandy and Tammy were delightfully personable, as an added bonus to us early risers :-)

* I utilized the complimentary hot tea bar every day, and I appreciated the variety of teas offered.

* the conference room downstairs was convenient to reach from our stay on the floor above. And what a conference room it was! It was so very large, that we all had a full table to ourselves for our sewing machines & paraphernalia, AND we had room to lay out our quilt blocks on the floor (for arranging) without getting in anyone else's way.

* the huge conference room accomodated out multiple irons and sewing machines, without suffering a "brown out"

* there was a small "pretzel shop" next door , for an easy walk to get lunch

* the Plain &* Fancy Restaurant was a short walk away, for getting dinner out without having to drive anywhere

* Every single staff member was friendly, very pleasant, helpful, and yet professional, what a winning combination!
I will gladly return to the Amish View Inn with my family, and I look forward to many more Quilt Retreats at this gem of an Inn in Lancaster County.


The Amish View Inn and Suites was a great place to stay and I enjoyed the people who worked there as well. What a treat to have a great breakfast in the morning and smiling faces all day. I put a note about them on my facebook page!


Thank you for the best retreat ever! Cheryl and I were so excited about the new place and we were not disappointed. The company of all the other ladies is always the best. The new hotel was fantastic! Not only was it beautiful and clean but had a beautiful and peaceful view. If we could have looked out at that view from the conference room, we wouldn't have gotten a thing done but look out and day dream. Al and Grace we very friendly, no one would have guessed they were the bosses. Sandy and Tammy were just delightful, they cooked a great breakfast every morning and I think we all felt like they were old friends. And Sandy is a quilter and Grace is a crafter! We are all so lucky, what more could we ask for!!! Everyone was friendly, the front desk people, housekeeping and the maintenance men. It was like one big happy family. In June, Robert and I celebrate our 40th Anniversary and I have already told him I want to go to the Amish View Inn for a few days. (Maybe sooner!) Oh, and getting "ferhoodled" was a fun touch!


I guess I am the only one who had anything to complain about at the new location, the "green eyed monster" that startled me the first and last night there. After falling asleep and rolling over, a green eye jolted me awake the first night…the microwave clock, LOL! Easy fix, a hand towel over the clock and no more green eyed monster until I used the microwave Saturday and forgot to put the towel back over the clock when finished. I am very happy that everyone loved the new retreat location as much as I did, and I am looking forward to many more fun retreats in our new home.
Marge