&nbsp &nbsp &nbsp &nbsp &nbsp &nbsp &nbsp &nbsp &nbsp &nbsp &nbsp &nbsp

Delaware Quilts Quilters Retreat

2011 Angels Retreat

Fall was in its glory as I drove up to Bird-in-Hand this trip.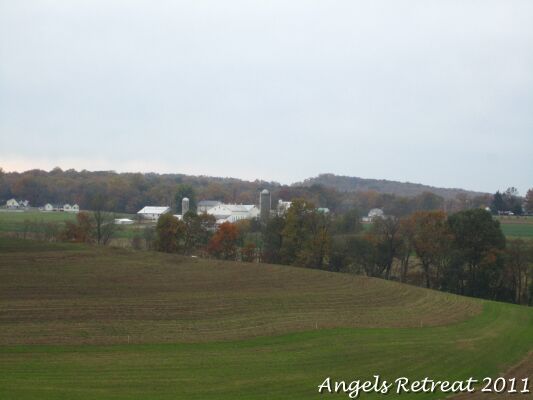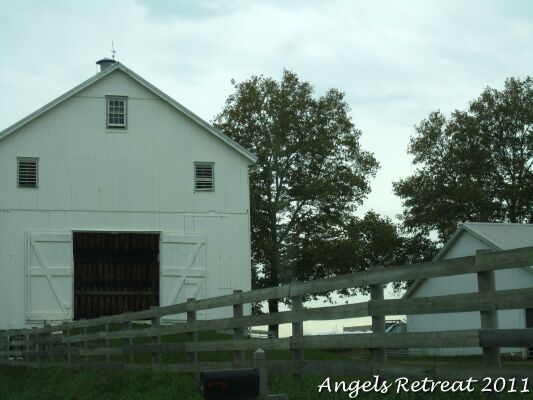 By 3:00 the Inn and the conference room were ready, but where was everyone?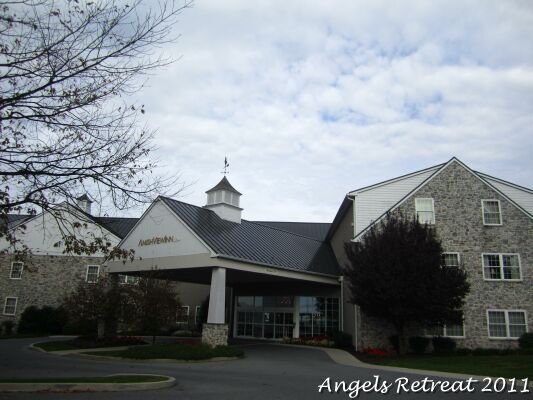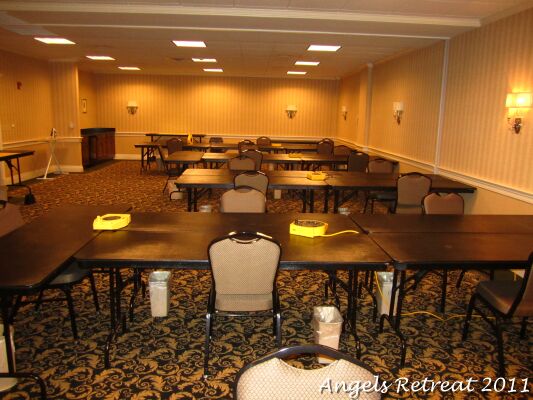 They were there for breakfast the next morning, but disappeared again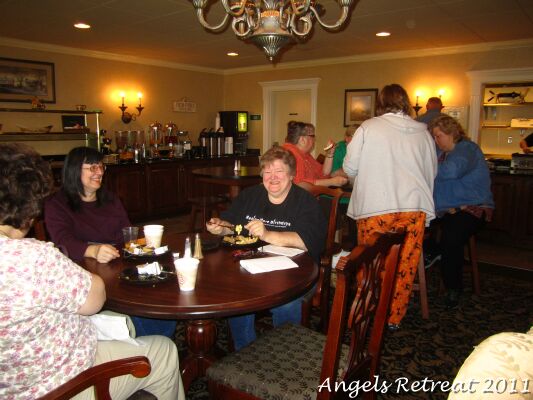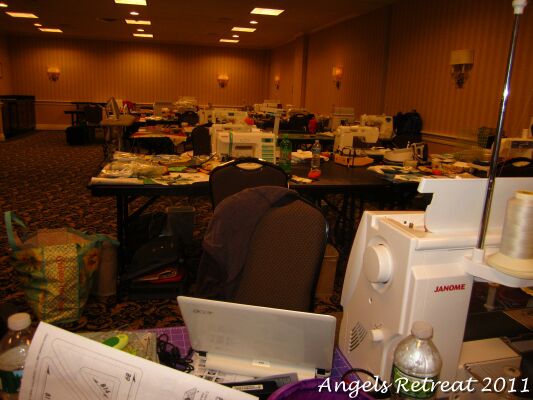 We did the Ugly Fat Quarter contest and some sewing got done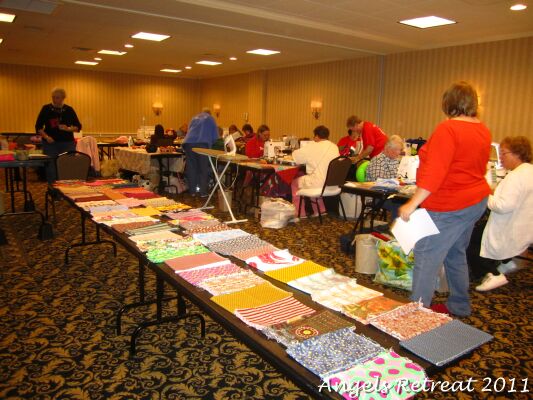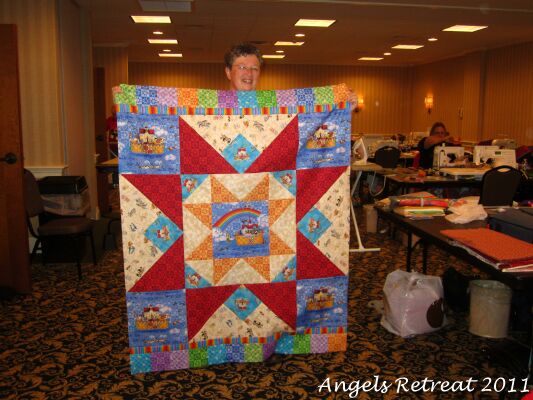 And then they all disappeared again, something about tea time? Finally they settled down to sew.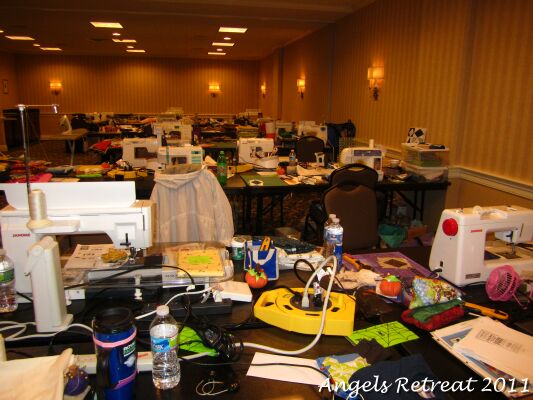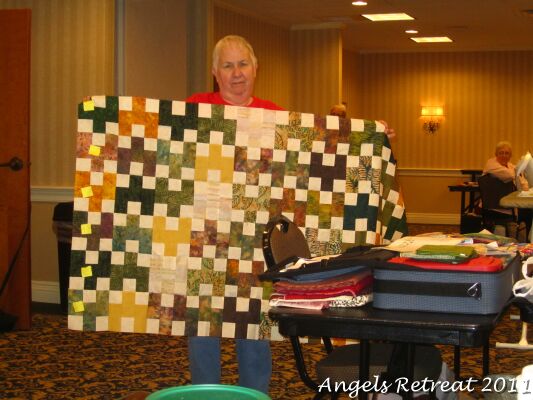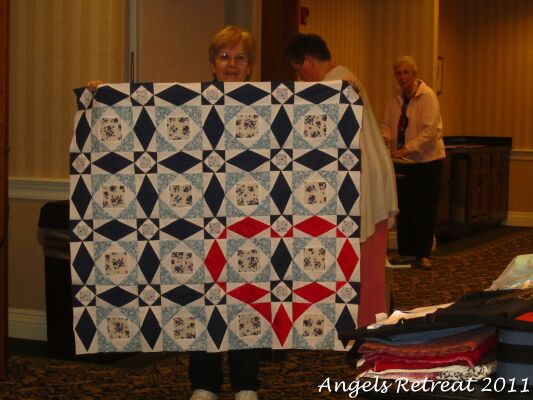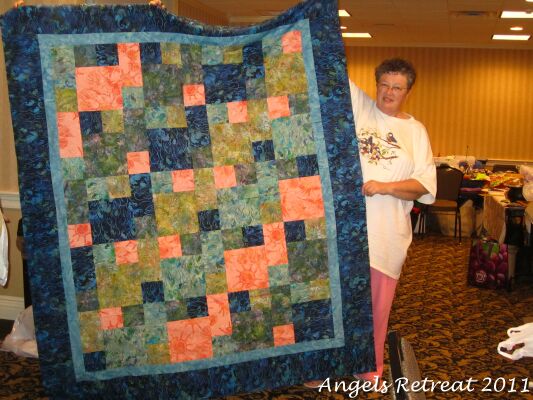 We did a small show and tell... the BIG show and tell was on a lap top so people didn't have to bring their quilts. OK... I was the ONLY one who hadn't seen most of the quilts so I let them get away with it this time. But a few people brought things to show anyway. Thank you ladies.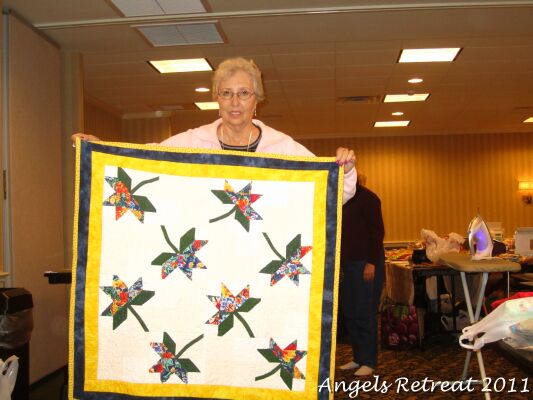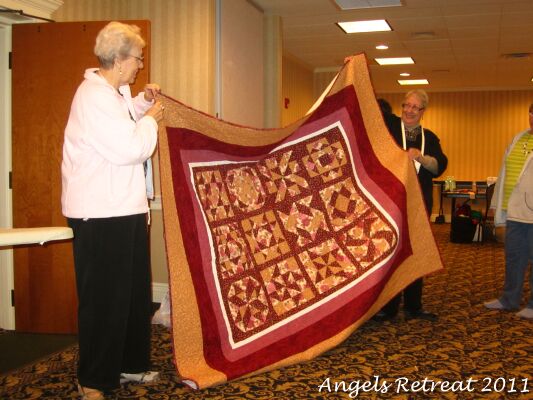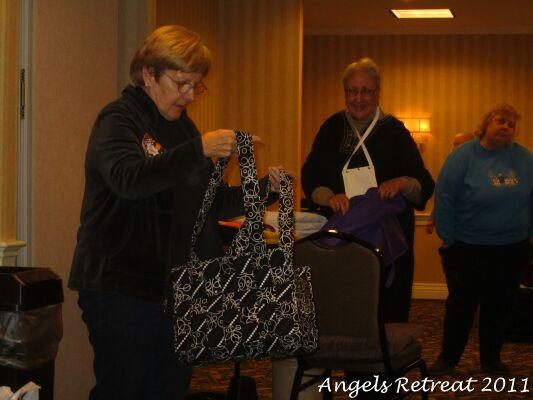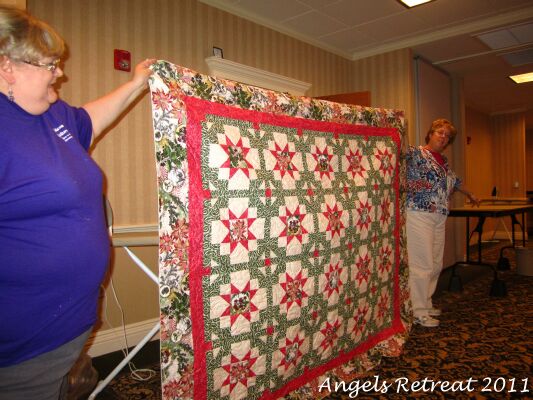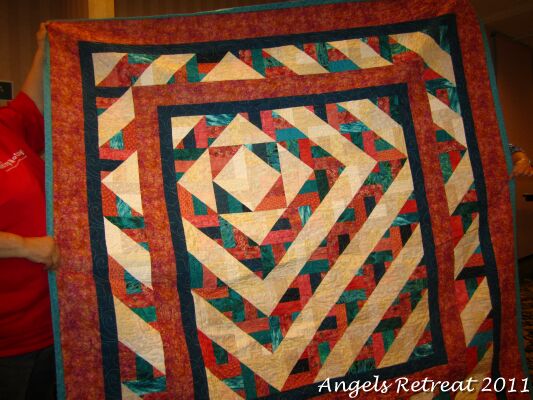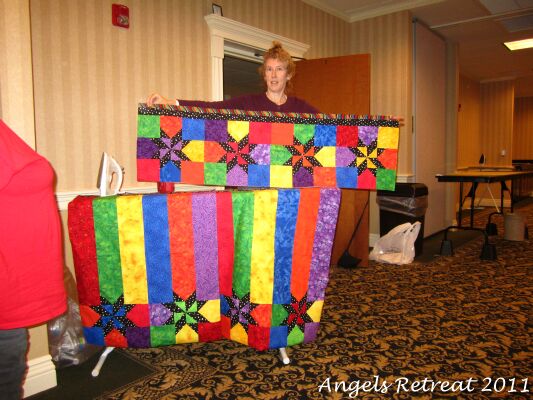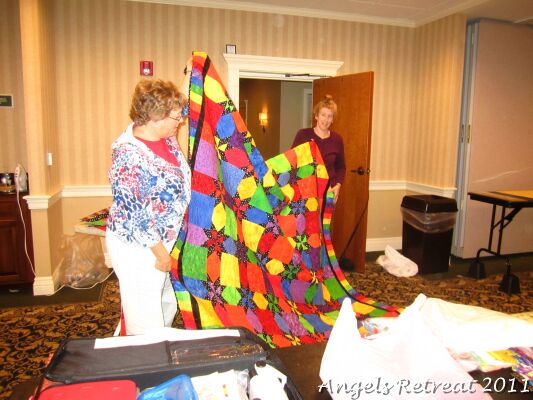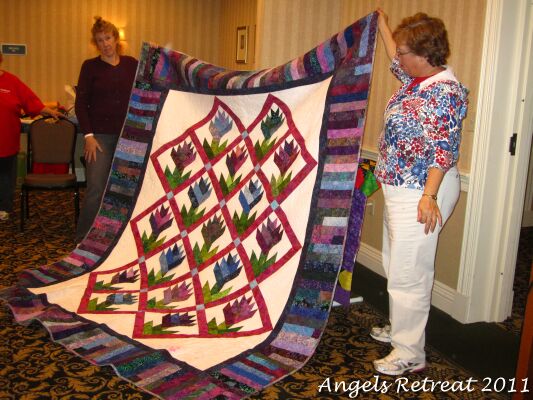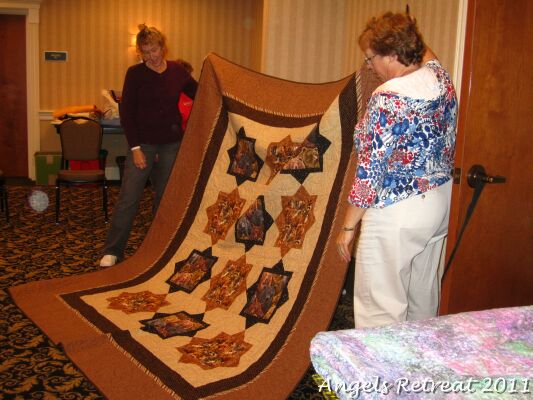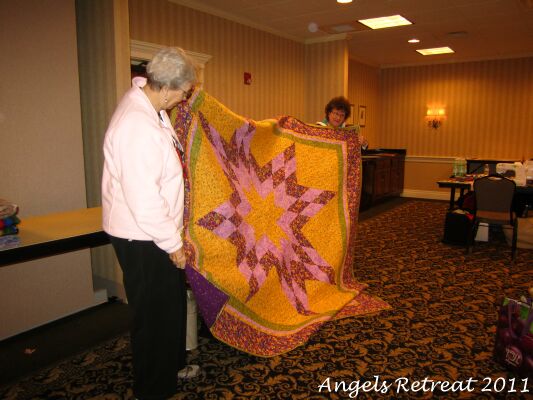 &nbsp &nbsp &nbsp &nbsp
Thanks to all of the ladies who showed your show and tells on the lap top and in person too. I do love seeing everyone's work.

And I do understand the packing situation…. less coming down means more room for fabric purchases. At some retreats I ask the ladies to calculate who spent what. From the time everyone was out shopping and from all the goodies everyone showed off, I skipped that this time. (I was afraid to ask!)

Saturday morning held a big white surprise for us all.... snow!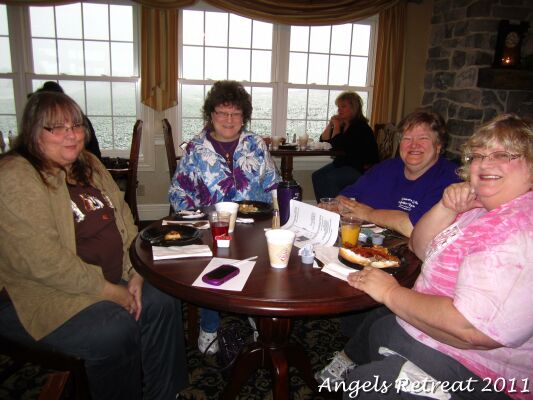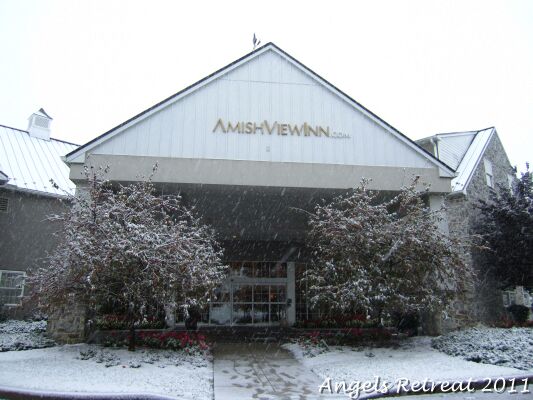 | | | |
| --- | --- | --- |
| That didn't stop the Angels from shopping! | &nbsp &nbsp &nbsp &nbsp | |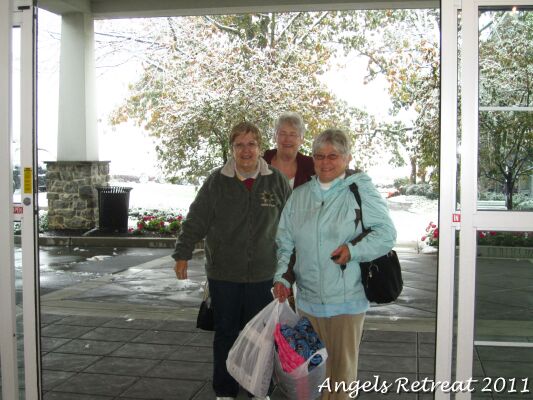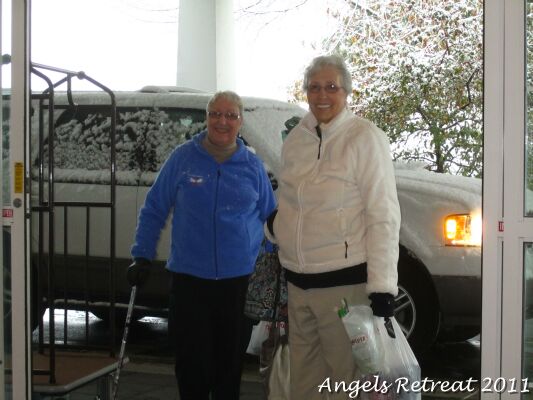 It kept snowing and snowing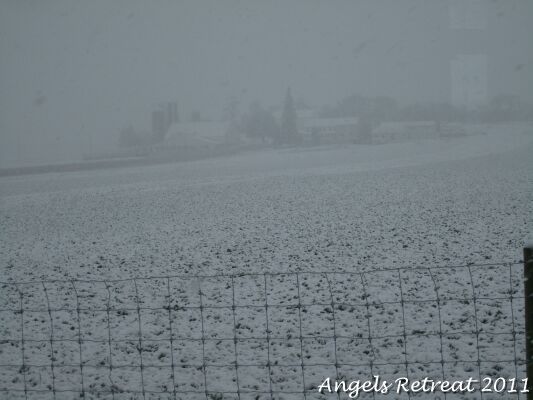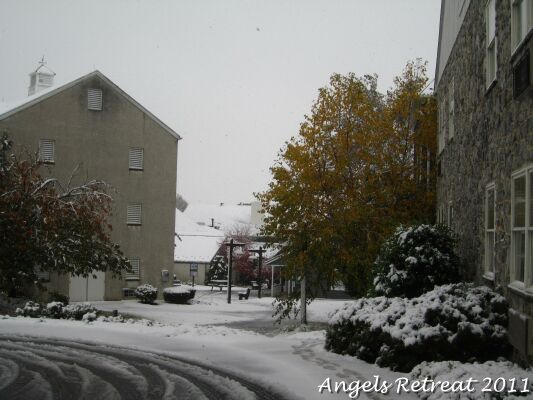 Finally everyone got down to doing some sewing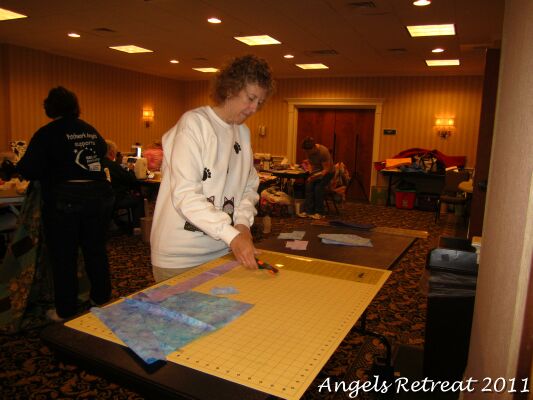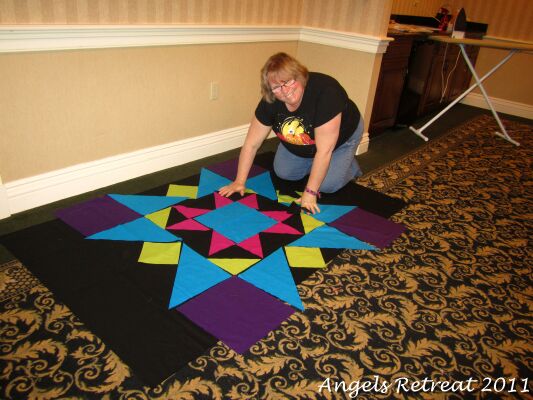 Candy demonstrated a table runner technique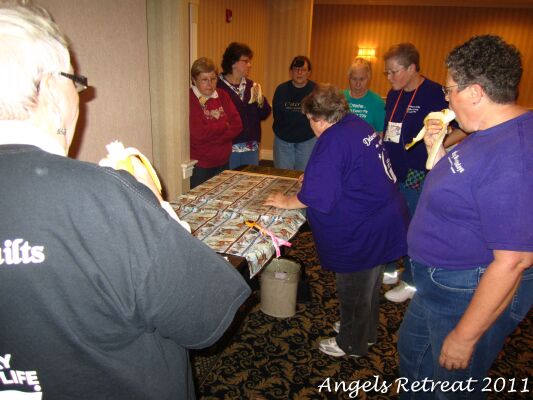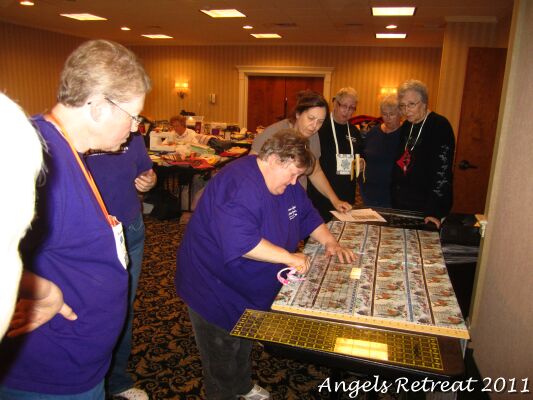 And all of a sudden the power went out. Everyone headed up to the Great Room where there was daylight, and some fun.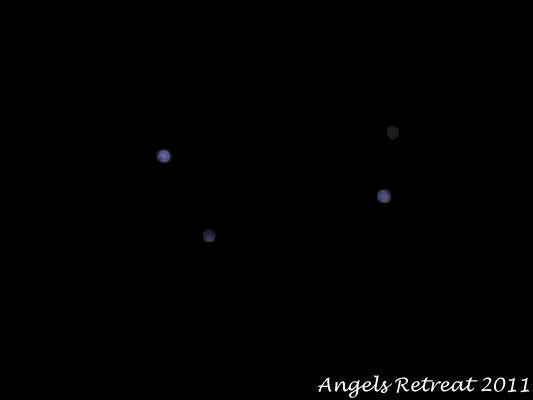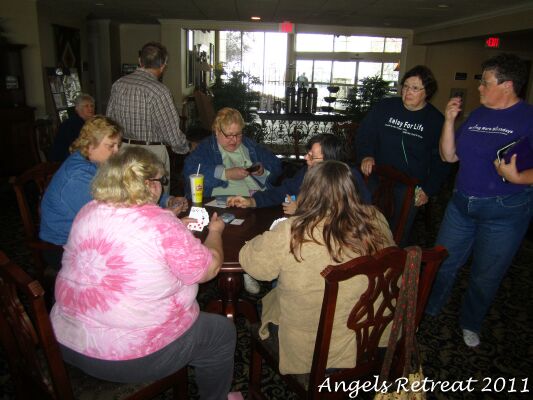 It kept on snowing and they kept on playing cards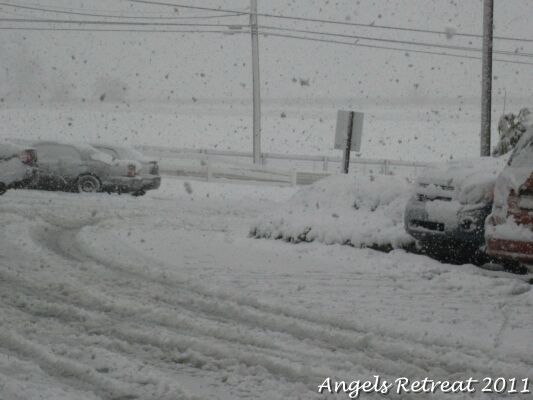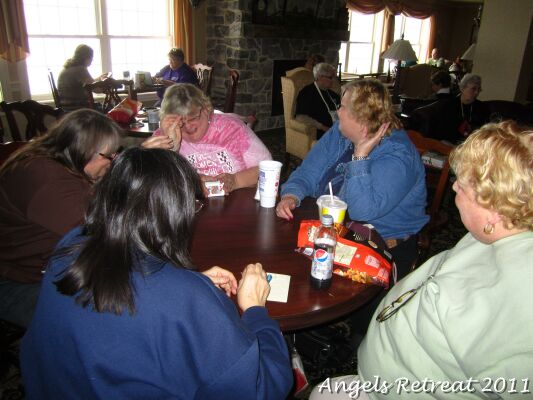 Reading magazines and visiting and playing cards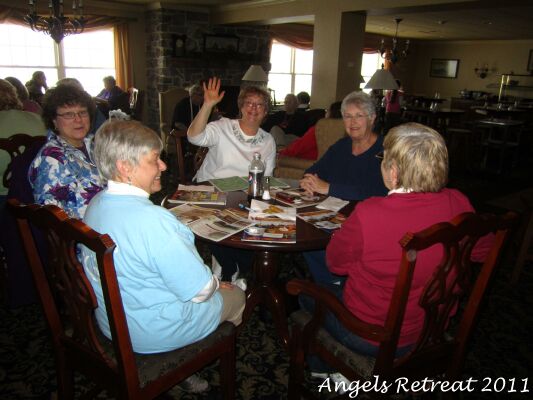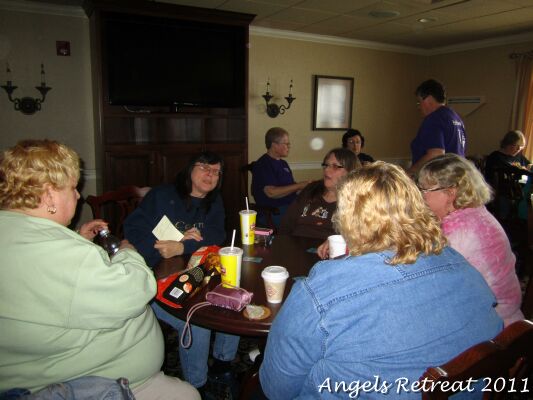 Relaxing and reading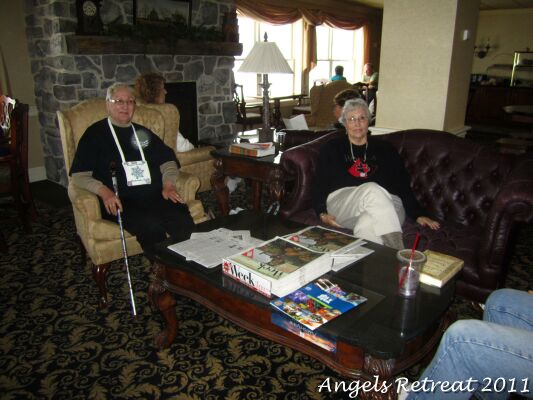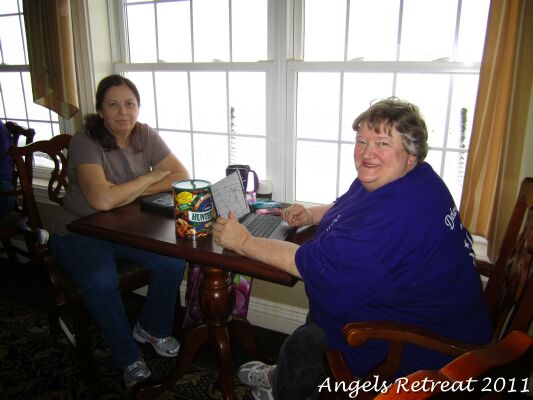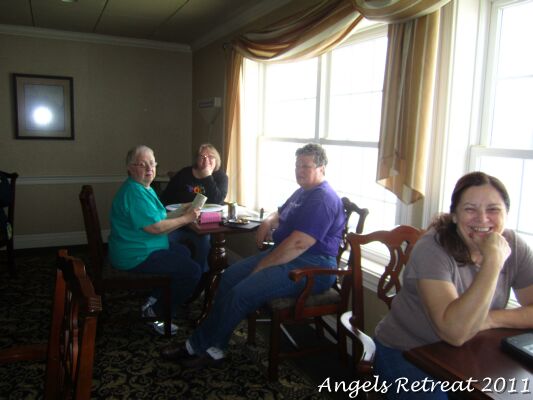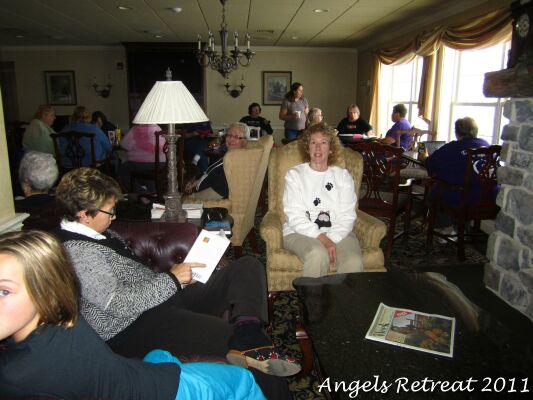 When the power went out Plain and Fancy had to close. They graciously brought all the prepared food to the Inn for the stranded guests. We all greatly appreciated not having to go out in the cold to find dinner! BIG THANKS TO THE INN MANAGEMENT AND PLAIN AND FANCY FOR TAKING SUCH GOOD CARE OF US!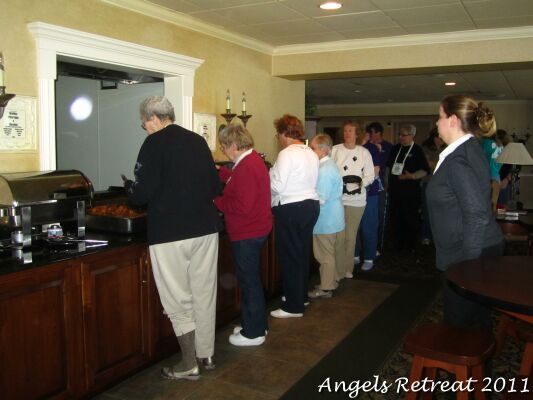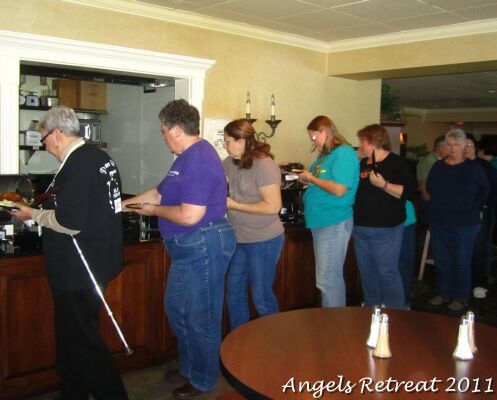 After dinner more cards, reading and relaxing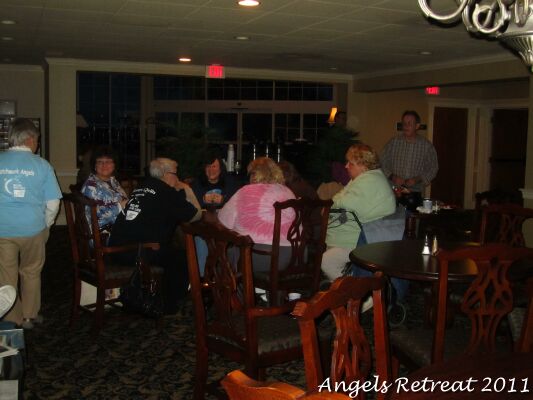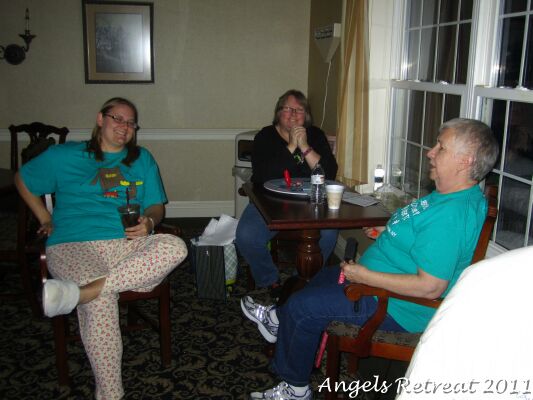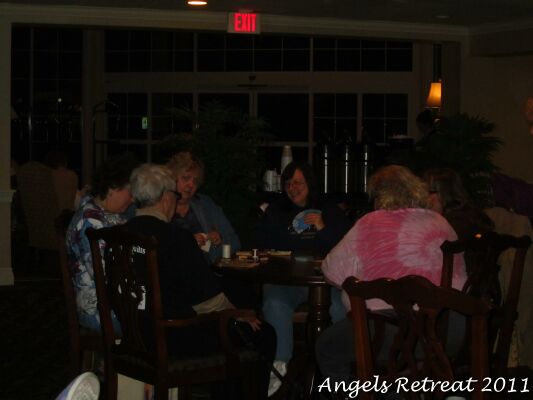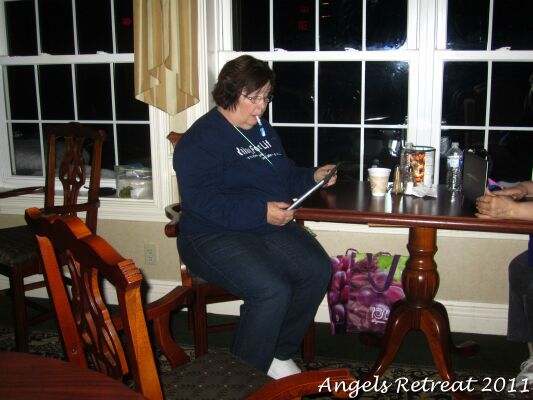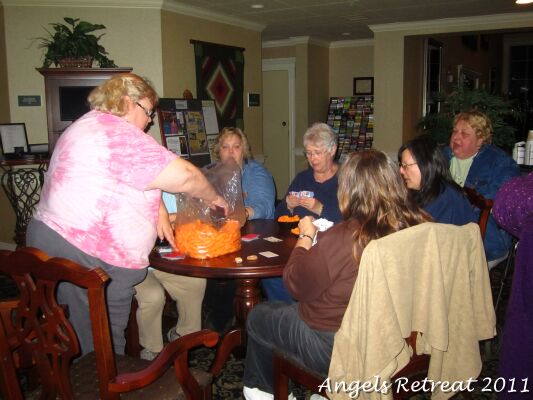 Power came back on about 3AM, but I am pretty sure most everyone was asleep. In the morning were promises of a beautiful day and a good breakfast.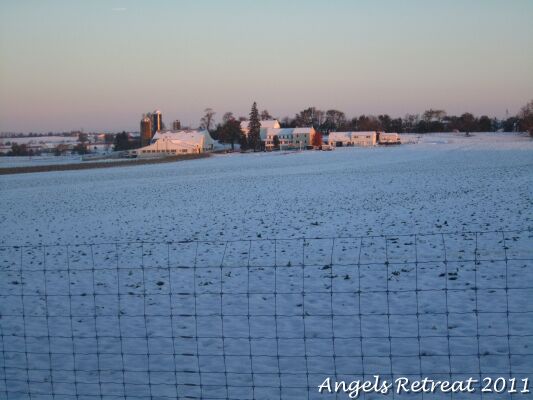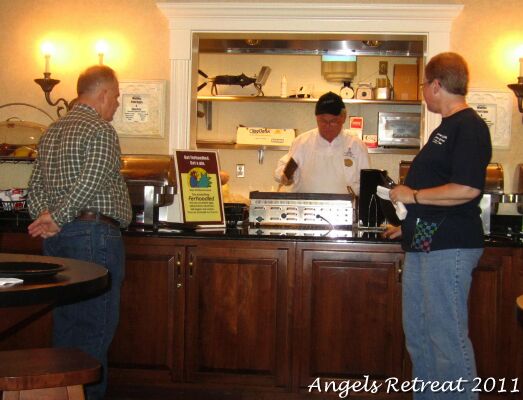 We did our Retreat Pollyanna just a little bit late, but it was the perfect ending to a truly wonderful Retreat!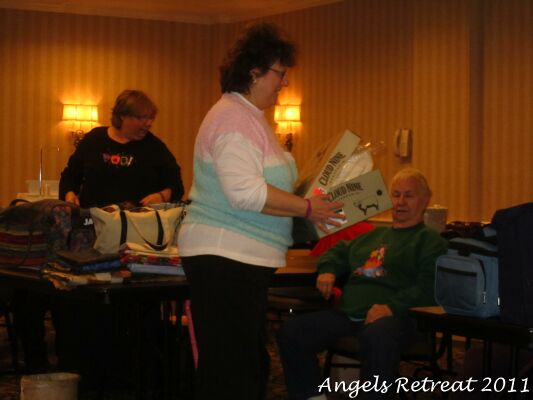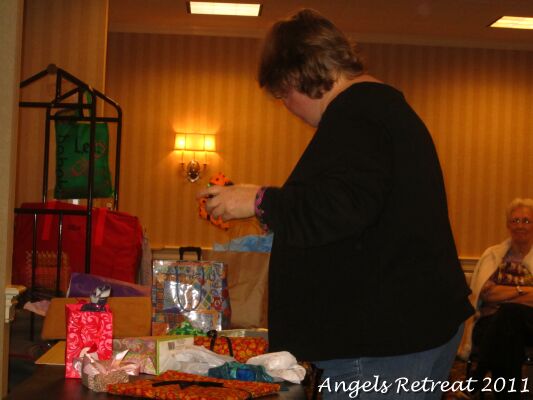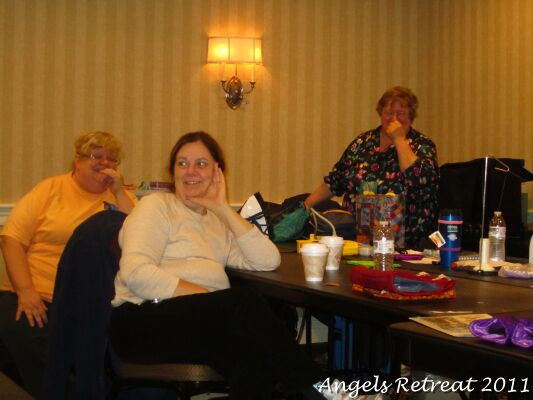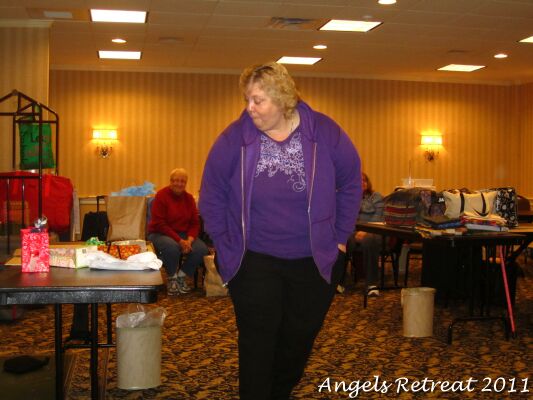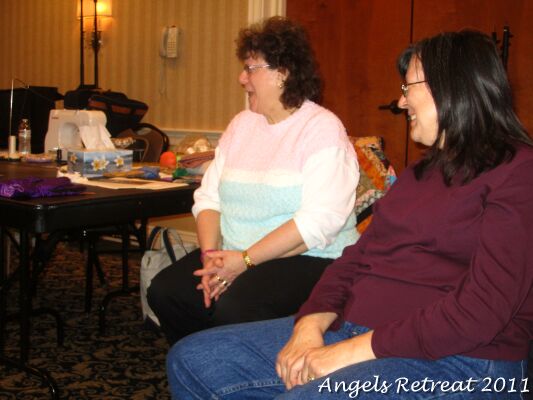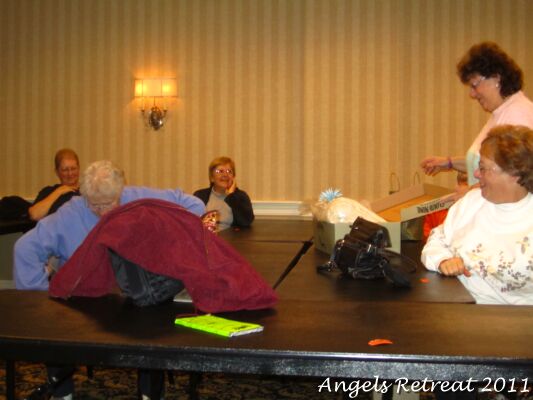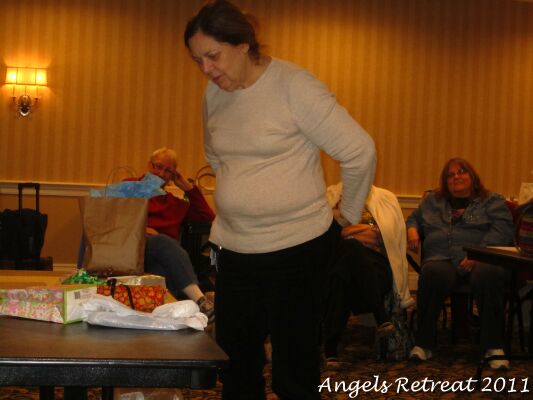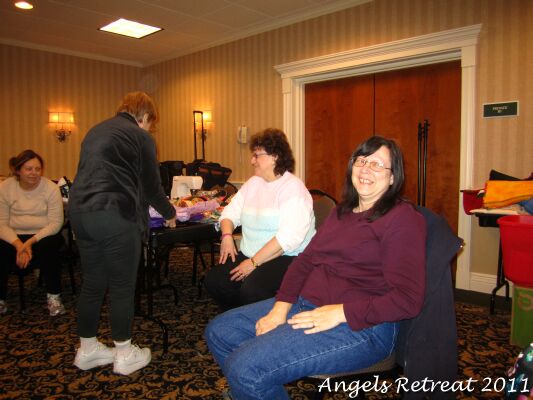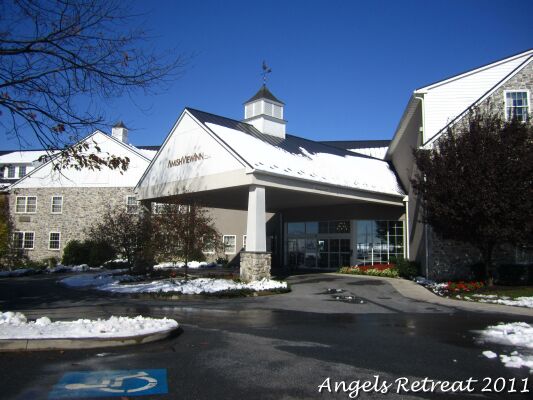 If you would like to see some more photos of the snow, click here.



|Home| Family| Quilts| Blocks| Retreat| Email|

Posted October 31, 2011