Sampler Swap hosted by Delaware Quilts the spring of 2005




The Swap Guidelines Were:

1) This is a one-time block swap.

2) Fabrics MUST be good quality 100% cotton and it MUST be PRE-WASHED. We want only top quality fabrics for this swap, no Wally World specials.



3) Colors –

Backgrounds are to be white-on-whites. No muslin, tan-on-tans, creams, creams-on-creams, ivory, or neutrals. White-on-whites ONLY.
Each swapper will choose one color family to make her block with. All blocks you make must be made with that same color. If the block you make has two colors, then both must be of the same color family. If you make more than one set, both sets must be made with the same color.
You must tell me what block (or blocks) you are making, and show an example of it when you sign up. This will assure that all the blocks will be different. You also must tell me what color you will be using for your blocks.

Here is a sample of a block for this swap.
This is a two color purple Ohio Star Vatiation.
I will be making one set of this block.
My color for this swap is purple.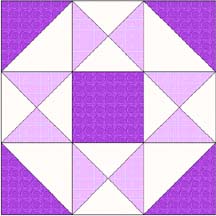 4) The blocks will ALL be 12 1/2 inches square. I will measure your blocks and if they are not 12 1/2 inches they will be returned to you unswapped. All blocks must be made carefully and must have true 1/4 inch seam allowances on all sides.

5) Blocks will all be pieced.

6) Please label your blocks with your name and email address. DO NOT write on the block, use a mailing type label or sew pieces of paper to the block. Each block should be labeled, so that the person receiving it knows who it came from.

7) Mail your blocks to me; I will email you my address when you are ready for it. You must have a complete return address on your mailing envelope.

8) Be sure to include a self-addressed return envelope with proper postage. (If you do not put enough postage on your envelope, you will have to pay postage due.) (For swappers outside the US, we'll work something out in advance)

9) You may make as many sets as you wish but each set must be a different block. There are to be 6 blocks per set. Place each set in a zip lock bag with your name and email address written on it. (If you send three sets, you will send me three zip lock bags.)
NOTE- If more than 12 people sign up, you will be allowed to make two sets of the same block.

10) You will expect to receive quality blocks for your swap. For this to happen, I will return, unswapped, any blocks that do not meet the guidelines.



Blocks
Ohio Star Variation
Ribbon Quilt block
Nine Patch Star
Perpetual Motion block
Stepping Stones
Bow Tie Block
Dutchman's Puzzle
Broken Wheel
Five Diamonds
No Name Star
Nine Patch Variation
Dandy Quilt Block
School Girl's Puzzle
Double Friendship Star
Heart
Big T
Pinwheel
Shoo Fly
Autumn Leaf
Churn Dash
Triangle Beauty
Exquisite
Hope of Hartford
Rail Fence
Log Cabin
Snowballs
Sawtooth Star
Anvil Block
Double Spinwheel
Contrary Wife

&nbsp &nbsp &nbsp &nbsp &nbsp &nbsp &nbsp &nbsp &nbsp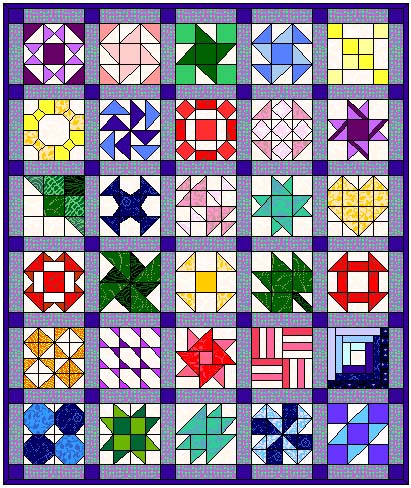 | | | |
| --- | --- | --- |
| Annie's Sampler | &nbsp &nbsp &nbsp &nbsp &nbsp &nbsp &nbsp &nbsp &nbsp | Sampler Top |


Updated July 15, 2020

Swaps