Sand Star Block Swap
This swap was held at the beginning of 2002. Here is my finished quilt from this swap. (I added a few of my own stars, small and large.)

Below are the exact guidelines used for this swap. I believe it was a very successful swap and many beautiful quilts came from it.

&nbsp &nbsp &nbsp &nbsp &nbsp &nbsp &nbsp &nbsp &nbsp


1) This is an one time block swap. Blocks are to be stars made of sand colored fabrics.

2) Fabrics MUST be good quality 100% cotton and it MUST be PRE-WASHED. We want only top quality fabrics for this swap, no Wally World specials.

3) Colors are to be off white, off white-on-whites, tan-on-tans, creams, creams-on-creams, ivory, neutral and sand colored fabrics.... You want your backgrounds and stars to contrast, so the star shows up nicely. (Absolutely no muslin or white.)

4) The blocks will be all different stars and can be all different sizes, from 6 1/2 inches to 12 1/2 inches.

5) Blocks may be pieced, paper pieced or appliqued. Applique must be stitched down by machine or hand. (No fusibles or puff paint! Fusibles and puff paints will be returned to the sender, unswapped.) Paper pieced blocks should have stitching around the edges within the seam allowance, and the paper should be removed.

6) Please label your blocks with your name and email address. DO NOT write on the block, use a mailing type label or sew pieces of paper to the block. Each block should be labeled, so that the person receiving it knows who it came from.

7) Mail your blocks to me, I will email you my address when you are ready for it. You must have a complete return address on your mailing envelope. My post office is holding unmarked suspicious envelopes, and for some reason squishies fall into that category.

Be sure to include a self addressed return envelope with proper postage. I have to mail these from the post office, so be sure to include proper postage. (I charge double for additional postage!) (For swappers outside the US, we'll work something out in advance)

8) You may make as many sets as you wish but each set must be different. There are to be 6 blocks per set. Place each set of stars in a zip lock bag with your name and email address written on it. (If you send three sets of stars, you will send me three zip lock bags.)

9) You will expect to receive quality blocks for your swap. For this to happen, I will return, unswapped, any blocks that do not meet the guidelines.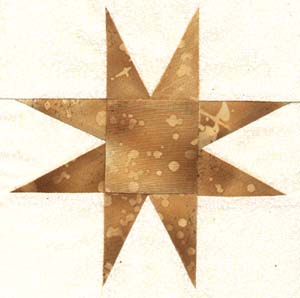 Here's one of my Sand Stars

Updated July 15, 2020

Swaps