Four Patch Chain


For a 12 1/2 inch four patch chain (12 inches when sewn in a quilt) you need:
For the four patches

Eight 3 inch squares of your background (B&W print)

Eight 3 inch squares of red
OR you can cut a 3 by 24 inch strip of each, and make your four patches that way.

For the center row

One 2 1/2 inch square of the red

And four 5 1/2 by 2 1/2 inch strips of the black


&nbsp &nbsp &nbsp &nbsp

Sew together four sets of four patches.




Sew a dark strip between each four patch, making sure your primary color, in this case red, is in the center bottom.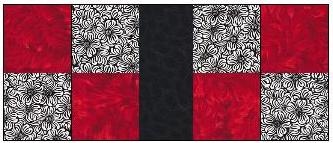 &nbsp &nbsp &nbsp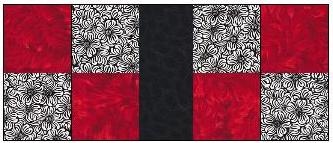 Make two units like this.

Sew together this middle row

Assemble following the diagram. Make sure your red is in the center of the block.

Your Four Patch Chain block should measure 12 1/2 inches.
| | | |
| --- | --- | --- |
| Here is a simple Four Patch Chain quilt. | &nbsp &nbsp &nbsp &nbsp &nbsp &nbsp | Here is the Alpine Cross combined with the Four Patch Chain. |
Four Patch Chain © Delaware Quilts July 2009
The content on these pages, including text and images are the sole property of the Delaware Quilts and may not be used or reproduced in any manner without consent. All Rights Reserved.

Updated June 4, 2020

|Home| Quilts| Blocks| Retreat| Email|