Whirlpool Block



For a 12 inch finished Whirlpool block you will need:
&nbsp &nbsp &nbsp From your background cut eight 3 7/8 inch squares
&nbsp &nbsp &nbsp From a dark (purple) cut four 3 7/8 inch squares
&nbsp &nbsp &nbsp From a medium (hot pink) cut four 3 7/8 inch squares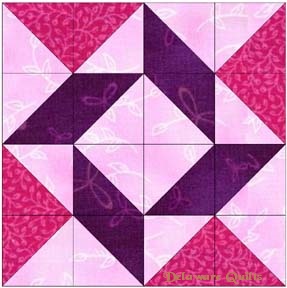 You will be making all diagonal squares for this block. First, mark your background squares diagonally through the center. (This will be a cutting line when you are finished.) Place your medium square, right sides together, with the background. Sew on either side of the drawn line, exactly 1/4 inch from the first line. Cut this square in half on the cutting line. Don't forget to trim your corners. You will now have two diagonal half-squares, which should measure exactly 3 1/2 inches. Repeat with the remaining squares.



You need eight squares like this,

and eight like this.



Assemble into four units like this,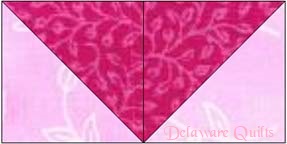 and four like this.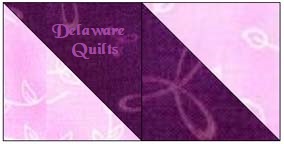 Next put them into four units that looks like this, then put those four units together to look like the Whirlpool block here.
Your finished block should measure exactly 12 1/2 inches.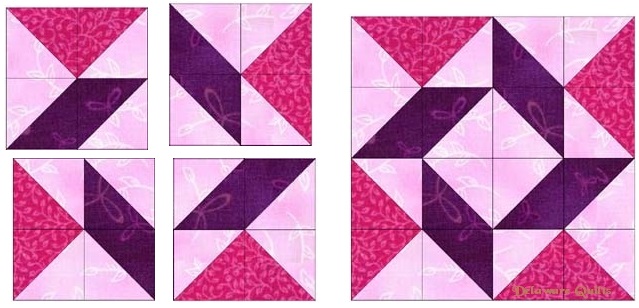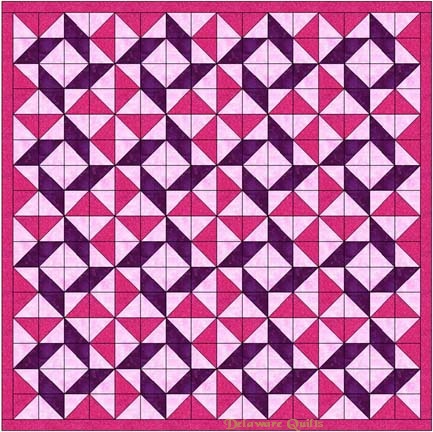 One of my pattern testers said to me that Iíd already done this block, but called it the Balkan Puzzle. Itís close, but not the same pattern. This pattern uses all diagonal half squares, so it might be a little bit easier for some people. The Balkan Puzzle uses flying geese and parallelograms which arenít hard, just have scary names to some people!
Whirlpool © Delaware Quilts August 2007
The content on these pages, including text and images are the sole property of the Delaware Quilts and may not be used or reproduced in any manner without consent. All Rights Reserved.

Updated November 4, 2022

|Home| Quilts| Blocks| Email|