As I sit down to prepare the family page for 2002, I realized that we've had a very busy and interesting year. I also realized that I haven't taken a lot of photos to show for that year. So here are words more than photos to review 2002.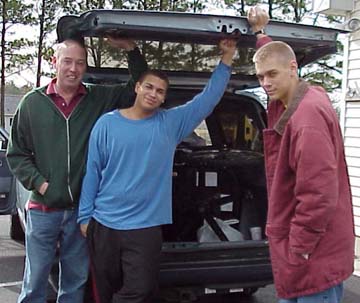 January we started off with normal routines and activities. Michael was a junior, busy with school, basketball and dreaming of getting his own car. Jonathon had finished a full term at Del Tech, and made the deans list for his efforts in his classes. John was still working at Beebe Hospital and I was busy teaching quilt classes.


Our February started off by sending Jonathon off to the University of Delaware. It was a change for all of us, but we soon adjusted. Jonathon fell right into campus living, and enjoyed the change. Mike enjoyed having the whole second floor to himself, despite the extra chores he had to do. John and I soon adjusted to buying less milk, and feeding fewer kids, although Mike soon brought in extras to make up for Jonathon and his friends being gone. And we all adjusted to talking to Jonathon on the computer and cell phone rather than face to face.
March was a big month for Mike, he finally found his "own car". After many weekends shopping he found a car he could afford to buy and pay insurance for. He brought his wheels home the day before his 17th birthday.


Spring plans were changed drastically when at the end of March I found myself in the hospital awaiting surgery. A digestive problem and persistent back pain turned out to be the fault of a large tumor in my abdomen, which thankfully was removed and found non-cancerous. Recovery was slow, but I was soon back to my activities.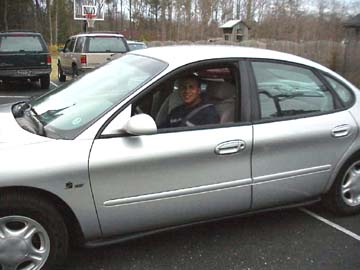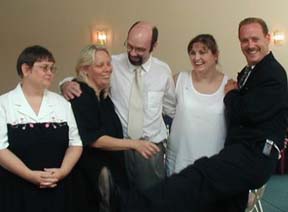 In June my Father passed away after a brief illness. He was 79. His death has brought many changes into my life, mostly a new closeness to my brother Paul and sister Kathy. Kathy and I have become real sisters, and I could not have made it through this without her and my three guys.

Left is a photo of the five "kids". This is the first time we were ever together at the same time. Right to left are Paul, Kathy, David, Michelle and me.
Summer jobs were a bit different this year as Jungle Jims was under going major renovations. Mike worked construction, doing something different almost every day. Jonathon worked keeping the web site current of the construction changes, so people could view the progress on the internet. As opening got closer, Jonathon worked more with the computer systems that would keep the park running. By opening day August 10th, I'd been drafted to help out in the cashiers' cage, something I never expected.

(Photos show some of the construction, and Mike at work)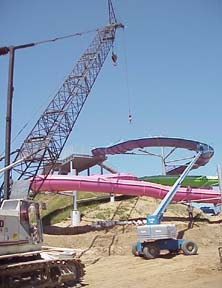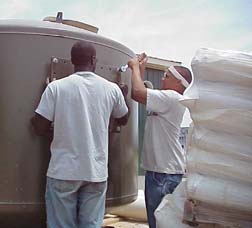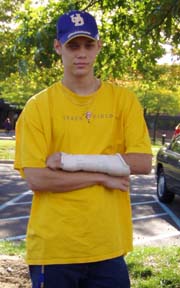 Before we knew it, September was here, and it was back to school time. Labor Day Jonathon packed up the van and headed up to Newark for another term at University of Delaware. Mike started his senior year, and I will admit to some tears as he headed out that first day.


Jonathon's year had a drastic change when on Sept 11th he fell off his bike while going across campus and broke his arm. It was a bad break, both to his arm and his studies. The pain medicines made him, well let's just say ditzy, and he was soon behind on many of his classes. Fortunately the University was understanding, and allowed him to continue on with fewer classes. Here he is six weeks later still in a short cast, but finally allowed to take a shower without doing the plastic bag routine, which made him quite happy!
I just finished the sixth annual quilters retreat , another successful and fun retreat. Everyone who was there this year signed up to come back, so I've added a second fall retreat. Starting next year I'll have one in April, one in October and for the seventh year, a November one. If I didn't enjoy them so much, there wouldn't be any.

John is still working at Beebe Medical, and complains he didn't do near enough fishing again this year. He continues to keep busy in his spare time with our home and garden.

As the year draws to an end, Michael is busy filling out college applications and scholarship forms. He visited Wesleyan, Yale, Columbia, Swarthmore and the University of Pennsylvania on a college scouting trip, although he really hopes to attend U of Michigan, U of Tennessee or U of Virginia. In his spare time he's head manager of the basketball team again, and of course is still active in MERIT.