Time to update this page! Things have changed vastly, so let me catch you up. I'll start with the baby and work up.


Yes, Mike is still the baby. He is now 21 so hardly a baby anymore, except to me. Mike is living in the family mobile home.... oh wait, you may not know about that. Let's just say that the boys grew up and Mom decided it was time for them to fly out of the nest, and with housing costs around here being so high, our only option was a used mobile home. So one year ago exactly both boys moved into their own place, giving Mom and Dad more room, piece and quiet, and less money. Now back to Mike, he is still in the mobile home, working at the outlets and Jungle Jims both, and in the off season attending school at Del Tech. Mike transferred down here last fall so he could get into architecture which has been his dream for years. He proved it was his forte by pulling a 4.0 his first term and close to that last term. Mike bought a newer car this year, which he's put many miles on traveling to visit Kelly up at UD. Of course she travels down here at lot too!
Here are John and Mike and their new wheels...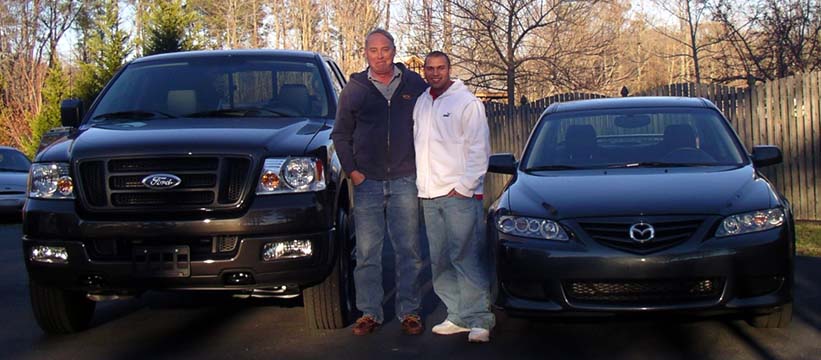 Jonathon worked last summer at the College of Marine Studies. That job really changed his whole outlook on his studies, and he is now an Agriculture and Natural Resources major. His interests are still fish fish and fish, although his pets now include a Gecko and one spoiled dwarf hamster. (Neo is still here at home) He is living off campus by one block, and is attending summer school this summer, trying to bring that graduation date a little closer. He is currently looking for a job between classes. Jonathon's web site is still Gordonious.com

Here is an interesting photo group I want to share... this is Jack, John and Jonathon all about the same age. (Thanks Geri!)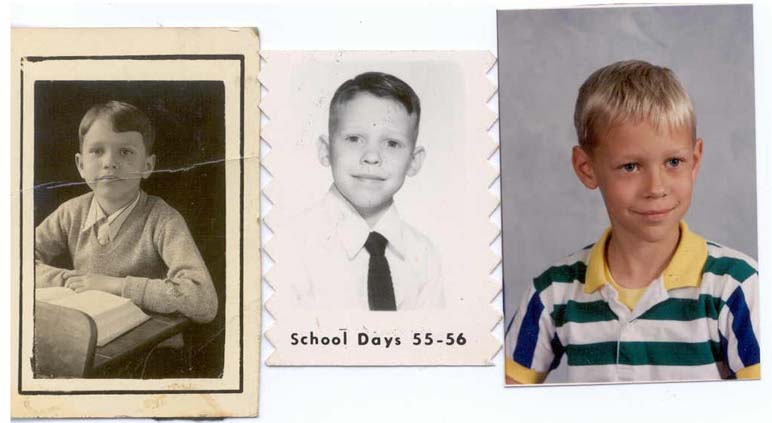 Happy 80th to Pop, and Happy 50something to John in July, and Happy 24 To Jonathon in August!
| | |
| --- | --- |
| Me, well you can see what I'm doing on the quilt pages, the retreat pages and the BOM pages. The other thing that has taken over my life is Relay for Life. The whole family was involved in it this year, and I hope we will for many years. I was the On-Line chair this year, and continue to maintain the Relay web site East Sussex Relay. | |
And now John... He is still working at Beebe, and tending to our huge yard and our woods, and helping his Dad with their place and the boys with the mobile, and doing Relay for Life. Yes, John is a busy guy. But he has added to that all this spring with a new interest, our local lighthouses. While I was retreating up in Lancaster in April I got a phone call from him saying "Honey guess where I am?" He was calling me from the top of the lighthouse in Lewes Bay. He spent a day there working, and to say he was hooked was an understatement. He joined the Delaware River and Bay Lighthouse Foundation and is enjoying it tremendously. These are all photos John has taken on his lighthouse adventures. (The background picture is one Jonathon took last summer)




July 29, 2006, Here's John at the top of the Harbor of Refuge Lighthouse during a tour.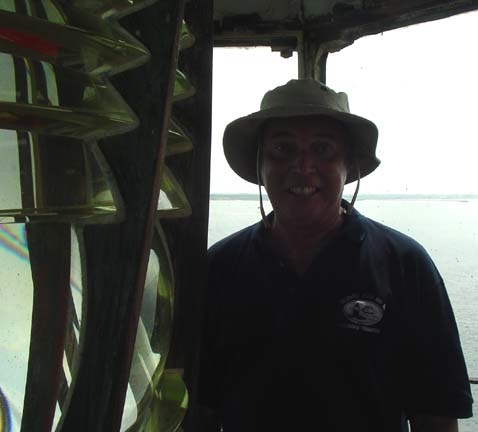 |Home|Family|Quilts|Blocks|Swaps|Retreat|
Updated July 29, 2006