More 2012
Please note as you view these photos, the sizes may not be all proportional. You might see a quilt that looks as small as a wall hanging or vice versa.
After I made the two Janet's Quilts on the previous page, I had some left over blocks and my friend Marge also had some which she graciously shared with me, and I put them together into this quilt which I am calling Janets Leftovers Transformed. It's not really different, just the name!

Then I decided this would make a nice mystery project for my Mysteries For Relay Group, and then after that, I decided this would also be a great project for the fall retreats.

Then I decided that using pre-cut 2 1/2 inch strips, a.k.a. Jelly Rolls, Tonga Treats, Bali Pops would also be a great idea.
&nbsp &nbsp &nbsp &nbsp
#462
#463
&nbsp &nbsp &nbsp &nbsp
And then I started making projects using 2 1/2 inch strips, some from my stash and some purchased and some gifted too. I started with a Tonga Treat called Creamsicle that was a gift. I made a quilt based on YouTube video which is no longer on line (now a pay for pattern I think)
This ended up being my least favorite project because it has a lot of bias in it, but I really loved the quilt I ended up with. I gifted this quilt to Terry Enfield.
I purchased some pre-cuts from a favorite shop, Patchwork Angels in Endicott NY, including a bunch of blacks. I combined those with reds from my stash and made Summer in the Park from MO Star Quilt Co.
This one sold to raise money for Relay For Life
&nbsp &nbsp &nbsp &nbsp
#464
#465
&nbsp &nbsp &nbsp &nbsp
I had left over blacks and reds so I put together this quilt, also called a lasagna quilt or Jelly Roll Quilt. Mine started with 1890 inches of fabric, so I called it my 1890 Quilt.
This one was donated to Bob's Blankie Brigade
Another precut strip package from Patchwork Angels gave me this quilt which I called Four Patch Framed. I wasn't in love with the colors, but liked the pattern, so I made another one (#472) which I liked a lot more!
This one was also donated to Bob's Blankie Brigade
&nbsp &nbsp &nbsp &nbsp
#466
My project for July was a red white and blue Road to Oklahoma quilt.
This was also donated to Bob's Blankie Brigade

#467
I decided to do string quilts for the August project and got several finished.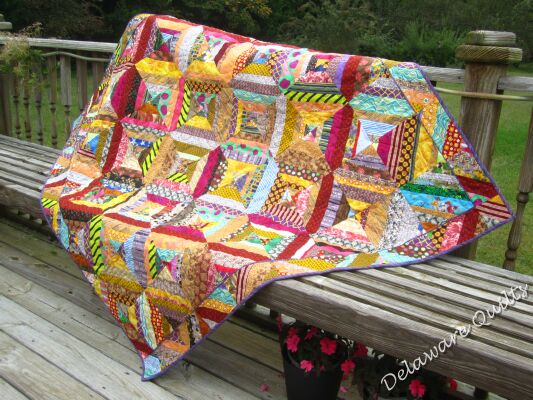 #468 & &nbsp &nbsp &nbsp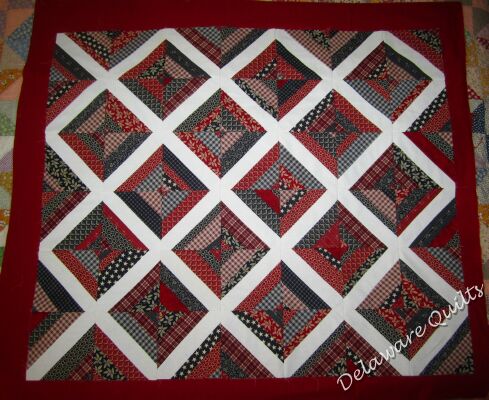 #469

| | | |
| --- | --- | --- |
| #470 | &nbsp &nbsp &nbsp &nbsp | I used another Tonga Treat called Island Punch and added yellow strips from my stash to make this log cabin quilt for another strip project for the retreats. |
| | | |
| --- | --- | --- |
| I'm not 100% positive where I got this idea, but I made the quilt and then wrote the pattern to go with it. I used a Bali Pop called Coconut, and I called the quilt Area 52. | &nbsp &nbsp &nbsp &nbsp | #471 |
| | | |
| --- | --- | --- |
| #472 | &nbsp &nbsp &nbsp &nbsp | This is my second Four Patch Framed and I like this one much more than the first (#466) I call this one Four Patch Framed Rainbow. |
| | | |
| --- | --- | --- |
| When I finished Creamsicle (#463) and Island Punch Log Cabin (#470) I had left over strips and pieces. I put them together using the Four Patch Framed pattern, except more scrappy, and called it Leftovers… because that's what it was! | &nbsp &nbsp &nbsp &nbsp | #473 |
Then I went back to making more strings quilts for Bob's Blankie Brigade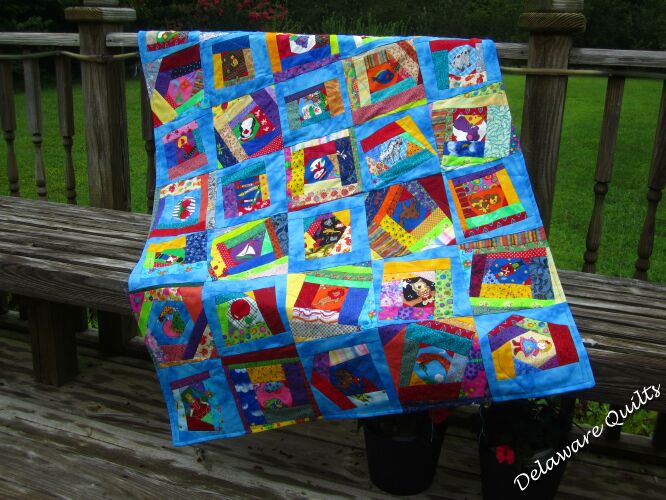 #474 &nbsp &nbsp &nbsp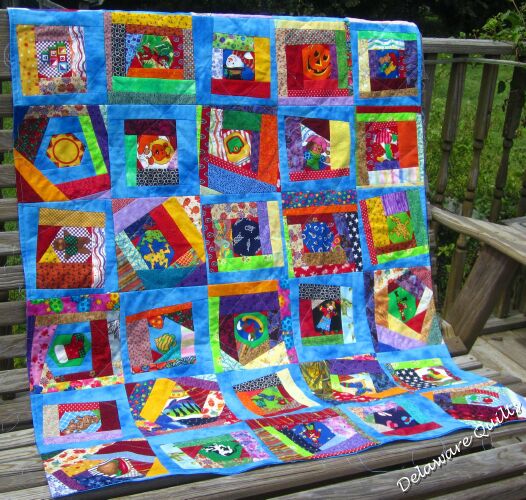 #475 &nbsp &nbsp &nbsp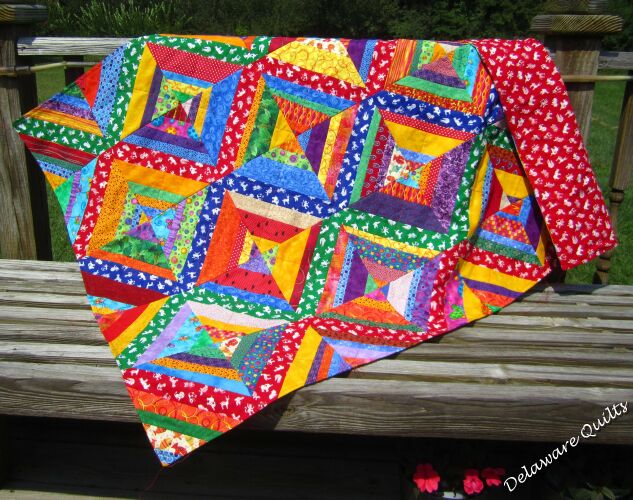 #476
#477 got away with no photo



At the fall retreats in 2012 I started a quilt which I was calling Wavy Batiks. However I got frustrated with it, and set it aside for a few months before I started working on it again. When it was finished I loved it, and I still do. John said it reminded him of Mardi Gras and the name stuck. My quilter did a terrific job on it, and I finished it a year after it was started at the 2013 Nov Retreat.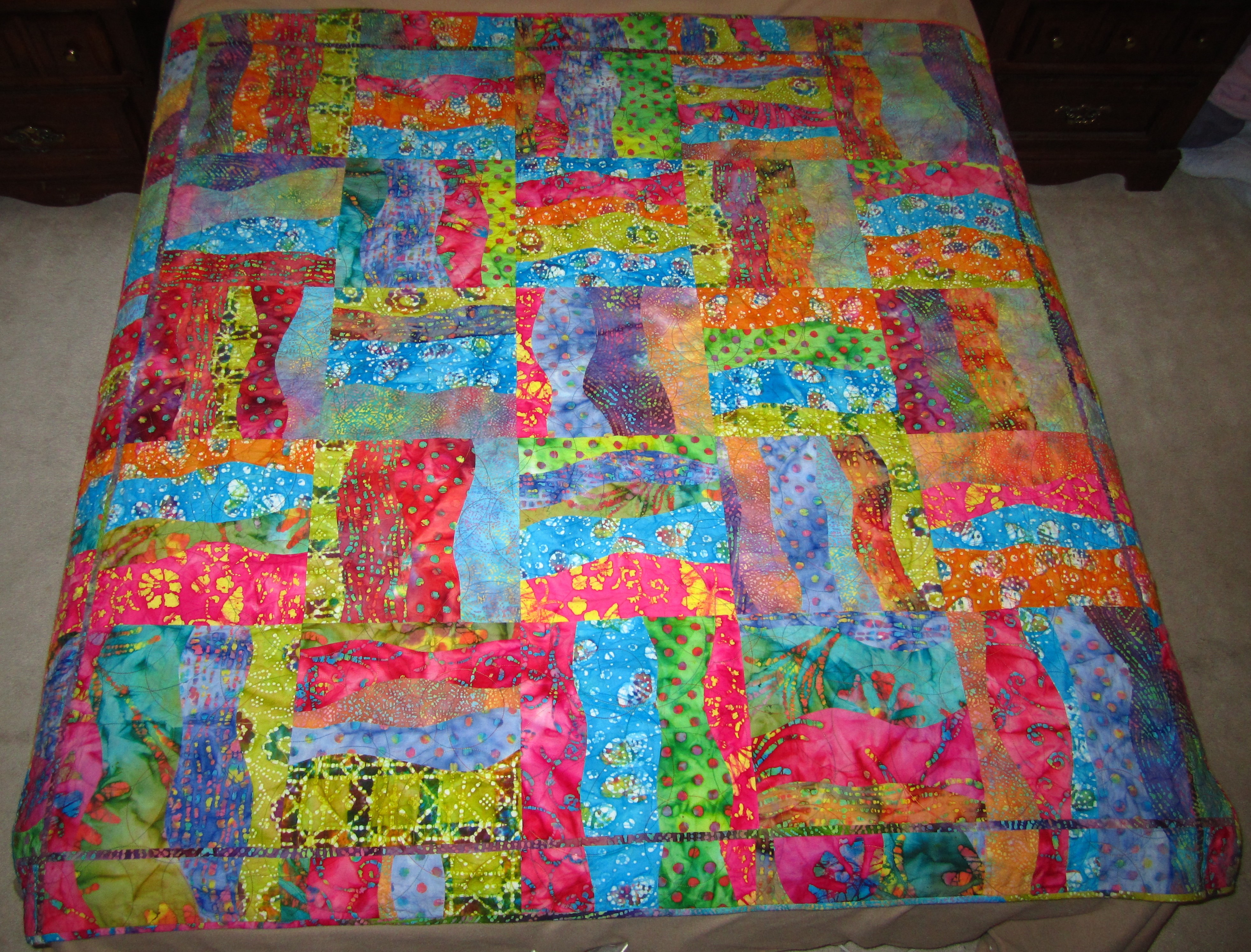 #478 Front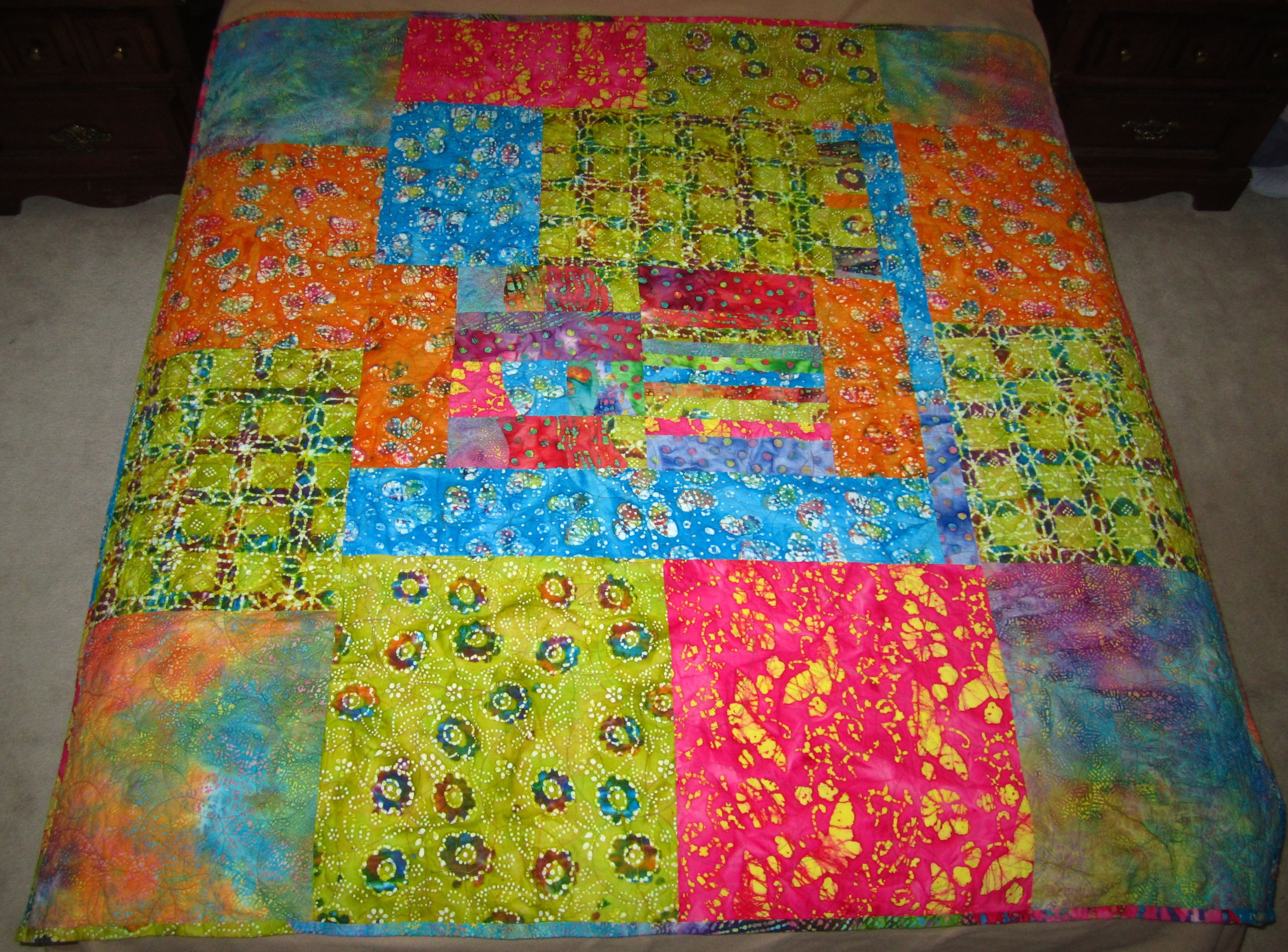 back

I also started and finished this Aunt Graces Zig Zag at the retreats. (It was eventually completely finished in 2014)

#479

Then I started another Aunt Graces quilt, a Four Patch Chain. It is now my winter quilt, on my bed from the first chilly night to spring.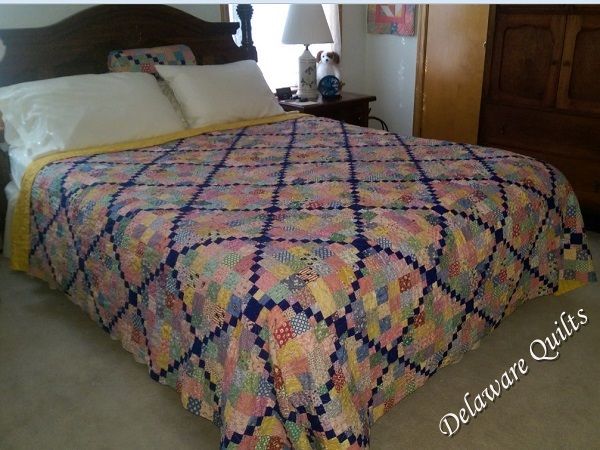 #480


Back - 2013

Updated July 14, 2020



| Home | Family | Relay | Quilts | Blocks | Projects | Retreat | Email |