&nbsp &nbsp &nbsp &nbsp &nbsp &nbsp &nbsp &nbsp &nbsp &nbsp &nbsp &nbsp
2010 DELAWARE QUILTS
SUPER STASH BOWL
Fourth Quarter
&nbsp &nbsp &nbsp &nbsp &nbsp &nbsp &nbsp &nbsp &nbsp &nbsp &nbsp &nbsp
And of course no one is saying you can't add some non-DHSs to your blocks either, and look at all the block possibilities that opens up.
OH… what? Are you trying to say you used up ALL of your stash and scraps making DHSs… I doubt it, I'm sure you have enough to make a few little squares.

What size squares… well what size are your DHSs? If they are 5 3/8 then you cut 5 3/8 inch squares. 5 1/2, cut 5 1/2. You cut the other squares whatever size your DHSs are.

Here are a few of my favorite scrappy blocks, nine patch variations. The first two only use two DHSs, but the third one uses three, and as you can see, they make some terrific scrappy quilts.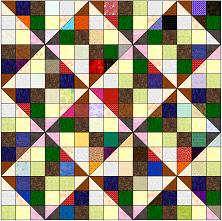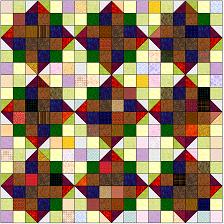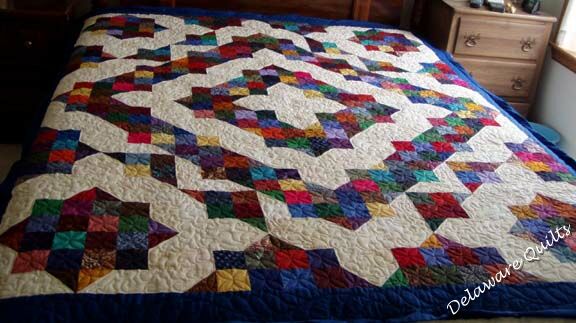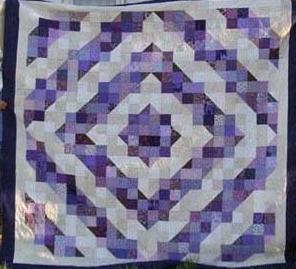 How do you make these, just cut scrappy squares the same size as your DHSs.

Here is a block that is made almost entirely from DHSs, just one square in the middle, the eccentric star block. By making it one block at a time with some little color organizing, you get a scrappy eccentric.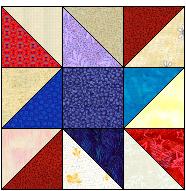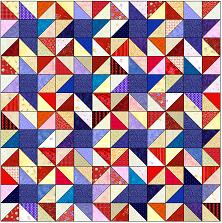 A block that I didn't even think of as scrappy at first showed me different when I made it controlled scrappy, Flying-X.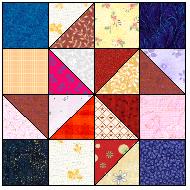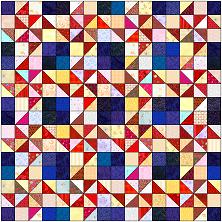 Here is a Ribbon Quilt block that is almost all DHSs too. Here I'm showing it as a controlled scrappy, with blue ribbons and yellow stars. (I cheated a little and used all the same background, but you are allowed to cheat too.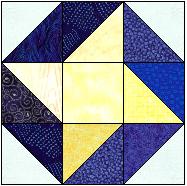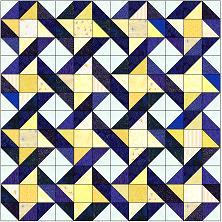 Stay Tuned for the post game activities!
|Home|Family|Quilts|Blocks|Retreat| Email|



Copyright © Delaware Quilts
The content on these pages, including text and images are the sole property of the Delaware Quilts and may not be used or reproduced in any manner without consent. All Rights Reserved.