&nbsp &nbsp &nbsp &nbsp &nbsp &nbsp &nbsp &nbsp &nbsp &nbsp &nbsp &nbsp
2010 DELAWARE QUILTS
SUPER STASH BOWL
It's Kick Off Time!
&nbsp &nbsp &nbsp &nbsp &nbsp &nbsp &nbsp &nbsp &nbsp &nbsp &nbsp &nbsp
OK, you have all of your DHSs made and now what? Decision time, that's what. Now you have to decide what to do with them all. Options oh don't worry, there are lots of options, you just have to decide which one to use.

Let me say right now, this is not a timed game, unlike that other one that will start tomorrow. Truthfully, you have won already, well ok, maybe not won yet, but you are sure in the lead. Where a few days ago you had piles of scraps and stash, now you have piles of… uh oh… now you have pending UFOs.

But we can take care of them this weekend, well at least put a good dent in them.

On the left is one of your options just sew them together all heading in the same direction. Interesting and I kind of like it. The variety in the fabrics makes the quilt interesting. But I bet we can do better.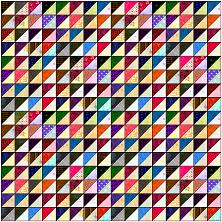 &nbsp &nbsp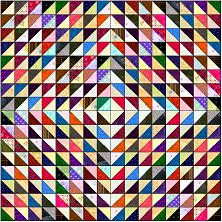 Barn raising setting (right) has always been a favorite of mine when using half light and dark blocks, and it works great with this project too.

Want to know a short cut for making both of those quilts… First you make blocks.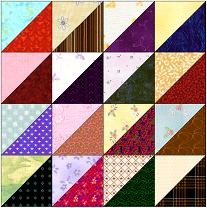 &nbsp &nbsp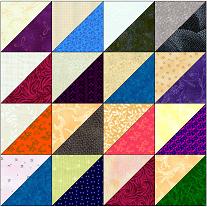 Both of the quilts shown above took 16 blocks. Believe me that's much easier than putting them together one at time like I did when I made the quilt below.


| | | |
| --- | --- | --- |
| | &nbsp &nbsp &nbsp &nbsp | Little history, this quilt was made entirely of scraps, and they weren't all cottons either. Someone gave me several trash bags of scraps and from those scraps came that quilt. I made it mostly using the Kaye Wood's bias tube method but I used other techniques to make my diagonal squares from the smaller pieces of the scraps. Because I knew what my finished (and unfinished) diagonal half squares were to be, it was easy for me to use the method that fit the size of fabric scrap I was trying to use up. |
Don't start sewing just yet, there is still more game to go
|Home|Family|Quilts|Blocks|Retreat| Email|



Copyright © Delaware Quilts
The content on these pages, including text and images are the sole property of the Delaware Quilts and may not be used or reproduced in any manner without consent. All Rights Reserved.