1998
Please note as you view these photos, the sizes may not be all proportional. You might see a quilt that looks as small as a wall hanging or vice versa.
1998 was another year of firsts, and that included many new quilt designs.


On the right is my first tessellation and honestly, I have no idea where the pattern came from or even if there was a pattern. I do know that a few months after I made this I taught it as a class for a quilt club, and later at a few retreats.
&nbsp &nbsp
#168
Here are my first Irish Chain and my first internet swap quilt.



#167

&nbsp &nbsp &nbsp &nbsp &nbsp &nbsp
#169
#171


My first ever secret sister sent me a quilted checkerboard as a gift and I copied it to make as a fundraiser for the band… these are three I have photos of, I made a dozen total.
#161, #162 & # 163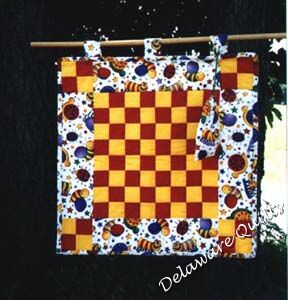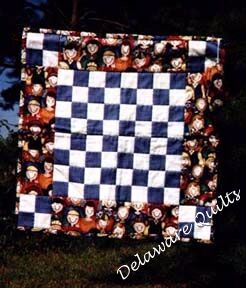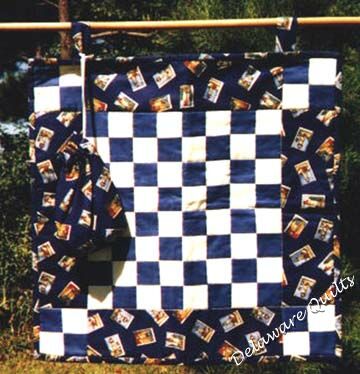 #173
&nbsp &nbsp &nbsp &nbsp
The quilt in the left was made for a very special little guy in our life, affectingly called DS#3 although not related officially. It was his size, just right to snuggle under when he was little, these days probably just enough to over his legs.

The little RW&B was a mini wall hanging made from paper pieced blocks which were sent to me in a paper pieced swap I participated in, my first and last, I don't like paper piecing.


And the Aunt Grace sampler was my first bed size sampler. Although I LOVE Aunt Grace fabrics and I love sampler quilts, I just couldn't love this one for some reason. After years of sitting in my closet I finally donated it to Bob's Blankie Brigade. I know Helaine found a good home for it.

&nbsp &nbsp &nbsp &nbsp #174 &nbsp &nbsp &nbsp &nbsp #177
#178
&nbsp &nbsp &nbsp &nbsp
As soon as I finished the AG Sampler above I started this log cabin, left, a request from a niece and her husband. And as soon as I finished the quilt I took it to be hand quilted by an Amish co-op so I knew it would be done the way I wanted and done well. And it was. This was the first time I took a quilt to be hand quilted, but not the last.


And the simple nine patch below was one of two almost identical quilts I made Jonathon and Michael for TV watching. Both quilts are still around (2012) although very faded and quite worn.

#179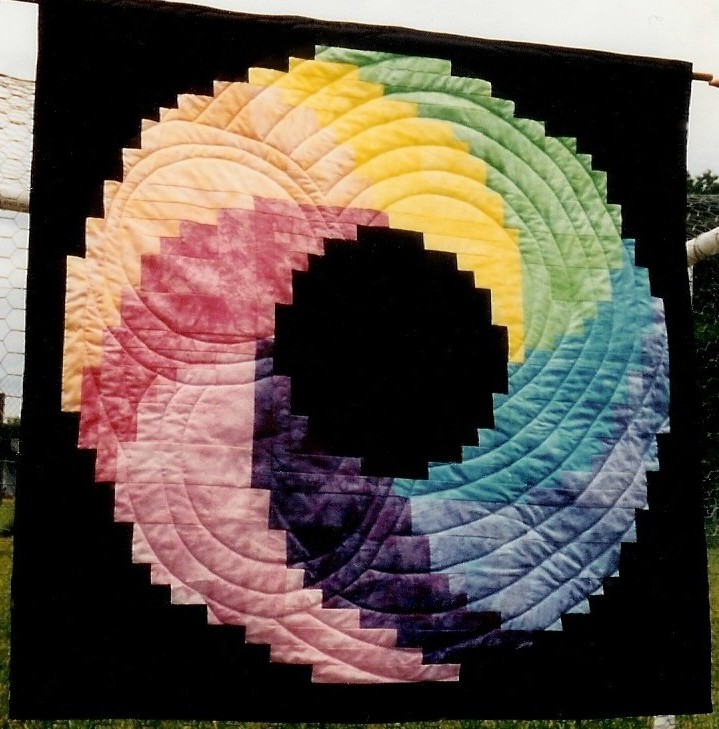 #180 &nbsp &nbsp &nbsp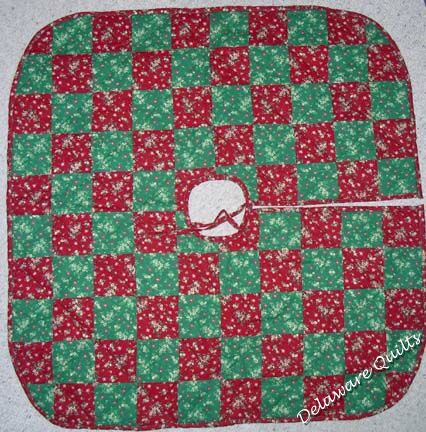 #182 &nbsp &nbsp &nbsp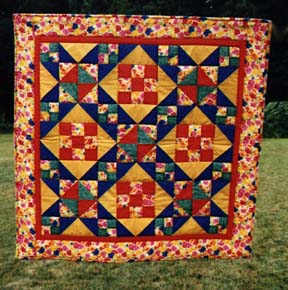 #183


Quilt #189 which I simply call Scraps is by far one of my favorite quilts ever. It was made of hundreds of scraps including blends, synthetics and good old cotton. Except for the inner border and backing every fabric in the quilt literally came out of big black trash bags which were donated to me. I used Kay Wood's bias tube method to make most of the diagonal half squares. This quilt was purchased by a realtor who borrowed it for an open house showing.

Both photos were taken in my back yard in an attempt to make my quilt photos more artsy. I tried.
&nbsp &nbsp &nbsp &nbsp
#189
&nbsp &nbsp &nbsp &nbsp &nbsp &nbsp
#191
#192


&nbsp &nbsp &nbsp &nbsp
Scrappy Stars was made for a mystery class sample. My top was only partially finished when I did the class, and I sewed along with the ladies as they worked on their stars. We traded scraps which makes this quilt very special to me, it has fabrics from some dear friends, some who are no longer with us. I finished it in time to teach the same mystery for the first retreat held in Bird-in-Hand PA, and included some non-scrappy stars made using the retreat challenge fabric.


This quilt was on our bed for years, and I finally had to take it off because it was showing too many signs of wear.
I had a realtor acquaintance ask to borrow a few quilts for an open house showing to help make the house look homier. She borrowed my Scraps (above #189)and the log cabin. When the open house was over she returned them both, but begged me to sell her Scraps which I reluctantly did.


Then she asked me if I could reproduce the log cabin quilt which she also loved and wanted two of for her own home. I explained that the fabrics were most likely out of print and it wouldn't be easy to match them exactly, but she was willing to take the gamble. And these are the results which she was more than happy with.
#193 made in December 1998 & #228 made in April 2001





back - Next 1999-2000

Updated July 13, 2020

|Home|Family|Quilts|Blocks|Retreat| Email|