&nbsp &nbsp &nbsp &nbsp &nbsp &nbsp &nbsp &nbsp &nbsp &nbsp &nbsp &nbsp
Delaware Quilts
My Quilting Photo Journal

2008-2009
Please note as you view these photos, the sizes may not be all proportional. You might see a quilt that looks as small as a wall hanging or vice versa.
Way back in 2000 someone showed a bull's eye quilt and I knew I had to make one. I finally got around to this in 2008 using tea garden prints I purchased from Patchwork Angels. Sadly it wasn't finished until 2011, but it is now and I love it!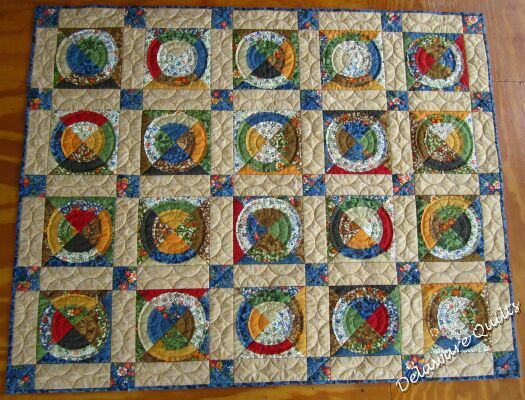 #375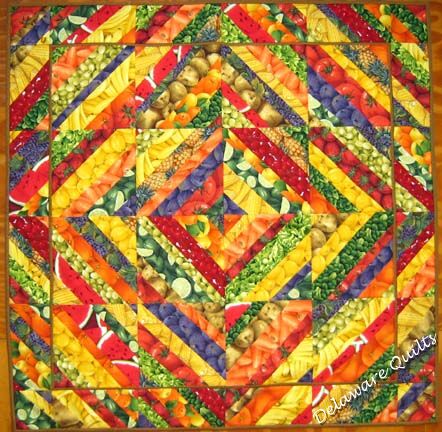 #376

This is another Simply Squares quilt and this one is my favorite! It was made using all scraps. Yes they are all very close in color value, but there are at least two dozen different blues, reds and yellows in this quilt and the white-on-whites were all scraps too!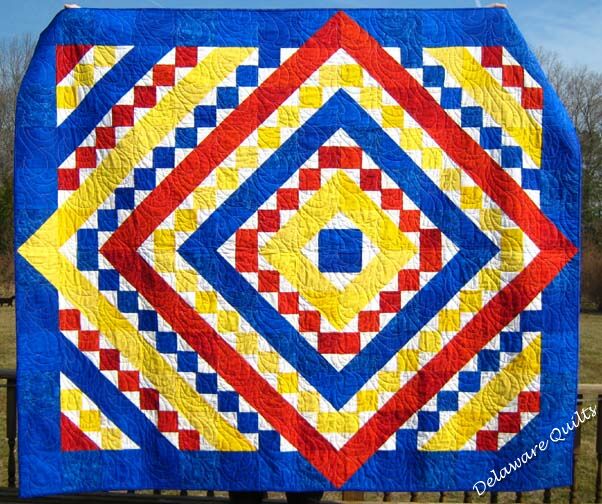 #378

In March 2008 I started the Mysteries For Relay Yahoo Group as a Relay For Life fundraiser. Tessellated friendship star was our first mystery. Here is the free pattern for this quilt.


My Mystery samples may not appear in numerical order, because I didn't always present the mysteries in the same order I make the samples. Occasionally I would make the sample and not do the "work" or I would make one really wanted to share it before another one in the works.
&nbsp &nbsp &nbsp &nbsp
#379
Someone gifted me a fat quarter bundle of golden metallic fabrics and over time I collected a few more. I decided they needed to be used and this is the result. I love it!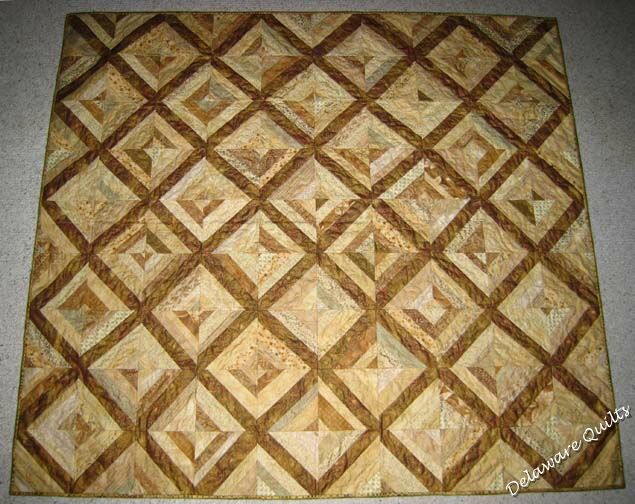 #380
| | | |
| --- | --- | --- |
| #381 | &nbsp &nbsp | When we lived in Virginia I made sneaker curtains for one of the boy's bedrooms, I forget which one. However when we moved to Delaware neither boy wanted them, so I stuck them in my stash. I finally got around to using them to make a sneaker quilt which was a UFO for a loooong time. I donated to top to Bob's Blankie Brigade where it was finished and given to a child to love. |

Crooked Baby Stars was Mystery #2 on the Mysteries For Relay Yahoo Group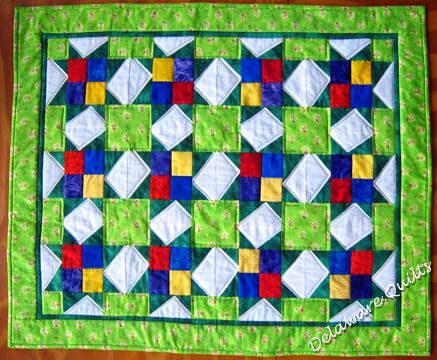 #382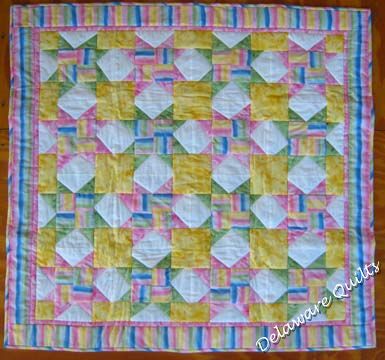 #383

This is another Crooked Baby Stars and Mystery #3, Old Maid's Puzzle.

#384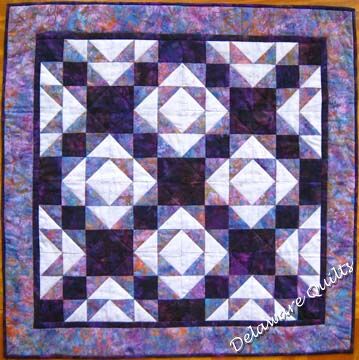 #386
| | | |
| --- | --- | --- |
| #387 | | Mystery #4 was this Double Irish Chain. I made two samples, this one and #389 below. |
#388
&nbsp &nbsp
I saw a photo of Jan Davis' Scrappy Bricks and knew I had to make one. She generously shared her directions and gave me permission to write my own directions for her pattern. This was mystery #6 on the Mysteries For Relay group and everyone loved it. This is a great scrap buster!



#389

Mystery #8 was Split Sho Fly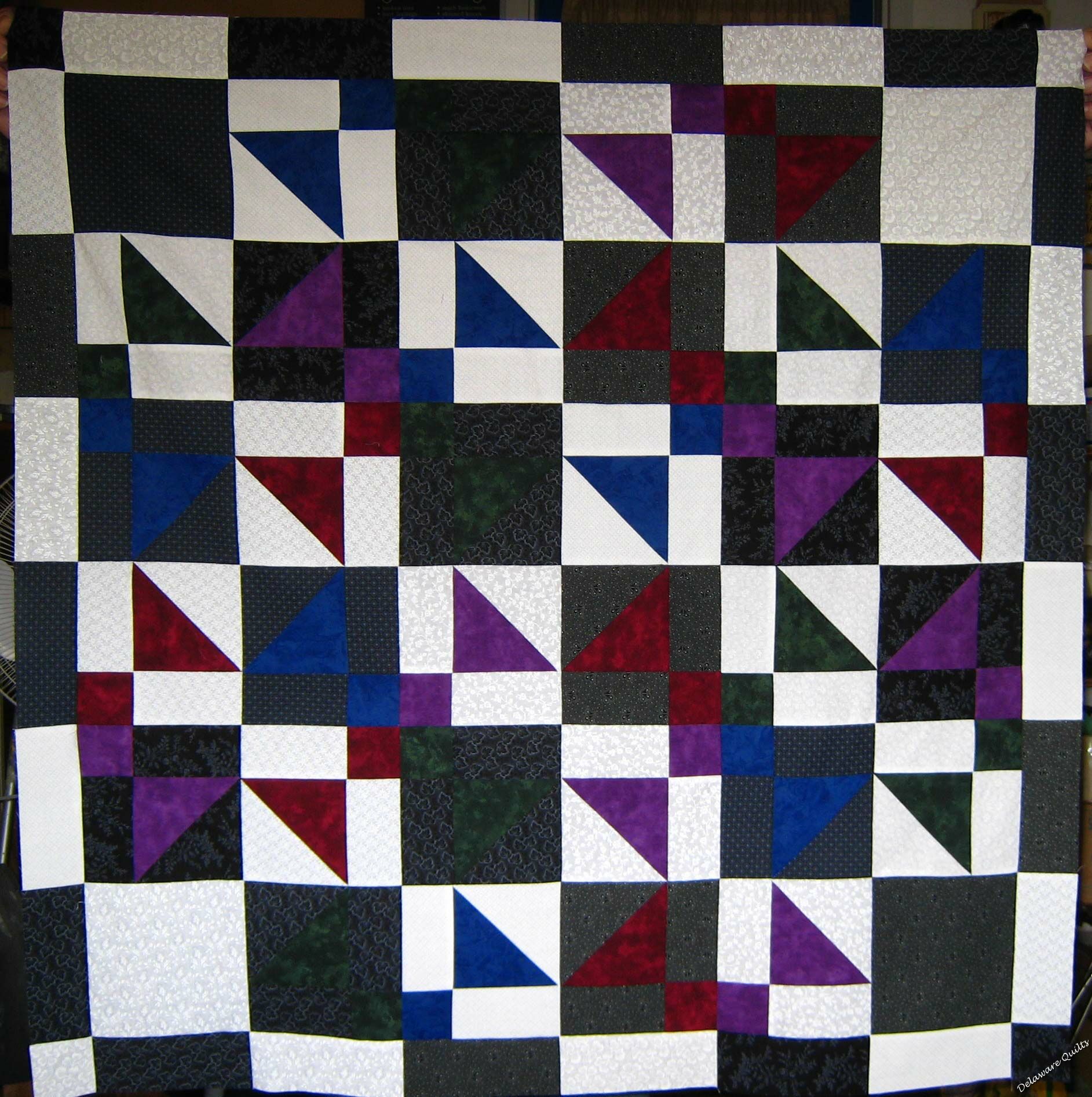 #390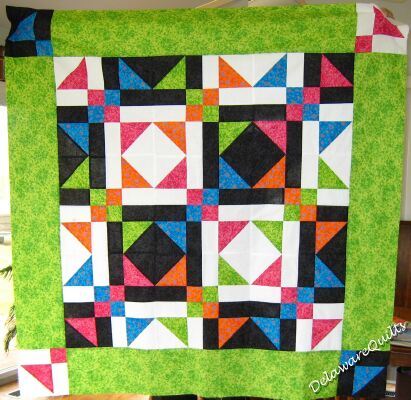 #391

Scrappy Stars was Mystery #5, although this is a non-scrappy version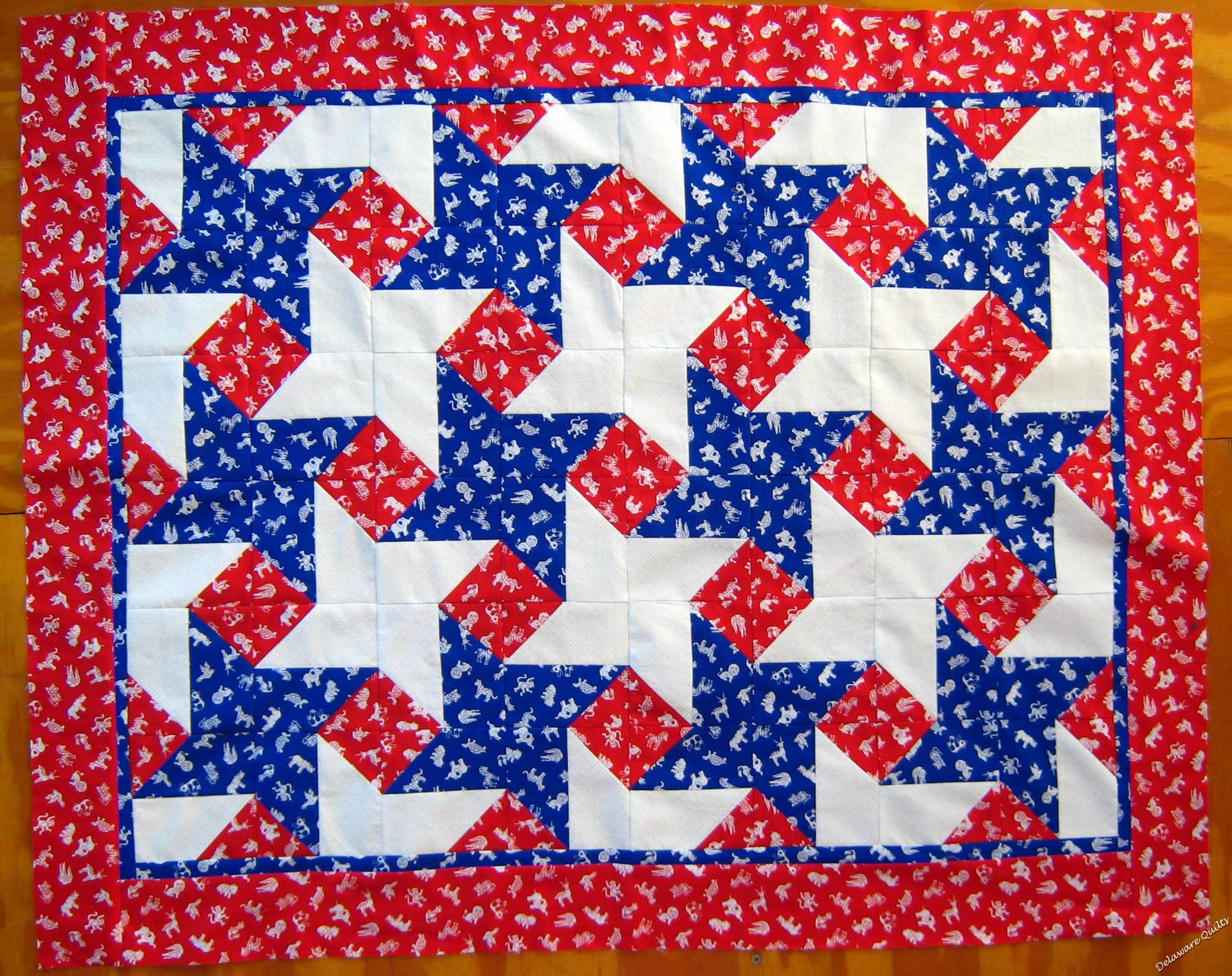 #392


2009


#393


When our friend Joan was undergoing her second battle with cancer her friends sent her hearts to let her know they were thinking of her. She gave them all to me and I made her this queen size quilt.


Joan's quilt was the only quilt I made and finished in 2009.
Pinwheel Chain was Mystery #10
made in April 09 and still a UFO
in November 2013
&nbsp &nbsp
#394


#395
&nbsp &nbsp
This was my sample for Mystery #9
started in April 2009 and finished in December 2010
And this is my Mystery #11, Quarter of a Court House sample.
I made a few blocks in April 09 and then was unable to finish until November 2010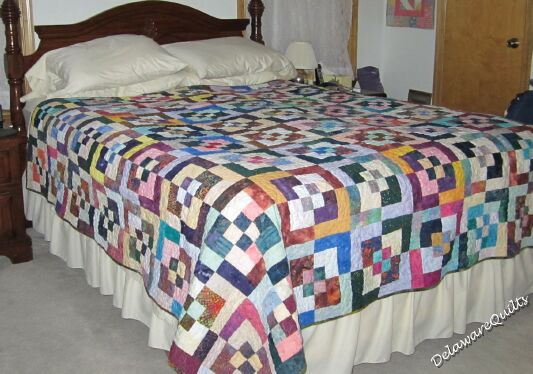 #396


2009 was a slow year for me for several reasons. I was away from home, my stash and my sewing machine for the first three months taking care of a family member who needed help. Then old age hit and my knees went bad on me and I was unable to go upstairs, where the stash and sewing machine were.

Although I was unable to sew, I spent my days designing future mysteries, retreat projects and worked busily on the computer. At one point I was two years ahead in my BOMs web pages.


back - 2010

Updated September 8, 2017

|Home|Family|Quilts|Blocks|Retreat| Email|