2011


Please note as you view these photos, the sizes may not be all proportional. You might see a quilt that looks as small as a wall hanging or vice versa.
| | | |
| --- | --- | --- |
| Way back in 2001 when my friend asked me to duplicate that older log cabin I bought greens, a lot of greens, to match the older quiltís fabrics. Letís just say I bought a lot more than I needed. I decided I was tired of looking at them, and since they were reproducing on the shelf, I decided to use them all up in one project. The result was Green Green. Both the front and back used those left over greens, well the majority of them anyway. There are still a few pieces left on the green shelf and Iím sure they are reproducing all the time. | &nbsp &nbsp &nbsp &nbsp &nbsp &nbsp | #413 |
| | | |
| --- | --- | --- |
| #414 | &nbsp &nbsp &nbsp &nbsp &nbsp &nbsp | This little pinwheel quilt was the first prototype of my 2011 retreat project, pinwheel techniques. This one included some of those greens too. |
| | | |
| --- | --- | --- |
| The fan quilt is a real mystery to me. I found it in my UFO pile, but for the life of me do not remember ever making it. I think, using the old gray cells, that maybe it was a swap quilt from years ago, and I think maybe I made one of the blocks, and I know I certainly put it together, I still have some of the border fabric. I did quilt it myself and put the binding on. | &nbsp &nbsp &nbsp &nbsp &nbsp &nbsp | #415 |
| | | |
| --- | --- | --- |
| #416 | &nbsp &nbsp &nbsp &nbsp &nbsp &nbsp | This was my Just Squares second sample. This one didnít show the design as well, poor fabric choice on my part, but itís still a cute quilt I think. |
I have a couple of friends who think they can send me anything and I can make something from it. These quilts, #417 to #422 are results of their ďgiftsĒ. I called them orphan quilts and except for #422, the Friendship Stars, all were donated to charity.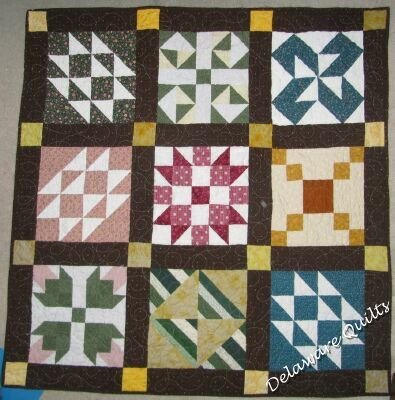 #417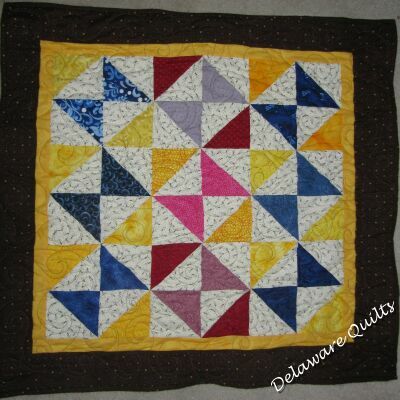 #419
#420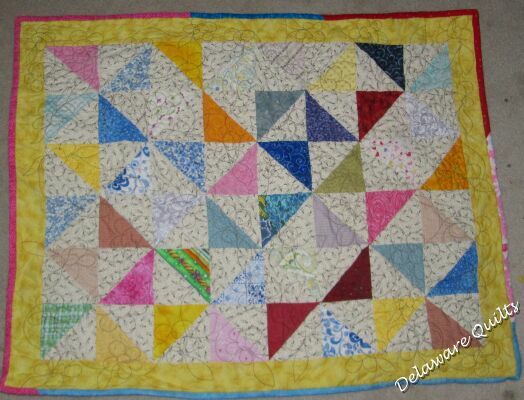 #421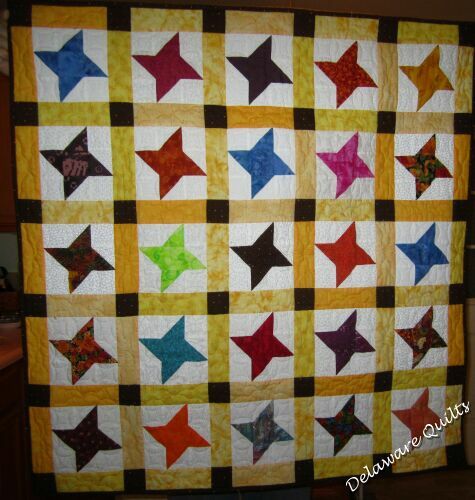 #422


| | | |
| --- | --- | --- |
| After spending a week making quilts from my friendsí UFOs I decided to tackle my own scrap bin. This is my Scrap Bin Quilt which pretty much emptied the scrap bin. | &nbsp &nbsp &nbsp &nbsp &nbsp &nbsp | #423 |
| | | |
| --- | --- | --- |
| #425 | &nbsp &nbsp &nbsp &nbsp &nbsp &nbsp | Iím not 100% sure where I got this pattern idea from, but I know it wasnít my own. I made this sample, and decided that I didnít like it at all. It will be quilted and donated to charity. |
My friend Marge Hicks is one of those friends who thinks she can just send me any unused blocks, partially made projects and leftover fabrics anytime she wantsÖ and I guess sheís right. I enjoy making something from her stuff and try to donate it to a charity or sell it to raise money for Relay For Life. I like getting Margeís stuff but want to make it clear that I donít want a lot of people sending me stuff like that please. I have enough of my own, and Margeís, I really donít need any more.

These pineapple blocks came from her, all I did was sew them together. Iím not sure why she sent them to me, I think they are gorgeous. I finally had it quilted in 2014 and when it was finished I put this photo on Facebook and my friend Michele made a donation to Relay For Life in exchange for ownership of the quilt. (Thanks Michele!)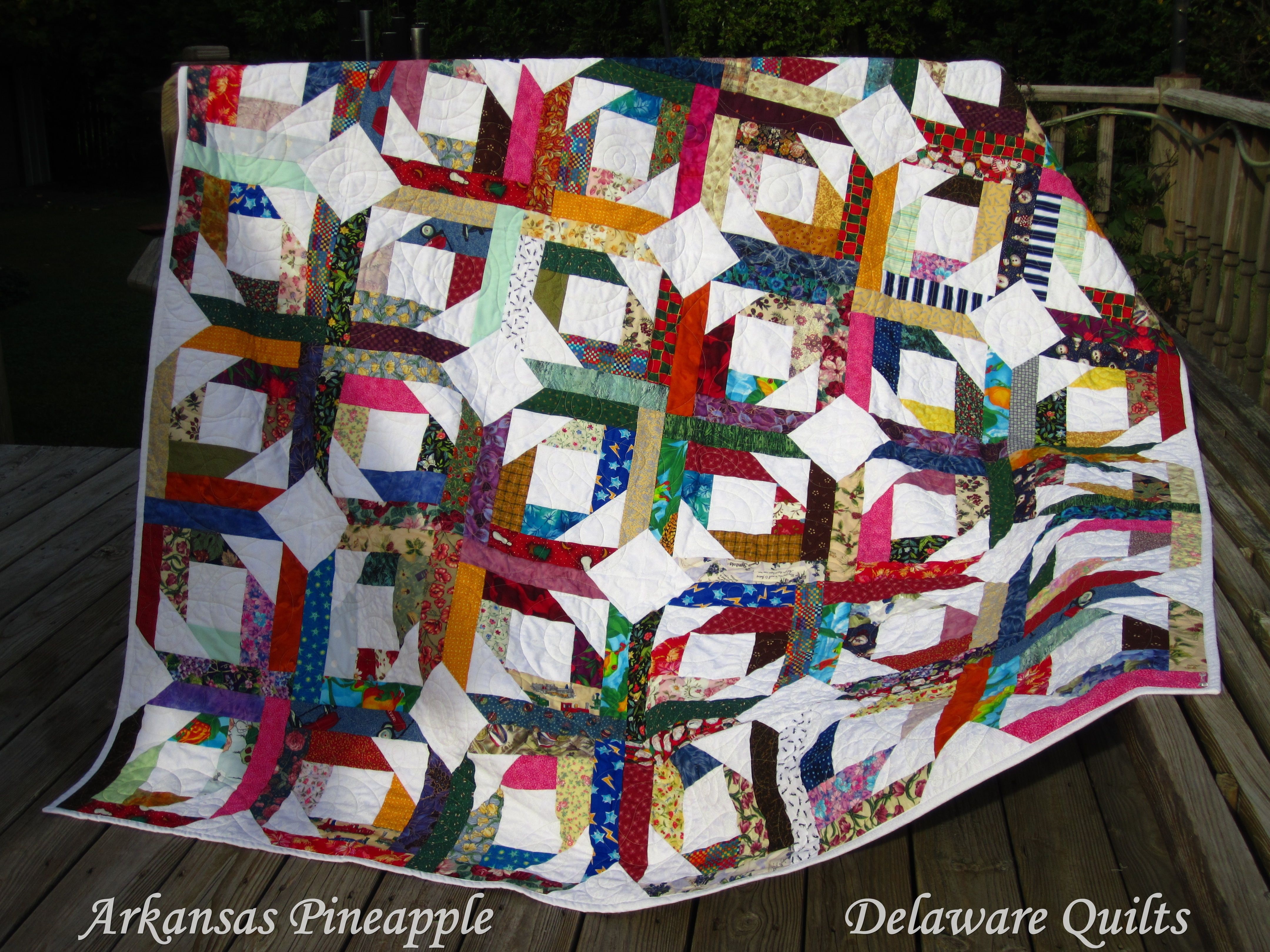 #426


Jack in the Box was one of the blocks I used in my 2011 Sampler and I really liked it. So I made this quilt (#427). Then I decided to make it into a mystery so I made #428 as a second sample to test my pattern. It was Mystery #20.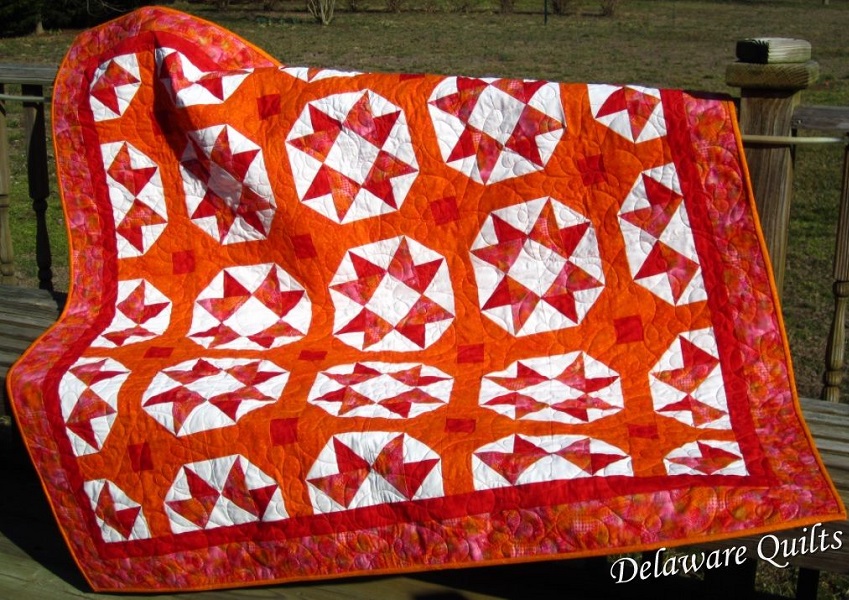 #428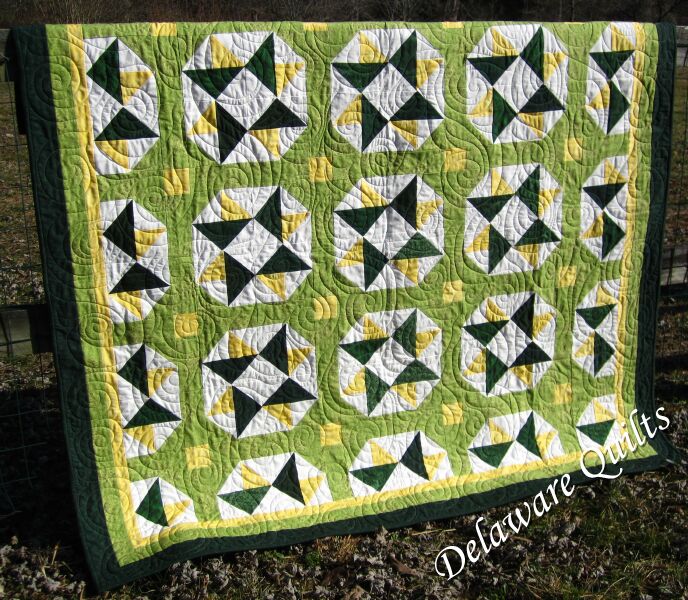 #429
This quilt, #429 Jack in the Box in greens, is for sale for a $250 donation to Relay For Life. Email me for more information


These two little quilts were samples for the fall retreatsí projects, Pinwheels and 3D Squares.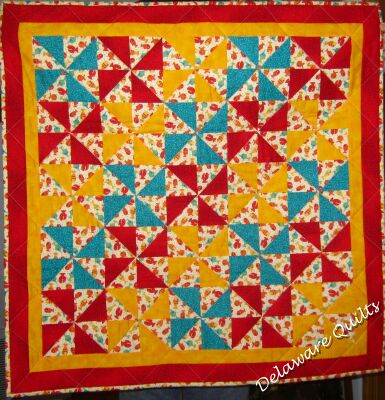 #433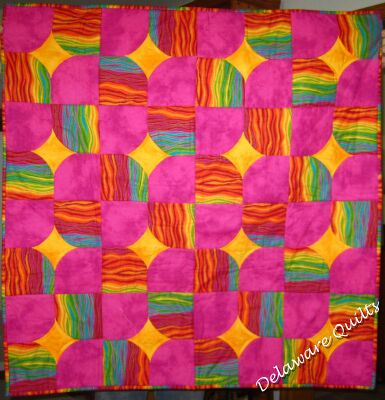 #436


At the 2011 fall retreats we had Ugly Fat Quarter contests, and everyone brought three FQs to be judged. Then we made projects using those FQsÖ well that was the idea. Not a lot of projects were made at the retreats, but I brought home the leftovers and this is one of the quilts I made from the smaller scraps.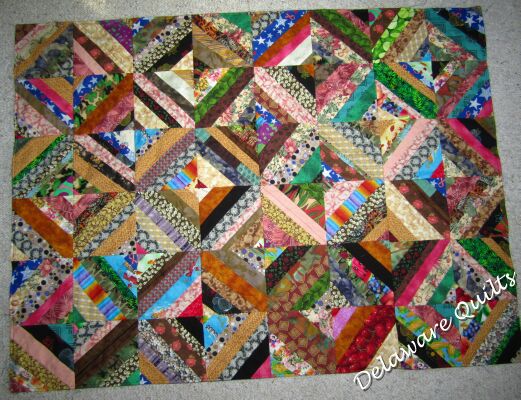 #437


| | | |
| --- | --- | --- |
| I hadnít planned on making Michael and Kelly a quilt until they moved into their first home, but when this Bee fabric showed up in a catalog, I had to make use it somehow. This was their Christmas present, and even though it wasnít finished when I gave it to them, it was before they left to go home a few hours later. | &nbsp &nbsp &nbsp &nbsp &nbsp &nbsp | #438 |


back - 2012 next

Updated July 14, 2020



| Home | Family | Relay | Quilts | Blocks | Projects | Retreat | Email |